London Velodrome: First ride review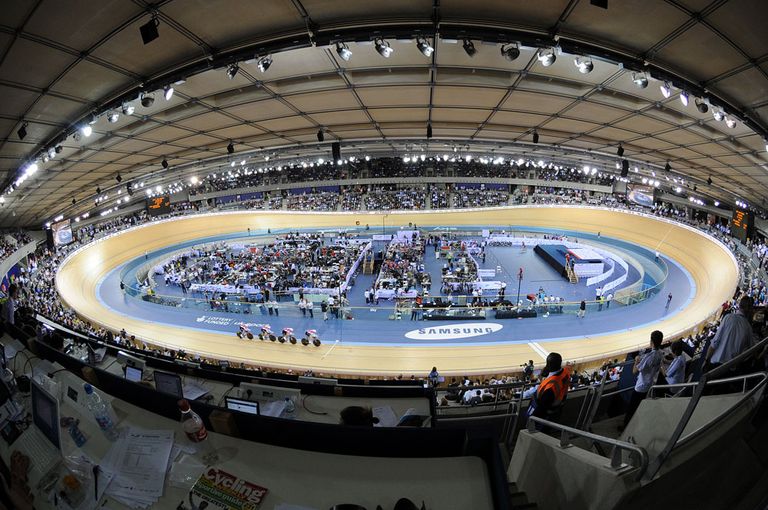 Cycling Weekly Verdict
Only the hard seats and inadequate toilet facilities prevent the London velodrome scoring a perfect 10. In all other respects, it's stunning.
Reasons to buy
+

Great view for spectators, no matter where you sit

+

Nice and warm

+

Well made

+

Looks stunning
Reasons to avoid
-

Not enough toilets

-

Expensive and rather unimaginative food

-

Those seats weren't made for eight hours straight use
The London 2012 velodrome had its first proper test during the final round of the 2011-12 UCI Track World Cup in February.


We'll make one thing very clear before you read on - we are testing this product as a spectator and not as a competitor, as an attempt at the latter would take far too much time and energy.
The exterior of the London velodrome is, to use a much over-used word, beautiful. In comparison to some of the neighbouring Olympic facilities it is unassuming and far less industrial. It looks more like an wealthy architect's house than a branch of Homebase.
Its exterior size hides what lies within. The vast seating area rolls smoothly around the edge of the track, providing a near-perfect view of the racing surface no matter where you are in the facility.
It's also easy to walk around to obtain a different view of the action. Small food outlets are dotted around the facility.
A crisp loudspeaker system, large scoreboards and large television screens made it easy to keep on top of the provided information. Perfect for getting to the bottom of the confusion of an omnium.
There were, however, several recurring niggles among other testers. Despite them flushing flawlessly, there were simply not enough toilets, causing queues to form.
Hard plastic spectator seats may provide a wipe-clean surface, but after lengthy use they are rather uncomfortable.