Gore Power WS SO Jersey review
The Gore Power WS SO Jersey is a slim fitting softshell jersey straight out of the Gabba mould, designed for use in mixed weather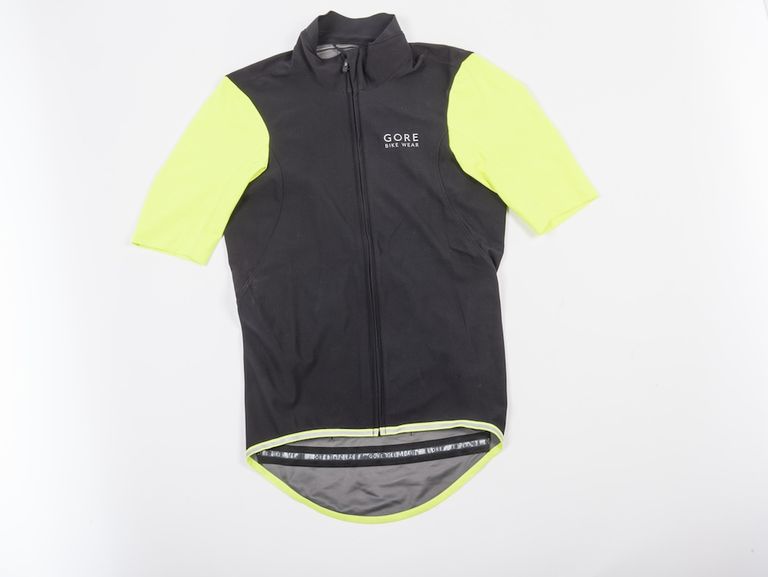 (Image credit: chris catchpole)
Cycling Weekly Verdict
Although slightly cheaper than a Castelli Gabba, the Gore Power WS SO Jersey appears to be priced the same as the Gabba's replacement, the Perfetto. Both garments are excellent and use very similar fabrics. I can highly recommend the Gore Power if you are looking for a bad weather jersey.
Reasons to buy
+

Fits well

+

Comfortable

+

Good pockets

+

Nice hi-vis features
Water-resistant softshells came to prominence in the 2013 Milan San Remo, when many of the riders could be seen adopting a well-fitted black jacket to combat the foul weather. That jacket was the Castelli Gabba, a product deemed so good, many pros wore it despite being in breach of sponsorship deals and UCI rules. Since then other brands have developed products similar to the Gabba, combining a softshell jacket, with breathability and water resistance.
Gore is without question a market leader when it comes to performance textiles. Other companies, such as the aforementioned Castelli, buy fabrics from Gore to make their own products. That said, the Gore Power Jersey is very similar to the Gabba – in addition to the short-sleeved version, there is also a long sleeve and zipped sleeve, convertible version too. The water resistance and insulation offered by the Gore Power WS SO Jersey is comparable to other jackets that employ the Gore Windstopper fabrics, meaning it will see off showers or light rain and dries quickly.
The fabric is treated with a durable repellent coating that causes water to bead on the surface. Although this does diminish over time, it can be replenished with special products.
>>> Better than a Gabba? Water resistant soft shells on test
Wearing a small, I found the fit of the zipped sleeves to be a little loose and found the short-sleeved version combined with Gore's arm warmers a much better proposition, especially if you are concerned about aerodynamics.
I am a big fan of the pockets on the Gore Power WS SO Jersey as they are good size, positioned well and easy to access with gloves on. As a comparison, the pockets on the Rapha Shadow Jersey are much tighter and harder to access when wearing gloves. Another key feature of garments of this type is the tail or dropped hem. On other products, such as the Vermarc Aqua Zero, I found this had a tendency to ride up, but I had no such issues with the Gore Power WS SO. The tail did a great job of staying in place and fitting snug around my posterior.
The Windstopper logo up the spine is a really nice reflective detail and a good example of how hi-vis features can be attractive. Styling is fairly conservative, with only black or primary colour options. I like the look of the black jersey, but it would be nice to see some more exciting colours available. The overall quality is right up there with the Gabba and Perfetto, making it easy for me to recommend the Power jersey. With the short-sleeve version, you are getting performance equal to a Gabba at a lower price. For more information, head over to Gore.