Wilier Cento 1 NDR Ultegra review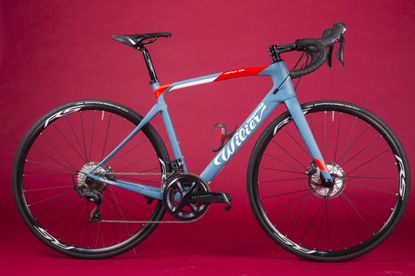 The Wilier Cento 1 NDR provides a quality frameset and is easy to ride for the longer distances for which it was intended. But in this spec, it's let down by the wheels and deserves an upgrade to bring out its excellent ride qualities.
Reasons to buy
+

Excellent frame with great power transfer

+

Comfortable riding position that isn't too upright

+

Good compliance over uneven surfaces

+

Highly adaptable frame

+
Reasons to avoid
-

Heavy wheels are crying out for an upgrade

-

Not tubeless ready

-
You can trust Cycling Weekly. Our team of experts put in hard miles testing cycling tech and will always share honest, unbiased advice to help you choose. Find out more about how we test.
Wilier's latest endurance bike hits a lower price point than the Cento 10 NDR
Wilier launched its Cento 10 NDR a couple of years ago. That machine was a premium priced endurance bike with some neat integration features. Now there's the Cento 1 NDR, which we've tested here.
It's designed to offer similar features to the Cento 10 NDR, but forego some of that model's fancy tech to slot in at a less expensive price point.
>>> Buy now at Chain Reaction Cycles for £3,199.99
So whereas on the Cento 10 NDR you get an articulated link with a 'techopolymer' damper in the seatstays, giving up to 6mm of vertical travel to the rear triangle, the Cento 1 NDR has a more standard seatstay design, relying on a skinny profile, bowed shape and the in-built flex in the carbon layup to deliver ride compliance.
Likewise, the Cento 1 NDR has a standard bar and stem design with external cable routing instead of the fancy carbon bar and stem of the Cento 10 NDR, which allowed Wilier to route that bike's cables completely internally.
The frame
But apart from the rear triangle, the Cento 1 NDR has a similar frame shape to its more expensive sibling. So the reach and stack are identical and designed for a more upright ride than on Wilier's performance racing bikes. Wilier reckons that many riders want a performance road bike that doesn't mimic the geometry of its full-on aero racing machines like the Cento 10 Air.
>>> Check out Sylvain Chavanel's Wilier Cento 10 Pro
The ride position isn't that straight up nevertheless. Despite a slightly taller head tube than the Cento 10 Air and a shorter top tube, you're still quite low, helping to keep your frontal profile small for efficient aerodynamics.
The Cento 1 NDR also inherits the down tube and head tube profiles of the Cento 10 Air race bike. So you get a kammtail shape and chunky cross section, which add torsional stiffness to the frame as well as an aerodynamic advantage. The fork blades too have an elongated aero section.
Whereas the Cento 10 NDR uses high modulus 60 ton carbon fibre in its build, the Cento 1 NDR uses a lower modulus 46 ton carbon fibre. Without the extra weight of the suspension linkage, this results in a painted size medium frame weight claimed to be the same as the Cento 10 NDR at 1190g. With the fork weighing 390g, that gives an overall bike weight which we measured at 8.55kg.
Wilier has kept the option to fit either disc brakes or direct mount rim calipers in the Cento 1 NDR, with bolts filling the holes in the frame. The drop-outs are convertible between thru-axle and quick release axle widths too.
Wilier's adaptable cable routing means that the disc brake cables run through the frame and there are blanked off cable ports to run a rear rim brake caliper's cable through the top tube.
Wilier offers a number of rim braked specs as well as the disc braked bikes, starting with a 105 rim braked build and heading up to the range topping Ultegra Di2 Disc variant (although importer Hotlines doesn't import all the spec options into the UK).
The specification
Hotlines imports three disc brake versions of the Cento 1 NDR.
We've tested the Cento 1 NDR in its Ultegra Disc format, with Shimano RS170 wheels, priced at £3,199.99. Hotlines also sells a UK variant with the same groupset but a smarter Vision Trimax Disc carbon wheelset, for £3,700. £2,699.99 buys you the 105 Disc version with Shimano RS170 wheels.
Disc brakes make a lot of sense for an endurance bike in the UK, which is likely to be ridden come rain or shine – and quite probably through both in the same day. There's still a premium over rim brakes, but the more assured and consistent braking offered by discs is, in our view, worth the extra cost. Ultegra's hydraulic discs, with their heat sink rotors are amongst the best out there. The same is true for its shifting, which is light and comparable to Dura-Ace.
The cockpit on the Wilier Cento 1 NDR is alloy and comes from FSA, but with Wilier logos and co-branding. There's an 11cm stem fitted to the size medium frame. That gives a bit more reach over the more usual 10cm.
The alloy seatpost is made by Ritchey and there's a comfortable Selle Italia Boost X3 saddle with a pressure relief cut-out.
Shimano RS170 wheels are solid and bombproof, but aren't going to set your ride alight, with a weight of over 2kg for the set. They're not tubeless ready either, but then neither are the 25mm Vittoria Zaffiro Pro tyres fitted. So if you want to set up tubeless and save a bit of weight, you will want to upgrade the wheels and tyres. There's clearance in the Cento 1 NDR frame for 28mm or even 30mm tyres for a plusher ride.
Riding the Wilier Cento 1 NDR
That need for a wheel upgrade shows in the Cento 1 NDR's ride. It's a comfortable machine as specced and good for the long distance rides for which it was designed.
There's a hint of something more engaging in the frame's taut handling and the Cento 1 NDR inherits Wilier's excellent power transfer through the chunky down tube and bottom bracket shell from the Cento 10 Air.
That was brought to the fore by a swap-out of the supplied wheels and tyres for a set of Enve SES 5.6 deep section carbon numbers, shod with Hutchinson Fusion 5 tubeless tyres. The change in the ride quality was dramatic, with the Cento 1 NDR feeling so much livelier and that power transfer and pin-sharp handling really coming to the fore.
At £2,800, Enve's wheels are a pricey add-on. But in fairness to Wilier, it clearly recognises that the Cento 1 NDR deserves a better wheelset: if you don't have a premium set of hoops to hand, it would be sensible to consider spending the £500 extra for the same spec with Vision carbon wheels.
As you'd expect, without the rear end suspension and carbon bars and stem, the Cento 1 NDR is not quite as compliant as the Cento 10 NDR over the most uneven surfaces. But it's plenty comfortable enough for typical UK tar and gravel roads, smoothing out the chatter these generate and coping well with more severe perturbations, without jumping you around overly.
Wilier fits the Cento 1 NDR with a compact 50/34 chainset and an 11-30 cassette. That gives plenty of gear range to get you up steep hills. The swap-out to the Enve wheels included a change to a smaller 11-28 cassette. It's a testament to the frame's power delivery that I found I was using the 28 tooth sprocket less with the Enves than the 30 tooth supplied with the bike when riding on the Shimano wheels.
Value
£3,200 puts the Wilier Cento 1 NDR towards the premium end of the price range for its spec. That feels justified by the excellent frameset, adaptability and quality ride.
Wilier is a low volume prestige Italian brand with a racing pedigree and a heritage going back to 1906 and its bikes will always carry a premium over mass market machines with a similar groupset and component spec. It's just a shame about those wheels!
Thank you for reading 20 articles this month* Join now for unlimited access
Enjoy your first month for just £1 / $1 / €1
*Read 5 free articles per month without a subscription
Join now for unlimited access
Try first month for just £1 / $1 / €1