Miche Revox RC DX wheels review
With 38mm of carbon for just over a grand, the disc-brake-specific Miche Revox RC DX wheels aim to provide an affordable option for racing and endurance riding, so we took a pair out on a rather epic ride to discover if they are a hit or miss in the wheel upgrade department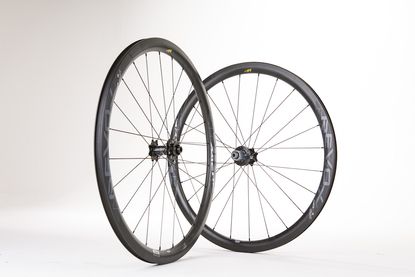 The Miche Revox RC DX wheels will instantly give an upgraded look to any bike, and hold their own on the flat and descending, with no wind buffering issues to speak of. However, over all they felt in rather underwhelming in general and lacklustre. Unfortunately without a real unique selling point in an overcrowded wheel market, they're somewhat overshadowed by competitors.
Reasons to buy
+

Minimal wind buffeting

+

Subtle decals

+

Agile
Reasons to avoid
-

Tyre fitting issues

-

Weight

-

Slow to pick up

-

Underwhelming at climbing

-

Better competition available

-
If there's one way to truly test your matrimonial strength, then try and fettle a bike together. It doesn't really matter what bit you fettle, but it's highly likely there will become a point where, let us say, things become strained. In my loving partnership, this point was reached rather early in the setting up of the Miche Revox RC DX wheels, and reached a couple of times.
>>> 11 reasons why you should fall in love with a cyclist
The first time was at fitting the rotors – I'd checked the thru-axle size and Centre Lock Shimano compatibility bit, but had assumed that as they were 12mm, it was a internally threaded lockring. It turns out that even 12mm thru-axles can have externally threaded lockrings now – who knew? We do now after a heated debate, and anyway gin and a trip to a bike shop the next morning to purchase the necessary parts ensured domestic harmony once more.
It was the tyre fitting that nearly started divorce proceedings. Fitting tyres is the bread and butter of my work as tech writer, the equivalent of switching the laptop on or turning the key in the ignition, so basic but essential to my daily role. So when I can't do it I immediately sulk. Sulking turns to frustration and frustration turns to swear words. At 24mm wide externally and 17mm internally, there's nothing particularly standoutish about the measurements of the full carbon rim of the Miche Revox RC DX wheels rim. It's more about what they don't have – a deep enough central channel to assist them being shod in tyres.
Cue the other half stepping in to help, me shooing him away with a bit of 'I'm more than capable' rant, more swearing, almost bleeding thumbs before finally admitting defeat and, tail between legs, apologising and asking for help.
My self-belief returned almost instantly after swiftly hearing a tyre lever ping out from the rim, shoot across the garage floor followed by "this is ridiculous" and "are you sure these are clinchers"? (interspersed with a few more swear words), whereupon I quietly closed the garage door and left him too it. Thankfully perseverance paid off and we finally had some rubber on the Miche Revox RC DX wheels. Now, with a common enemy, our marriage was saved and we toasted our sore thumbs with more gin.
Construction
It's worth pausing my domestic monologue here to delve a bit deeper into the Miche Revox RC DX wheels. Launched in April 2017, the Revox range was part of a large Miche wheel expansion which saw the Italian brand also launch and refine its clincher and tubular wheelset offerings. Top of the Miche tree sits the tubular Supertype range, followed by the SWR carbon clinchers and tubs, with the clincher rim tubeless ready without needing tape as it has a sealed rim bed, with the Revox range just nestling below, which can take up to 28mm tyres but with its pierced rim bed not the tubeless variety.
Other construction details include the use of unidirectional carbon. There's various theories as to what provides better strength-to-weight ratio between strands of carbon laid out in the same direction, such as the Revox, or a 3k weave pattern, or a combination of both, such as used in the Zipp 454 NSW Carbon Clincher.
>>> Carbon road bike: what makes good quality carbon and five bikes to consider
More essential construction points are the aluminium axle and freehub body, the 24-apiece flat, J-bend, double butted Sapim spokes and most importantly the fact that they are Shimano, SRAM and Campagnolo compatible.
With regard to tyres choices, after my aborted attempts to fit anything to the wheels it was apparent that if I were to puncture while out riding there was no way I was going to be able to fix it. So I opted for 25mm Continental Grandsport Extra tyres as they're reasonably robust, and hoped they would withstand more road detritus than a faster lightweight tyre, and swopped my spare tube and levers for a phone and credit card. In hindsight, a lightweight more expensive tyre might have been also more malleable in terms of pushing over the rim and therefore more inclined to go on the Miche Revox RC DX wheels in the first place, but there was no way the Grandsport Extras were coming off once they were on without puncturing inner tubes.
The ride
Once set up and pumped up to 95psi the Continental Grandsport Extra measured 26mm, opening the 25mm tyres up nicely to give them that ultimate parabolic shape for great rubber to road contact.
As with any deep-section wheels, adding a set of 38mm carbon to any bike is always going to make it look instantly upgraded and in that regard the Miche Revox RC DX wheels didn't disappoint. The decals are nicely subtle, and being grey won't discolour from road grime as much as white will, but being stuck on they will eventually get scuffed and start to peel.
Out on the road I felt like it took me a while to warm to the Miche Revox RC DX wheels. It's not that they were particularly slow or clunky, it just took me a while to find their sweetspot to enable them to perform – which happens to be on flat or downhill straight lines. They are quite slow to pick up, but as we said in the Miche Revoc RC 38 carbon wheels rim brake version review, they do have punch there, and once you get up to speed they roll reasonably fast.
But climbers they are not. A combination of a exceptionally hilly ride, 1,800 metres to be precise, and those not particularly fast-rolling tyres left the Miche Revox RC DX wheels wanting. I'd come off the back of riding a pair of 30mm Giant SLR-1 Disc WheelSystem that came with tubeless as standard on the Liv Langma Advance Pro Disc bike. These seemed effortless in any form of rolling terrain, and I wished for them to be back on the bike numerous times on the climbs between Meerbrook at the bottom of the Roaches, Wincle and the top of the A54, which is promptly where the fun ran out on the five-hour ride in which I had the Miche Revox RC DX wheels for company.
I'd have to undertake more specific back-to-back testing to see what pair comes up trumps in terms of flat rolling speed, but my gut says if it is the Revox, then it isn't by much even with the extra 8mm of depth. Like I said they might fare better with some quicker rolling rubber on, and to be fair they hardly suffered from any form of wind turbulence which could make them a windy day option contender.
With the the strength of your stopping power coming in the form of your disc brake configuration, there aren't any braking issues to report when paired with the Shimano Ultegra hydraulic set up. The Miche Revox RC DX wheels seemed happy under load, and I was more than confident at putting them under pressure down some steep 25 per cent sections as well as long, sinuous, twisty-turny lanes and they remained constantly agile, again with no wind buffeting concerns that deep-section wheels with flat-bladed spokes are often known for.
Value
It's not that I absolutely hated the Miche Revox RC DX wheels, I just struggled to find any real endearing quality that would make me personally want to upgrade to them. There just seems to be something wanting, even if they come with fancy old-school elasticated rim protection covers. As we said in our review of its rim brake version, in 2018 we are spoilt for choice more than ever, particularly with carbon wheels around the £1,000 mark, with a variety of large and independent manufacturers offering great wheelsets.
There is still slightly less disc choice out there, but the Revox are still a little bit underwhelming for the price. For what it's worth, I think the 36mm SWR Full Carbon RC DX shod in tubeless tyres would be a much better bet for £260 more.
Thank you for reading 10 articles this month* Join now for unlimited access
Enjoy your first month for just £1 / $1 / €1
*Read 5 free articles per month without a subscription
Join now for unlimited access
Try first month for just £1 / $1 / €1
Hannah is Cycling Weekly's longest-serving tech writer, having started with the magazine back in 2011. She has covered all things technical for both print and digital over multiple seasons representing CW at spring Classics, and Grand Tours and all races in between.
Hannah was a successful road and track racer herself, competing in UCI races all over Europe as well as in China, Pakistan and New Zealand.
For fun, she's ridden LEJOG unaided, a lap of Majorca in a day, won a 24-hour mountain bike race and tackled famous mountain passes in the French Alps, Pyrenees, Dolomites and Himalayas.
She lives just outside the Peak District National Park near Manchester UK with her partner, daughter and a small but beautifully formed bike collection.