Are tubeless tyre setups easy enough for everyone to use?
With tubeless setups becoming increasingly popular among road cyclists, we take a look at the pros and cons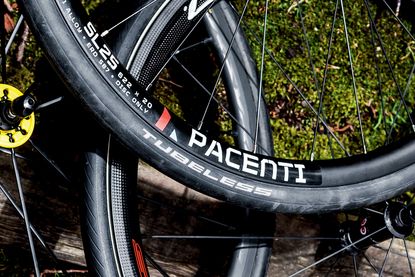 Get The Leadout Newsletter
The latest race content, interviews, features, reviews and expert buying guides, direct to your inbox!
Thank you for signing up to The Pick. You will receive a verification email shortly.
There was a problem. Please refresh the page and try again.
Tubeless set-ups may not yet feature in the pro peloton, but the real-world advantages for the rest of us — like puncture proofing — makes it a worth while consideration.
The development of the road-specific tubeless system owes a lot to Shimano and Hutchinson.
>>> How to puncture proof your tyres (video)
Their collaboration over the development of a tubeless wheel and tyre combination, dating from the mid 2000s, created and highlighted the need for specific rim and tyre bead shapes.
Today this more pronounced interface is still present but as with other areas of bicycle technology, improvements have been made to minimise the detrimental impacts on rolling resistance, weight and serviceability experienced with earlier versions.
Watch now: How to set up tubeless road tyres
For a rim to be truly tubeless compatible, it needs to be designed differently from a clincher to ensure a good air seal.
As Tom Marchment from Hunt Wheels explains: "This is not only to provide a good initial seat for the tyre's bead but also a uniform shape that enables long term sealing."
For continued, reliable tubeless performance it is critical that a rim not only has a specially adapted 'lip' at the edge of the rim to securely hold the tyre but also a relatively featureless internal shape.
>>> Hunt Race Aero SuperDura wheels: test ridden by a 116kg rugby player over Roubaix cobbles
Ideally the rim bed should be devoid of spoke holes, uneven welds and, in the case of carbon, the lay-up should be as smooth as possible. Any unevenness or small flaws can prevent a rim from remaining airtight.
However, the majority of tubeless-ready rims still feature spoke drillings.
It is with this type of rim that the quality and fitment of the tubeless-specific rim tape is of utmost importance for a correct seal.
Marchment advises:
"Having tape that is wide enough to meet the tyre beads and applying tape tightly and pushed onto the rim bed to a very dry, clean rim — not just wiped dry but air dried in a warm room — is often useful to try if air is leaking."
In fact, with the availability of tubeless conversion kits from the likes of Stan's No Tubes, Effetto Mariposa and Schwalbe, most modern wheels can be converted to run tubeless.
>>> Clinchers, tubulars and tubeless – which tyre system is the fastest? (video)
However, as Dave Taylor from Schwalbe UK explains: "Some wheels are not at all suitable to convert to tubeless, especially those with narrower rims. If in any doubt contact the wheel manufacturer."
It may sound obvious, but only tubeless tyres can be used for tubeless set-up — you can't simply convert a standard clincher.
There are very specific design features that ensure rider safety and the integrity of a tubeless tyre, as Taylor explains:
"Our Tubeless Easy tyres have a coated tyre bead with a special shape. The shape of the bead core provides a good seal with a suitable rim and can withstand air pressure of up to 8 bar [116psi].
"We use high-strength synthetic fibres in the bead core in order to achieve the necessary tensile strength required to prevent the tyre from slipping out of the wheel rim.
"The bead core cannot be too thick as road rims are markedly narrower than mountain bike wheel rims. A thick bead core would also prove difficult to mount onto a wheel rim."
Most tubeless tyres are similar in construction.
While Schwalbe has identified DT Swiss's Spline range as being a recommended wheel range to use with its tubeless tyres, the good news for tubeless adopters is that most wheel and tyre manufacturers are happy with any combination of products — as long as they are specifically and safely intended for tubeless use.
Tom Marchment - Hunt Wheels
Have you had any issues with certain brands of tyre not fitting properly?
"Not really, we have to say that pretty much all road tubeless/tubeless-ready tyres we have tested from major brands, especially the 2016/2017 models, seal and fit pretty well nowadays.
"It's often a case of knowing the tricks.
"While there is a learning process to tubeless we liken it to the first time we had to fit an inner tube in a 23mm tyre; it's always a struggle get it all in and how many of us have nipped or punctured a tube with a lever or left the tube stuck under the bead creating an almighty bang when it explodes?"
Why do some combinations just not seal?
"While we definitely find some tyres are easier to get sealed, often it's down to rim tape or valve installation.
"We tend to find even if an initial seal is harder, a few days of being inflated with a good sealant tends to fill any small air leaks.
"Something to note is that seating and sealing in warmer conditions is easier, so a trick can be to put the wheels in a warm house for a couple of days after set-up to help them get a good seal."
Thank you for reading 20 articles this month* Join now for unlimited access
Enjoy your first month for just £1 / $1 / €1
*Read 5 free articles per month without a subscription
Join now for unlimited access
Try first month for just £1 / $1 / €1
Get The Leadout Newsletter
The latest race content, interviews, features, reviews and expert buying guides, direct to your inbox!
James Bracey's career has seen him move from geography teacher, to MBR writer, to Cycling Weekly's senior tech writer and video presenter. He possesses an in-depth knowledge of bicycle mechanics, as well as bike fit and coaching qualifications. Bracey enjoys all manner of cycling, from road to gravel and mountain biking.