Watch: Lamborghini driver chased down by police officer on bike after jumping red light
200mph supercar is no match for police officer's two wheels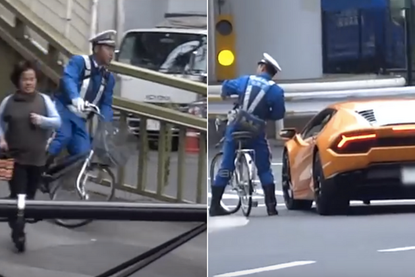 The driver of a flash orange Lamborghini in Japan got an unexpected surprise after being chased down by a police officer on a bike and issued with a ticket after apparently going through a red light at a junction
Video of the incident, which was posted on YouTube last month and has since racked up more than 2.4 million views, shows the driver of the bright orange Lamborghini Huracan turning left at a junction in an illegal manoeuvre spotted by the nearby police officer.
>>> Chance find by member of public sees stolen bike reunited with 'stunned' Cycling UK chief executive
Footage shows the 610 horsepower Lamborghini, which has a top speed of more than 200mph, pulling slowly away from the junction, before the police officer comes speeding down a nearby path to set off in pursuit.
Unfortunately the video does not show the police officer's efforts in full, instead skipping forward to the catch, where he gestures at the driver in an apparent attempt to show them what they had done wrong.
The driver then pulls up at the side of the street, where they are issued with a ticket by the officer, who has neatly parked his bike - complete with flat pedals and basket - a little further up the road.
Thank you for reading 20 articles this month* Join now for unlimited access
Enjoy your first month for just £1 / $1 / €1
*Read 5 free articles per month without a subscription
Join now for unlimited access
Try first month for just £1 / $1 / €1