Watch: Drone crashes into cyclist mid-race (video)
This drone took the close-up a little too close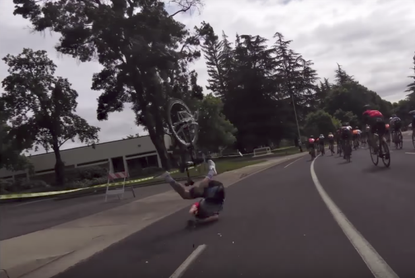 An incredibly unfortunate US rider fell victim to a drone as it crashed into the middle of the race. The video above was taken from a fellow racer riding in the Golden State Race series in Sacremento, California.
The video, uploaded by Kaito C, shows the drone falling from the sky into the unlucky rider's path at the 28 second mark forcing the rider to roll over the drone. Slowing down, the rider seems to be over the worst of it before the drone's wreckage gets caught in the front wheel and fork. The rider is then catapulted from the saddle over his handlebars.
>>> Van driver filmed forcing cyclist off road is sacked by company
Falling from the sky, it can be seen that the drone had hit the nearby tree causing it to spiral down towards the path of the racer.
Thankfully the rider suffered no broken bones, only ending up with a broken wheel, helmet and some road rash. The drone owner is said to have offered to buy the rider a new wheel and helmet but it's not clear if that's the end of it.
Thank you for reading 20 articles this month* Join now for unlimited access
Enjoy your first month for just £1 / $1 / €1
*Read 5 free articles per month without a subscription
Join now for unlimited access
Try first month for just £1 / $1 / €1