Guide to night rides
We may be a little short on daylight at this time of year, but with the right lights you needn't stop riding your bike. What's more, when summer arrives, you might just find an event that will take you through the night — and out the other side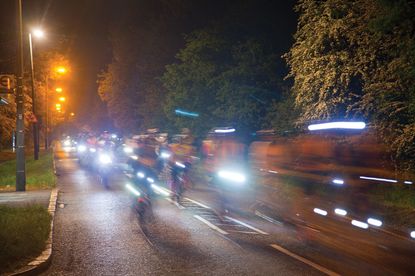 Bike lights have become increasingly powerful over the last five years, and prices have dropped, making really good lights accessible to more people. This has in turn triggered a surge in night-time sportives, and as people continually look for new and exciting ways to ride, these night-time events satisfy a thirst for adventure.
Riding at night is often done out of necessity — because it's winter and there aren't enough daylight hours to train in, or because you need to ride in the dark on your commute. Few people who have the option of riding during the day to choose to ride at night instead, but by not doing so you are missing out!
Night-riding is strangely peaceful, your senses are heightened as your vision is restricted, you feel much more aware of smells and noises or the feel of the wind. Your imagination has lift-off. Riding on a summer night is even better as the cool air still carries a hint of the warmth of the day and you don't have your head down, battling into wind and rain.
Night-time cycling adventures open up a different world and a different sense of freedom. Riding down the normally busy and congested roads of your town makes you feel powerful.
You experience completely different things on your ride at night to the same route in the day; pub gardens with people laughing and drinking, the glow of the TV behind the curtain in a family house, the strong waft of spices as you ride past the curry house or the ghostly swoop of an owl emerging from the hedgerow.
A familiar ride can feel completely different. Many night-time sportives play on these emotions. Several are run from major cities including London where the experience of riding past the lit-up monuments and illuminated streets help to make the experience special.
There are also night-time sportives on some of the most famous mountains in cycling history, both the Col du Tourmalet and Mont Ventoux run night-time events. Here there is little ambient lighting so it is just you, the road and a vast expanse of dark sky. Ahead, a small trickle of tiny lights ascend into the blackness. For lovers of mountainous riding these events border on the magical.
Dark matters
Riding a sportive in the dark brings its own hazards. Group riding can be tricky and erratic in the daylight, let alone when you can barely see the riders around you. As always communication is key; lights may help you to see each other, but you should always call out as you approach another rider. They will probably see your light sneaking up on them but may not be able to gauge exactly where you are or how fast you are traveling.
Similarly, pay extra special attention to calling out potholes and hazards as it is harder to spot these in the dark, and if you are riding in a group the shadows cast can often obscure a clear view of the road. LED lights can be powerful but it's still easy to miss things that could potentially send you head-over-heels.
An array of safety equipment won't make any difference unless you're ready for anything when visibility is poor. Whether it's a staggering drunk, a careless pedestrian, or worse, a startled badger, you need to be prepared for any eventuality. Riding in low light requires a different level of awareness, and especially in traffic, night riders should always assume that drivers and pedestrians haven't seen them until they're absolutely sure.
Lights are essential for riding in the dark. While you may think it doesn't take much to work that out, it's staggering how many cyclists will ride with the smallest of LED lights, or with no lights at all, particularly in lit urban areas. The minimum legal requirement is far less than what's actually adequate for safe cycling in the dark, particularly if you want to ride at any speed. Buy the best lights you can afford, as once you realise how much fun night riding can be you'll want to do more of it.
Good lights effectively extend the number of available cycling hours in a day! Whether you use those hours for winter training and commuting or long adventurous summer evening rides those lights will be a worthwhile investment.
Bright ideas
Lights, however bright, can always fade into the ambient surroundings of cities so make sure you position them effectively. Using lights or reflectors on wheels or pedals is a good idea, as the movement will help catch the eyes of drivers. When you're out riding in the sticks, you'll want to see where you're going as well as being seen, so the more powerful lights are better.
Lights that pack a punch often pack a hefty price tag too, so it won't be cheap, but it will be a worthwhile investment.
Riding in as close to artificial daylight as possible has its advantages. The more powerful the light, the more confidently you can ride. Go for rechargeable lights and make sure they are fully topped up before you start.
Don't just illuminate your bike, consider what you wear too so that you stand out. If you were to be separated from your bike because of a crash or if you were fixing a puncture on the roadside it's important you are still clearly visible.
Fortunately, high-visibility equipment is becoming more and more versatile, with new products being launched for cyclists all the time. Whether it's a vest, band or ankle strap, any addition of this reflective material to your cycling gear will make a difference to your visibility to drivers.
Speeding along in a group is efficient and enjoyable, but there are a few basics you need to know about
Thank you for reading 10 articles this month* Join now for unlimited access
Enjoy your first month for just £1 / $1 / €1
*Read 5 free articles per month without a subscription
Join now for unlimited access
Try first month for just £1 / $1 / €1
Founded in 1891, Cycling Weekly and its team of expert journalists brings cyclists in-depth reviews, extensive coverage of both professional and domestic racing, as well as fitness advice and 'brew a cuppa and put your feet up' features. Cycling Weekly serves its audience across a range of platforms, from good old-fashioned print to online journalism, and video.