New off-season jersey from Austrian brand BBUC
Technical fabrics for warm autumn rides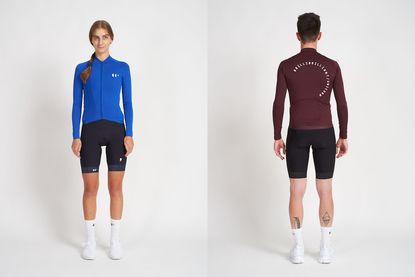 The Vienna based brand makes its Essential long sleeved jersey in Italy from lightweight technical fabric from Swiss technical fabric manufacturer Schoeler.
BBUC says that the Essential long sleeved jersey has a close fit for aero benefits and a low collar. The front YKK zipper is covered by side flaps and there are the usual three rear pockets plus a hidden zipped valuable pocket.
The rear bears the legend Brilliant Brilliant/Unicorn, from which BBUC's name is derived. There's a whole Last Unicorn collection as well as Disco, Dance Shield, Copy Cat and FNC options available on BBUC's website (opens in new tab).
BBUC describes itself as: "a contemporary apparel brand serving a new generation of cyclists by combining fashion design with athletic functionality to motivate adventure and self-discovery through sport. Their casual and functional garments are differentiated by a clean aesthetic and ironic perspective that plays between fantasy and tradition.
"BBUC serves all people with an interest in bicycles as well as serious cyclists; it also wants to reach out and inspire all those who have not discovered that cycling can be a meditative activity thereby becoming a tool for self-discovery.
"BBUC removes the fear of wearing purely function cycling clothes due to its combination of casual and functional wear.
"This then becomes a norm in an area where others usually see a contrast," it continues.
Its other projects have included a collaboration with the Czech high end bike maker Festka on a custom painted Festka Scalatore climber's bike and matching kit to celebrate the World Championships coming to Austria last month.
The Essential long sleeved jersey is available in men's and women's fits and five sizes from XS to XL. It comes in four different colours: black, olive, burgundy and royal blue. It's priced at 178 Euros. Spend over 200 Euros and BBUC offers free shipping.
Thank you for reading 5 articles this month* Join now for unlimited access
Enjoy your first month for just £1 / $1 / €1
*Read 5 free articles per month without a subscription
Join now for unlimited access
Try first month for just £1 / $1 / €1