Are you ready for your longest bike ride? Here's how to prepare in the lead up and succeed on the big day
There's still time for an epic summer cycling adventure. We guide you through the essential preparations to conquer your longest ride of the year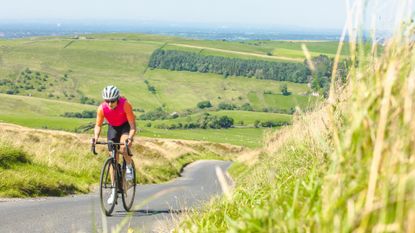 (Image credit: Future)
Get The Leadout Newsletter
The latest race content, interviews, features, reviews and expert buying guides, direct to your inbox!
Thank you for signing up to The Pick. You will receive a verification email shortly.
There was a problem. Please refresh the page and try again.
The summer is a great time for ticking off your longest ride of the year, but time is running out on the sunniest season. Whether to explore new roads and scenery, to challenge your limits, or just for a sense of accomplishment and adventure, there is something very special about pulling an all-dayer. Right from the moment you decide to do it, heading into the unknown, both in terms of distance and physical endurance, is incredibly exciting.
Of course, this bigger-than-usual ride requires some careful planning and preparation – and that's the purpose of this feature. We'll break down the challenge into manageable chunks so that you can head out feeling confident and ready to make the most of every moment.
Planning and preparing for your longest bike ride
How far is too far?
The first and most important question is, how far? This must be tailored to your experience and current fitness. "Consider what you've done before, and make the goal further than that," suggests coach Amira Mellor (edgecoaching.cc). "If you have only ever ridden 100km, don't go attempting 360km." Perhaps you're ready for your first 100-mile bike ride, but be realistic and don't try to add more than about 20% on top of the distance you've achieved before.
How much training is needed?
Ideally you'll have put in at least 10 weeks of consistent riding, steadily building up your endurance and mileage. "If you're aiming for 100 miles, I would suggest doing a five-hour ride nine weeks out, followed by a six-hour ride six weeks out," advises Mellor. "After that, shorter rides of three to four hours should be enough. Accumulated time on the saddle is what matters most." Focus on putting in the hours at a sustainable pace and keeping stops to a minimum.
Do I need to complete the target distance in training?
No, you do not need to have completed the distance in a single ride during your training. Nor should you ramp up your volume too dramatically. "If your normal volume is six hours a week, you can't jump straight into a 12-hour training week," says Mellor. "Instead, aim for a slow progression, increasing volume by 10% per week." This steady progression allows your body time to adapt to the increase in volume, reducing the likelihood of overtraining, injuries and illness.
How hard should I ride in training?
"Long, easy rides are the key," says Mellor. "There's a time and place for shorter interval sessions, especially when working a full-time job, but for long rides, you need base endurance." A long day out, such as a 100-mile ride, places big demands on your aerobic system, meaning you need to be able to churn out Zone 1 and 2 intensity for long periods of time.
Sweetspot training is great for long ride preparation. Riding at around 90% of your FTP is a level of intensity that is uncomfortable but manageable and fast-tracks your sustainable power. Be warned, though, long blocks of sweetspot are hard! Start with two times 15 minutes, adding a third and fourth interval only once you feel ready. Repeat the session once every seven to 10 days.
In the lead up to your longest bike ride
Do I need to taper?
Yes, a taper allows your body to freshen up and consolidate training gains. "Around 10 days out from the event, start cutting down the duration of your long rides to a maximum of three hours," says Mellor. "Include at least two rest days in the final week before the big ride." One or two short, sharp sessions during the final 10 days can be effective in keeping your engine primed without causing too much fatigue.
What about the bike?
Your bike as well as your body is taking on its biggest challenge of the year, so it needs to be in tip-top condition. Make sure it is clean and that there is plenty of life left in the brake pads and chain. Safety and peace of mind are paramount, so do not leave these checks until the last moment.
How many layers?
Be ready to amend your kit choices accordingly. Hopefully it'll be warm enough for bib shorts and short-sleeved jerseys, but if you're starting early in the morning, you're likely to need a thin gilet and/or arm-warmers to begin with – both of which are easily stashed in your jersey pockets once the heat of the sun breaks through.
What am I forgetting?
A long day under the sun won't just drain your water supply but also your batteries. Fully charge all your electronics: phone, cycling computer, shifters and bike lights (the latter just in case).
How to research the route?
Technology has turned route-planning from a chore into a pleasure. Apps such as Veloviewer or Google Maps provide so much data it's as though you're previewing a Tour de France stage. Scout the route from the comfort of your sofa. Are there going to be any steep climbs towards the end that you'll need to save some energy for? Are there any dangerous descents? Where's the best place to stop for lunch? Get it all mapped out in advance.
How to navigate?
Most routes are available as a GPX file which can then be downloaded onto your GPS head-unit. To do this, you must first open the GPX file in your chosen app, e.g. Garmin Connect, where you can select to share the route with your head-unit. Within a few minutes the route will be accessible on your bars via the navigation menu; click and go!
The day itself
What to eat for breakfast?
The most important meal of the day? Well, it certainly is today. Make sure you get up early enough for a hearty breakfast. "Eat breakfast at least an hour before you start riding, and prioritise carbohydrates over other macronutrients," advises performance nutritionist Danilo Coppola (@danilo.copp on Instagram). "You should aim to consume at least a gram of carbohydrates per kilo of body weight – but don't eat so much that you feel uncomfortably full. Starting the day with gastrointestinal discomfort could seriously hamper your performance."
Here's a sample breakfast for a 70kg cyclist (scale up or down as suits):
60g oats
150ml skimmed milk
10 sweet cherries
1 tsp of honey
How to pace it?
Remember, this is not a race, so don't get carried away early on while you are still feeling fresh. Pacing yourself is crucial. Keep an eye on power and heart rate as well as perceived effort, and stay within the effort level you proved to be sustainable during your training. "Even if this means dropping off a group up a climb, making sure your heart rate is not drifting over threshold will keep you from blowing up," Mellor explains, who recommends using heart rate to stay in Zone 2 throughout. At the most basic level, your effort should be low enough that you're able to chat.
How to save energy?
As well as thoughtful pacing, smart positioning and road craft can save you a huge amount of energy. If you're riding with others, alternate the lead so that everyone gets roughly equal time drafting. Cycling in the slipstream saves 20-40% of energy. An efficient cadence plays a part too: aim for 80-90rpm to keep your legs spinning without overstressing the muscles. 'Spin to win' as they say.
How much do I need to eat on the bike?
As a minimum, you'll need to consume one gram of carbohydrate per kilo of body weight per hour. "For very long rides, the recommendation is 90-120g of carbs per hour," says Danilo Coppola, "with the caveat that the athlete's digestive system has to be able to tolerate these high amounts." Before the big day, you should have tested out your cycling nutrition to make sure your gut can handle it. "Eat solid sources of carbs such as bananas and flapjacks in the first few hours," Coppola recommends, "before switching to energy gels and liquid carbs in the later stages, as these are easier to digest." Sticking your nutrition plan to your stem can be a useful reminder.
The after-party
How much to eat afterwards?
Although it can be tempting to order the biggest, greasiest burger and chips on the pub menu and wash it down with several pints, spare a thought for your depleted body. "Athletes should prioritise glycogen replenishment," says Coppola, "and this is best done within the first 30 to 60 minutes after you finish riding". A 70kg rider should aim to consume about 70g of carbohydrates and 20g of protein in this post-ride meal, equating to 1g carbs and 0.3g protein per kilo of bodyweight. Adding a protein shake is an easy way to boost that protein figure.
Where's my soigneur?!
Sadly most of us don't have the benefit of a personal soigneur – so you'll thank yourself for having pre-cooked pasta ready to reheat and wolf down as soon as you get home. Without a soigneur to massage your legs, an easy spin the next morning can work wonders. This very, very gentle ride can be paired with some yoga and foam rolling to further mitigate the delayed-onset muscle soreness felt the next day.
Learning the long way: 'I rode for 18 hours, and here's what I learnt'
At the end of April I took on the Traka, a 360km (224 miles) gravel race around Girona in Spain. This was my longest ever ride – but quite a big margin – and I learnt some important lessons along the way…
Dry lube was my best friend: Over very long distances in dusty conditions, chain lube wears off and needs replenishment to prevent the loss of precious watts in unnecessary friction.
Pack some caffeine pills: I was riding for nearly 18 hours, and inevitably sleepiness was kicking in by the end. With no time to stop for a coffee, caffeine pills were my go-to alternative pick-me-up.
Company keeps you merry: Having someone to ride with helped the kilometers tick by, breaking up the silence of my own thoughts.
Tantalise the taste buds: Eating can become very monotonous during an ultra event. Combat this with a wide range of snacks. Personally I prefer to have some savoury snacks to hand.
Don't forget the multi-tool: A lot of things can go wrong with a bike in a full day's riding. So don't get caught out.
Make your own mile munchies
Making your own on-bike nutrition is a cost-effective alternative to shop-bought energy products. During lockdown, I let my imagination run wild and created a whole book's worth of DIY recipes (available in PDF – drop me an email: couzenst@gmail.com).
Here are two of my favorite, easy-to-follow recipes:
1. White chocolate and peanut butter crispy bars
200g puffed rice
100g peanut butter
150g white chocolate
100g marshmallows
½ tsp vanilla extract
Method
Roughly chop 100g of the white chocolate into small chunks before placing in bain marie to slowly melt. Once fully melted, stir through the marshmallows and peanut butter until all has melted.
Pour in your puffed rice and vanilla extract, using a wooden spoon to combine mixture together.
Line a small baking tray with baking parchment before adding the mixture and using a wooden spoon to compress the mixture and properly press it out into the corners.
Melt the remainder of your white chocolate and use a small teaspoon to drizzle over the marshmallows to decorate.
Place in the fridge for one to two hours to set before cutting into the desired number of slices.
2. Chocolate peanut balls
200g oats
100g peanut butter
100g golden syrup
100g pitted dates
50g salted peanuts
3 tbsp cocoa powder
Method
To a powerful blender add the peanut butter, golden syrup and dates. Blitz until the dates have broken up to create a smooth sticky mixture.
Pour in the cocoa powder and blend again.
Finally add in the oats and salted peanuts, using a wooden spoon to combine the mixture.
Using your hands, roll out the mixture into 12 roughly equal-sized balls.
Here you can find more homemade energy bar recipes.
This full version of this article was published in the print edition of Cycling Weekly. Subscribe online and get the magazine delivered direct to your door every week.
Thank you for reading 20 articles this month* Join now for unlimited access
Enjoy your first month for just £1 / $1 / €1
*Read 5 free articles per month without a subscription
Join now for unlimited access
Try first month for just £1 / $1 / €1
Get The Leadout Newsletter
The latest race content, interviews, features, reviews and expert buying guides, direct to your inbox!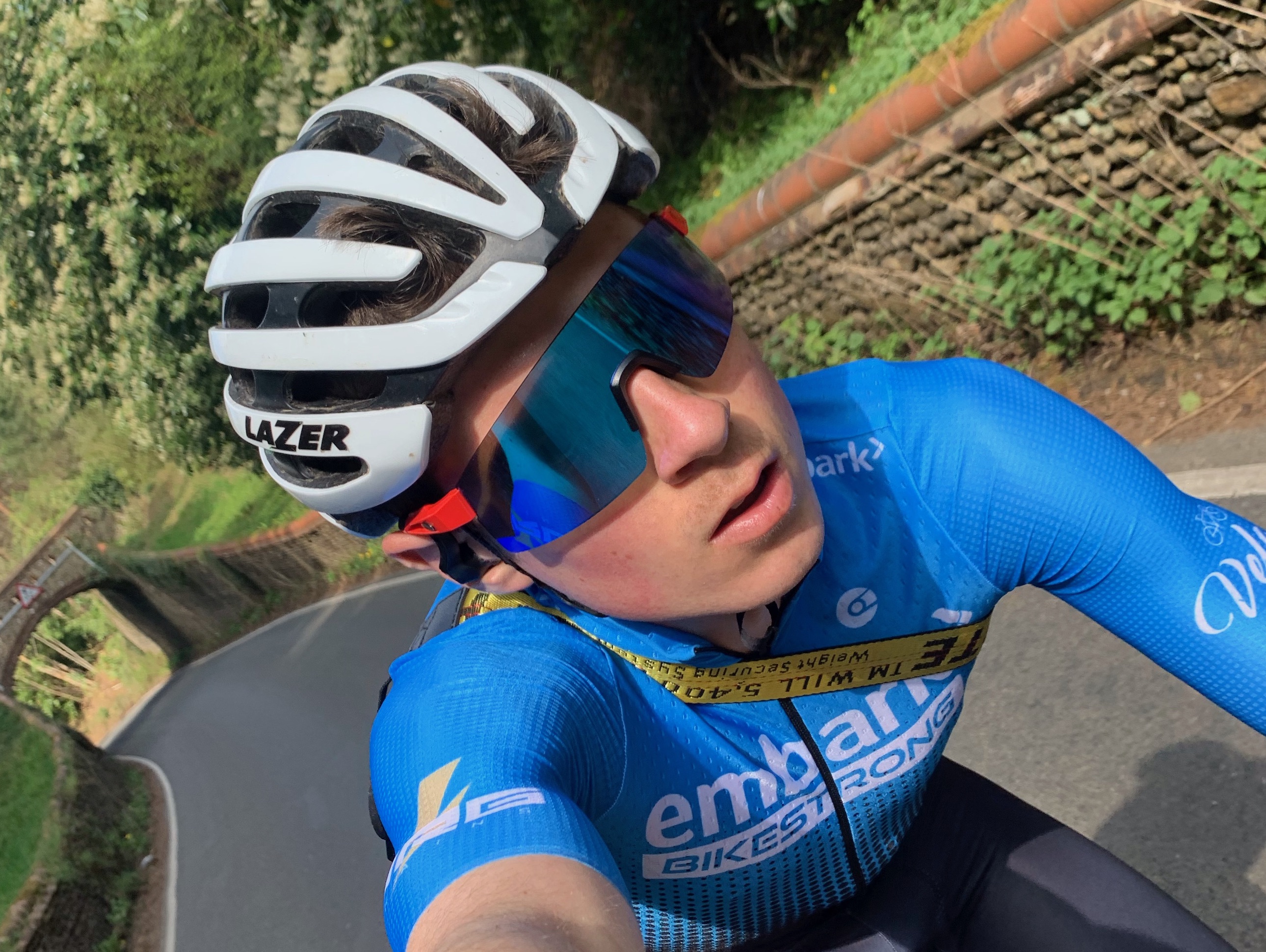 Tom Couzens is a racing cyclist currently representing The Ribble Collective on the road and the Montezumas cyclo-cross team off road. His most notable results include winning the Monmouth GP national series race as a junior; finishing sixth in the 2022 British National Cyclo-cross Championships; and he was selected to represent Great Britain at the European Cyclo-cross Championships in 2020/21. Tom draws on his high-level racing experience and knowledge to help Cycling Weekly readers maximise their potential and get as much as possible out of their riding.