Belgian sets new World Record by riding 3,619km in a week
Matthieu Bonne staged his attempt in Arizona desert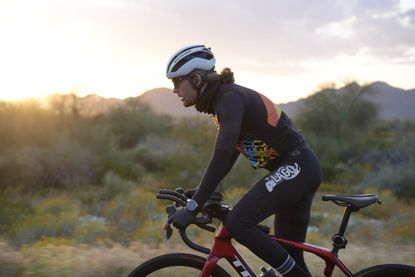 (Image credit: Amandine Grulois)
Belgian ultra endurance athlete Matthieu Bonne has set a new Guiness world Record for the distance ridden in a week.
The endurance athlete rode 3,619km in and around Phoenix Arizona in the USA. He did all his riding un-paced.
The record is yet to be confirmed but he posted a celebration of him riding through the dark on his Instagram yesterday.
In setting the record he dethroned British rider Leigh Timmis who set the benchmark last November. In the midst of Hurricane Nicole hitting Florida where he was boeing the attempt, Timmis set a record of 3,588km. That has stood for just four months.
Bonne set his record on a Trek Domane with clip on aero-bars and started the first day in the dark at midnight to maximise the amount of riding time he had available to him. That first day he ticked off 570km at an average speed of 30.7kph.
After just three hours of sleep he was in the saddle again. Chronicling the record ride on Bonne's Instagram his team posted that despite staging the attempt in the Arizona desert Bonne found himself battered by wind and rain but still chalked up another 534km.
Day three brought little respite and he had to abandon riding for several hours as stormy conditions rolled in, but after that day cleared up he ended up totalling 447km, which still put him ahead of World Record pace.
As the challenge went on battling the lack of sleep (he was sleeping for around 2.30 a night) and wind on the open highway became the biggest obstacle. Bonne and his support team began to vary the routes to try and turn headwind into tailwind for as much of the days as possible.
Amazingly it was day six before bonne got a flat tyre luckily changing this with his support team took only five minutes.
He had only minimal sleep entering the seventh day to give him the most time possible to break the record.
Later that day he stopped the clock at the new world record distance.
Bonne is no stranger to extreme challenges. He is known in Belgium for having appeared on a TV show which takes people and puts them through the training of the Belgian special forces. He has completed an Ironman, scaled the Eiger and the Matterhorn mountains and in 2020 he rode the perimeter of Belgium(1,224km) in 53 hours and three minutes.
Thank you for reading 20 articles this month* Join now for unlimited access
Enjoy your first month for just £1 / $1 / €1
*Read 5 free articles per month without a subscription
Join now for unlimited access
Try first month for just £1 / $1 / €1