Best of the British All-Rounder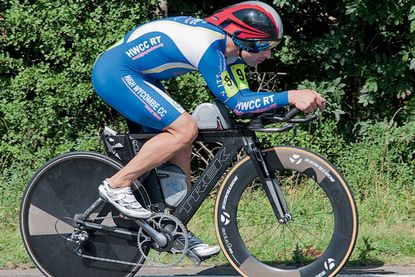 Adam Topham (High Wycombe CC) has won the British Best All-Rounder competition for the second year running.
In a hard-fought competition that went right down to the last 'fast' 50 of the year, Topham, 45, had seemed to be labouring under a curse for much of the season.
After his Specialized Shiv TT bike was written off when he was hit by a car in a Welsh time trial in May, Topham was forced to ride a borrowed bike in what could have been his qualifying 100-miler, resulting in a disappointingly below-par time.
Then, in the CC Breckland 12-hour in July he wore shoes that after five hours became so cripplingly uncomfortable that he had to stop every lap to have his feet doused with water. With an hour to go he was about a mile down on BBAR contender Mark Turnbull. But then Topham had a stern word with himself.
"The BBAR was my main target and I really wanted to win that race," he said. "So I thought, right, this is it, and really went for it. In the last hour I took about two miles out of him. I actually lost a piece off a tooth a few days later! [from grinding them]"
All BBAR none
A fine hour it might have been, but it was not quite the turning point. Disaster struck again at the beginning of September in the BDCA 100.
Topham, on his new Trek Speed Concept, only improved the time he had set on the borrowed bike by one minute, while National 12 and former double BBAR winner Nik Bowdler (Team Pedalrevolution.co.uk) took four minutes out of Topham and looked set to win a third BBAR.
Going into the Manchester Wheelers 50 on September 28, it was possible not only for Bowdler but for any of the riders in the top five to take the BBAR title if Topham didn't improve on his best 50 of 1-41-16. Topham said: "I was leading the table but of the main contenders I already had the fastest 50 by some margin so I was effectively third when that event started."
All's fairing in love and war for Bowdler
Topham had cancelled all other racing in September to focus solely on that final 50. "I've never put as much focus on one race in my life," he said. He had also put in two four-hour track sessions with Stuart Dangerfield's former coach Gordon Wright to sort out his position on the Trek.
With everything to play for, on the super-fast J5/12 course on the A50, Topham posted a 1-39-50 despite doing an accidental extra lap of a roundabout. It was enough to comfortably win the event, with BBAR outsider Joel Wainman just over a minute back and more importantly Bowdler nearly two minutes slower, meaning Topham retained the BBAR. "I cried a bit, but I don't think anyone noticed," he said.
Mods and knockers
The rivalry between Topham and Bowdler was spiced up by Bowdler's controversial use of home-made fairings to win the National 12-hour. His modified bike's enormous nose cone, bonded-on tubing aerofoils and rear bottle carrier appeared to be in breach of Cycling Time Trials' regulation 14(h), which prohibits the use of "protective shields, windbreaks or other means of reducing air resistance" - and Topham himself lodged an official complaint after the race.
As we went to press there was still no word from CTT as to whether Bowdler's 12-hour distance of 293.57 miles would stand.
Women's BBAR falls to climb on bikes rider

Magisterial Moseley
Mirroring Topham's success in the men's competition, Paula Moseley (Climb on Bikes) took her second consecutive BBAR in the women's event.
However, Moseley, a former mountain bike national masters champion, won in a much more dominant fashion with the fastest times in all three distances.
Her winning average speed was also up on last year's, suggesting there's even more to come from the Hereford-based 41 year old, who has been time trialling for five years.
Moseley also bagged her first National Championship, winning the 100 by six minutes from BBAR rival Rebecca Rimmington at Braithwaite, Cumbria in July. "It was all a matter of pacing and I did that very well," Moseley said. Rimmington suffered from low blood pressure and dehydration after finishing and Moseley, a doctor, helped her until an ambulance arrived.
Next Moseley clocked a 1-54-05 in the BDCA 50 at the beginning of August, a full four minutes quicker than the next woman, Jill Wilkinson, and recorded her fastest 25 on the A25/11 Etwall course a week later, meaning all three of her qualifying rides were done within the space of a month.
Rider Rankins explained
How the BBAR is calculated
From the CTT handbook: "The competitions shall be based on each rider's fastest single performance during the season in eligible events at 50 miles, 100 miles and 12 hours for the men's competition and 25, 50 and 100 miles for the women's competition.
Such performances to be calculated to three decimal places in terms of miles per hour and the average taken of the resultant speeds."
Event history
BBAR big winners
The BBAR was conceived, like many of the great races were, by a publication - in this case Cycling Weekly's predecessor Cycling. The men's competition has run since 1944 and women's since 1948.
Kevin Dawson holds the record in the men's with 11 wins between 1992 and 2007, while in the women's competition the legendary Beryl Burton won an astonishing 25 in a row between 1958 and 1983.
This article was first published in the October 21 issue of Cycling Weekly. Read Cycling Weekly magazine on the day of release where ever you are in the world International digital edition, UK digital edition. And if you like us, rate us!
Thank you for reading 20 articles this month* Join now for unlimited access
Enjoy your first month for just £1 / $1 / €1
*Read 5 free articles per month without a subscription
Join now for unlimited access
Try first month for just £1 / $1 / €1