Blackburn to give away bike lights to London commuters on Monday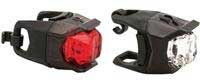 Bike accessory manufacturer Blackburn will be giving away thousands of pounds worth of free bike lights in the City of London on Monday, October 31.
With the clocks moving back an hour on Sunday, October 30, and darkness falling earlier in the evening many cycle commuters may find they are without sufficient lighting. Blackburn has generously decided to give away front and rear sets of its Click bike lights, SRP £19.99, on the corner of Queen Street and Cannon Street at 5.30pm.
Number of lights are limited, and they will be distributed on a first-come-first-served basis.
If the scheme is a success, Backburn may extend the giveaway to other cities in the UK.
The Blackburn Click lights use two bright LEDs providing 15 lumens output. They are mounted on the bike using a stretchy silicon strap to fit any handlebar or seatpost without the need for tools.
Blackburn is distributed in the UK by Madison.
External link