Bruyneel and RadioShack-Nissan separate following USADA findings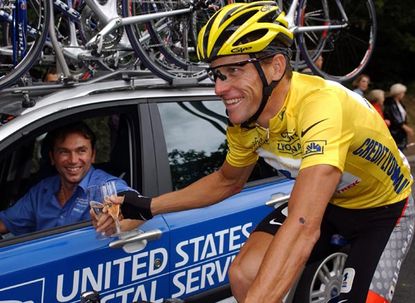 Johan Bruyneel today parted company with RadioShack-Nissan as the fall-out from USADA's investigation into Lance Armstrong continues.
Bruyneel, who has managed the team since its formation for the 2010 season, was heavily incriminated in USADA's Reasoned Decision that was published on Wednesday. The Belgian was cited 129 times in the organisation's 200-page report.
The separation was confirmed by the team in press statement this evening, which read: "The Reasoned Decision published by the USADA included a number of testimonies as a result of their investigation. In light of these testimonies, both parties feel it is necessary to make this decision since Johan Bruyneel can no longer direct the team in an efficient and comfortable way. His departure is desirable to ensure the serenity and cohesiveness within the Team."
He is also facing charges brought forward by USADA in relation to his role in the US Postal team and its extensive doping practices, an allegation that he denies. An arbitration hearing is scheduled to take place later this year, with the possibility of a lifetime ban being handed down if Bruyneel is found guilty.
The news may go some way to appeasing Fabian Cancellara, who expressed doubts to Belgian newspaper Het Laatste Nieuws about working with Bruyneel in the future.
External link
Full PDF of USADA's 'reasoned decision' plus links to supporting evidence
Related links
USADA publishes details of Armstrong doping case file
UCI responds to USADA Armstrong doping evidence
Former Armstrong team-mate Barry: 'Doping had become an epidemic problem
Hincapie admits to doping during career
USADA strips Lance Armstrong of seven Tour titles
Lance Armstrong to be stripped of his seven Tour titles
Judge dismisses Armstrong lawsuit against USADA
LeMond suggests changes need to be made to drug testing and UCI
Vaughters denies that Garmin team riders will be suspended by USADA
Armstrong attacks USADA for opening formal action against him
Armstrong banned from triathlons as new doping charge brought against him
February 4 2012: Armstrong holds off the law
Armstrong case dropped by US investigators
Armstrong investigation arrives in Europe
Armstrong's team mate Popovych testifies he did not witness doping
Armstrong's team-mate Popovych summonsed in doping investigation
Landis admits he doped and implicates others
Thank you for reading 20 articles this month* Join now for unlimited access
Enjoy your first month for just £1 / $1 / €1
*Read 5 free articles per month without a subscription
Join now for unlimited access
Try first month for just £1 / $1 / €1