Chaos and emnity as women's Tour Féminin International des Pyrenees cancels final stage on safety grounds
GC victory goes to Marta Cavalli, but organiser brands riders "spoiled children" for not wanting to start stage three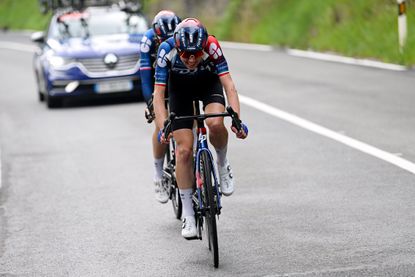 (Image credit: Dario Belingheri / Getty Images)
The second running of the CIC-Tour Feminin International des Pyrenees descended into chaos and enmity after riders refused to race the final stage on safety grounds and the race was cancelled.
Organiser Pascal Baudron accused the women of acting childishly, saying: "Quite honestly I don't think it's worth organising a race to see all these months of effort ruined by the whims of spoiled children."
Reaction on social media was predictably furious.
Cars on the course – both parked and on the road – led to urgent calls between the CPA (Professional Cyclists' Association) and race organisers after the first stage.
The race continued the following day after the meetings elicited assurances that the traffic would be managed more effectively the following day. But in the event 24km of the second stage was neutralised due to the same issues.
It was enough for many riders and teams to conclude that they would not start the third and final stage.
In a letter to race organisers and the UCI from president of the CPA Adam Hansen, he said that after being told by the organiser that the riders were wrong about the issues, he rewatched the race.
"[I] noticed multiple incidents where cars were present on the course, driving towards the riders, and quickly exiting the course before the riders arrived," he wrote, "without any marshals present to regulate their movement."
He added: "Considering the safety risks involved, we firmly believe that a bike race is not worth endangering the lives of the women cyclists. Therefore we stand in support of the decision made by the women to discontinue the race."
The UCI cancelled stage three, with the results and UCI points standing from the two previous stages.
The overall winner was Marta Cavalli (FDJ-Suez), who took over the lead from stage one winner Ashleigh Moolman-Pasio (AG Insurance-Soudal Quick Step) after riding to victory atop the Hautacam on stage two.
Moolman finished second on GC with Antonia Neidermaier (Canyon-SRAM) third.
On Monday Hansen announced that the following day a meeting would take place between the CPA, UCI and the AIGCP (International Professional Cyclists' Association), women's safeguarding and development union TeamUnio, and the international race organisers' association, the AIOCC.
Thank you for reading 20 articles this month* Join now for unlimited access
Enjoy your first month for just £1 / $1 / €1
*Read 5 free articles per month without a subscription
Join now for unlimited access
Try first month for just £1 / $1 / €1