Chris Hoy Q&A: 'I keep my Olympic medals in a sock'
Team GB legend tells Cycling Weekly about his life in the sport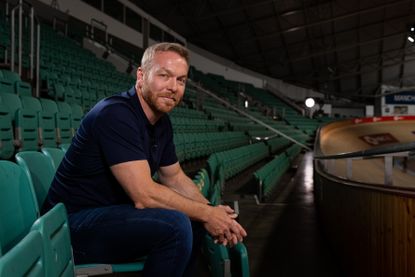 (Image credit: Alex Whitehead/SWpix.com)
A six-time Olympic gold medallist, Sir Chris Hoy is considered one of the greatest track sprinters of all time. The Scot sat down with Cycling Weekly at this year's UCI Track Champions League to talk about his beginnings in cycling and the people who inspired his success.
What was your first bike?
It was a second hand bike from a jumble sale. My parents bought it for £5. My dad resprayed it black and put BMX bars and grips on it, and stickers. I have no idea what it was. It wasn't a BMX, but I loved it.
What was the first race you remember watching?
Outside of BMX, it was the Commonwealth Games in 1986 in Edinburgh. I saw Eddie Alexander in the bronze medal ride-off in the sprint on the velodrome and I was like, 'Why are they going so slow? Why would you not just go flat out?'
I saw that once and never really followed track cycling after that for years, but I was intrigued by this bizarre form of cycling. I got on the track for the first time about six years later, when I was 15 or 16.
Who was your cycling hero growing up?
Graeme Obree. He was a hero for many reasons, and inspirational because of the fact he didn't have a team around him. He didn't have any sponsorship, he didn't have any money.
He had an amazing work ethic. He had this genius brain to be able to assess a problem and come up with a solution that was different to how everyone else had done it.
Is there one single person who has been particularly important to you and your career?
Steve Peters [former British Cycling psychiatrist]. Not just in my career, but my whole mindset in life.
It's funny, you do [the sessions] initially to help you ride your bike faster anti-clockwise in circles, but it has an impact in every single day of your life without even realising just how you react to certain situations.
His philosophy has been incredible. It certainly helped me most notably in the Keirin in London 2012, coming into the final race and dealing with all those variables and pressure.
What is the best place your career has taken you?
In 2012, not long after the Olympics, I got invited to get a passenger ride in a Eurofighter Typhoon and it was incredible. I thought I would just be sitting there strapped in, but I got to fly it. Once we got up, [the pilot] said, 'Right ok, you're in control now.' It's basically just like a video game.
I ended up doing a loop in a fighter jet. I remember being up out over the North Sea and he said, 'You want to do a loop?' and every part of my brain was going, 'No! Of course I don't! This is ridiculous! I've never flown anything in my life.' But the other part was thinking, 'When will you ever get the chance to do this again?' So I did it and I've got it on GoPro.
If you hadn't become a cyclist, what would you have done?
I really don't know. I was doing a degree in physics at St. Andrews and not enjoying it at all, and changed to do sports science in Edinburgh. I think I would have been involved in sport in some capacity, perhaps in sports science provision. I've always found the problem of trying to create the perfect performance fascinating.
Where do you keep your Olympic medals?
Normally I don't keep them at home, because they are the one thing that if you get burgled, or have a fire or something, you can't replace. It's just a lump of metal and a bit of ribbon, but it's what it represents.
They're in a sock. Everyone puts them in a sock, because if you've got more than one, they start clanging against each other and they get chipped. If you win more than one at a single Games, then everywhere you go for the next month, you bring your medals with you. They either make a noise or they get all pitted. You just stick them in socks and put them in a bag. It's very unglamorous.
Thank you for reading 20 articles this month* Join now for unlimited access
Enjoy your first month for just £1 / $1 / €1
*Read 5 free articles per month without a subscription
Join now for unlimited access
Try first month for just £1 / $1 / €1