Danilo Di Luca banned for life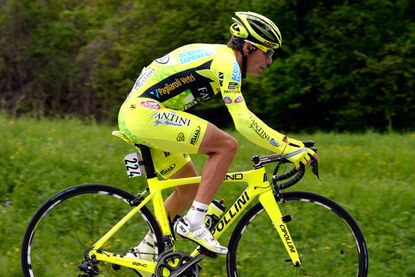 Danilo Di Luca has been handed a lifetime ban from professional cycling after failing a test for EPO in April, his third doping infringement.
Di Luca failed an out-of-competition test for banned blood booster EPO from a sample taken on April 29. The Italian Olympic Committee (CONI) banned Di Luca for life after it held a hearing on Thursday.
News of the Italian's positive test broke during the Giro d'Italia in May. His Vini Fantini team withdrew him from the race and subsequently sacked him. Di Luca had previously served suspensions for failing a test for EPO in 2009, and for his links to banned doctor Dr Carlo Santuccione in 2007, the year he won the Giro d'Italia. He has also been linked to the 'oil for drugs' scandal in Italy.
In addition to the lifetime ban, Di Luca is liable to pay a €35,000 (£29,000) fine, €850 (£700) court costs and 3,150 CHF (just over £2,000) for anti-doping tests on his samples.
CONI has also requested that Italian Francesco Reda of the Androni-Venezuela team be suspended for two years for evading an anti-doping sample collection in February.
Related links
May 2013: Di Luca positive for EPO
January 2011: Di Luca to ride for Katusha for free
December 2010: Di Luca admits doping mistakes
October 2010: Di Luca ready to return, doping ban reduced
July 2009: Di Luca positive for EPO at Giro
October 2007: Di Luca banned for three months
Thank you for reading 5 articles this month* Join now for unlimited access
Enjoy your first month for just £1 / $1 / €1
*Read 5 free articles per month without a subscription
Join now for unlimited access
Try first month for just £1 / $1 / €1