Even Ben Stiller wants Cav to beat the Tour de France win record he jointly holds
The Hollywood actor is a bonafide cycling boffin - and he wants Cav to win once more, as much as any fan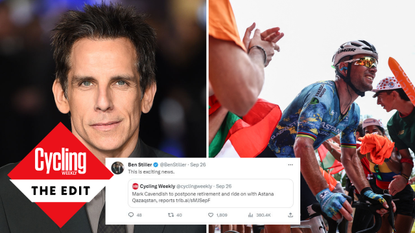 (Image credit: Getty Images)
"This is exciting news", Ben Stiller - of Zoolander fame - wrote on X, in response to Cycling Weekly reporting that Mark Cavendish will indeed ride one more season with Astana in 2024.
It IS exciting news.
Quick synopsis round-up, in case you've spent more than a Night at the Museum with no interaction with the outside world [feel free to use the T&Cs speed voice, or, just skip on, if not]: Cavendish needs to win just one more Tour de France stage to surpass the record set by Eddy Merckx in 1969, a figure he matched in 2021. Whilst 2023 was set to be the Manx sprinter's final season, and therefore final shot at the record, a crash on stage eight ended his race. However, now, all signs point to a retirement postponement for the 38-year-old.
As one responder put it, "Every single cycling fan is WILLING the record into being".
Well, of course, we cycling journalists remain stony-faced and impartial on the outside. But inside, we're also cycling fans, and we're collectively jumping around like a puppy that's just found a puddle so large there are ducks floating on the surface.
What not everyone realises is that Stiller is one of those cycling fans, too.
We'll gloss over the now very badly aged inspirational cameo from Lance Armstrong in 2004's Stiller produced 'Dodgeball: A True Underdog Story'. It doesn't take a lot of snooping to reveal that the Hollywood actor is a bonafide cycling boffin.
It seems he's since moved on from Lance, and turned his affections to our very own Welsh Tour de France winner Geraint Thomas, who he praised for his "edgy material"/"dad joke" back in May, before adding "All the more reason to be a fan".
Not afraid to do edgy material. All the more reason to be a fan.May 18, 2023
See more
Obviously, as well as debating at length which Stiller film best crosses the generational divide of Cycling Weekly readers (Zoolander, it was concluded), we've dropped the 57-year-old actor a perhaps overly optimistic line on Instagram to ask if he's got five minutes spare to "talk cycling".
In the meantime - whilst we're eagerly watching the reply box of dreams for any evidence of "typing..." - you'll find us working on our dad jokes and, perhaps not so secretly, willing that historic record into being.
What you've been reading this week...
"I've reported on the last two World Championships, I thought, but revealing that, particularly with a smug grin on my face, would only make me look more stupid," writes Tom Davidson - having been asked, after this particularly humbling experience, "Have you ever watched track cycling?"
There's (probably) no smoke without fire, and these rumours have been smoking all week. Adam Becket looks into what a potential "mega merger" could mean for everyone involved.
A straw poll of Facebook replies leaves it unclear who was more annoyed by this headline: cyclocross fans, gravel fans, or Three Peaks fans. For clarity, the Three Peaks is not a gravel race, but, it is an incredible event and extremely tough. Also - never read the comments.
"Either all affected products are defective because they share the same design characteristics which could lead to catastrophic failure, or they do not," legal expert Thomas Jervis told us, making Shimano's current plan to only replace articles showing signs of damage - in his words - "bizarre".
What is journalism without a little horsing around?
Thank you for reading 20 articles this month* Join now for unlimited access
Enjoy your first month for just £1 / $1 / €1
*Read 5 free articles per month without a subscription
Join now for unlimited access
Try first month for just £1 / $1 / €1