Gallery: The cyclocross race that was testing riders long before gravel was cool
The Three Peaks Cyclo-Cross race traverses the Yorkshire Dales annually - here's our gallery from Britain's toughest race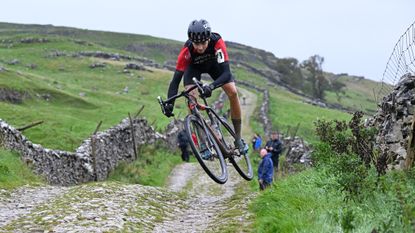 (Image credit: Andy Jones)
The Three Peaks Cyclo-Cross race refuses to be called a gravel event. But, pictures from Sunday's edition attest to the fact that this annual scramble through the Yorkshire Dales could certainly rival some of the most iconic gravel events in the global calendar.
The Three Peaks organisers are keen to remain true to the cyclocross history of the fabled event. Flat bar bikes are banned. Whilst the rules state that the 'spirit of the race' favours a cyclocross bike, gravel bikes have - perhaps reluctantly - been permitted in recent years.
Rider entries are vetted - and for good reason, of the 38-mile course, even the organisers consider at least six miles to be unrideable; the total ascent adds up to 5,000 feet.
Whilst the first official edition of the race took place in 1961, references to the course and its use as a testing ground for bicycle riders go back to 1959 - when the Evening Post reported 'Skipton Boy Masters Three Peaks by Cycle'.
It seems likely that the boy in question, 14-year-old Kevin Watson, was indeed the first to ride the route, since the paper quoted Norman Thornber, author of 'The Three Peaks', to have said: "So far as I know this feat has never been done with a bicycle".
In 2023, the race is still going strong: the most recent edition took place on Sunday and the course was as tough as ever. The winners - Giles Drake (Wheelbase cabtech Castelli) and Bryony Halcrow (Hope Factory Racing) - finished in three hours, six minutes and 12 seconds and three hours, 49 minutes and 38 seconds respectively.
Cycling Weekly had a snapper on the ground, so, for your viewing pleasure, here are a few of our favourite shots - and reports on the 2023 event.
Male winner Giles Drake tackles the course
Third place female rider, Hannah Saville (Cyclocrossrider.com), leads a group
Women's winner Bryony Halcrow completed the course in three hours 49 minutes and 38 seconds.
UK cyclocross veteran and past Three Peaks winner Nick Craig wouldn't pass up the opportunity to race the Peaks once again
The course takes no prisoners, and equiptment malfunctions may lead to a long walk
Bespoke set-ups are common at the pointy end, this close up shows the drivetrain of third placed Tom Simpson (Ratio Technology)
At least six miles of the course are considered 'unrideable', even by the organisers
Yorkshire weather contributed to the challenge over the 2023 edition of the race
Second placed rider, Helen Jackson, finished in just over four hours
Three Peaks 2023
Men's race: Drake's successful Three Peaks expedition
Words: Snowdon Sports
Giles Drake overcame four years of bad luck to take his maiden win at the Three Peaks this weekend. The prolific cross rider had a near-perfect ride to win the 59 edition of the classic 38 mile event that takes in the climbs of Ingleborough, Whernside and Pen-Y-Ghent
Two years ago The Wheelbase CabTech Castelli rider got lost on Ingleborough and lost 12 minutes in the process. Prompting him to write 'don't get lost' on his hand when he returned in 2022. While he stayed on course last year he suffered three punctures which saw him drop through the field to finish fourth.
But the 39-year-old used the experience gained in previous years to win the iconic event by more than three minutes this year. "I'm absolutely over the moon, it has been a few years coming," said Drake. "This is my fifth time riding. Position wise third was my previous best, as I've had a lot of bad luck.
"It's never quite gone right for me until this point. Today was pretty flawless, one little puncture off Ingleborough, but fortunately it sealed enough to get me down and swap my bike.
"Since the first year I've been hooked. You learn something every year, it has become more of my focus and something I've really wanted to win more than any national mountain bike or cyclo-cross race.
"It has always been about training and being in good condition and well prepared. It certainly feels a long time coming, it means a lot to me."
13 time winner and defending champion Rob Jebb set the early pace out of the start in Helworth Bridge but was closely followed by Drake.
Drake took the lead after just 12 kilometres, and despite picking up a puncture on the Ingleborough descent, used his off-road skills to establish an advantage. A bike change before the next climb of Whernside allowed the Wirral-based rider to set about building a commanding lead. Taking care in the damp conditions Drake completed the course in a winning time of three hours, six minutes and 12 seconds.
"It was pretty uneventful," added Drake. "With the wet conditions it was my plan to do everything at 95 per cent to make sure I got down the climbs in one piece.
"I'll be back, but the pressure is off now that I've won it. If I get another win and can retain it then great. I feel like I've ticked the box and if I never win it again then so be it."
Oliver Dawson (Wolf Cycles) took second after a close battle with Tom Simpson (Ratio Technology) with just a second separating them. Rob Jebb eventually finished in fifth place, just over one minute behind his Hope Technology team mate David Mirfield.
Women's race: Fell runner wins on second attempt
Words: Snowdon Sports
Bryony Halcrow clinched her first women's Three Peaks Cyclo-Cross victory at just the second time of asking. Second on her debut last year the fell runner took a step up the podium at the weekend with a winning time of three hours 49 minutes and 38 seconds over the 61-kilometre course.
Over 10 minutes back was veteran rider Helen Jackson (Kendal Cycle Club) in second, while Hannah Saville (Cyclocrossrider.com) finished third.
"I was hungry to come back and win this year," said Halcrow. "I did the event for the first time last year, but hadn't really been riding long off-road.
"Last year I had a fall on Whernside where I went over the bars and broke the levers on my
bike. I had to stop and screw them back in and then again at Pen-Y-Ghent to realign them.
"This year I dropped back a bit on the road section and caught the leader up the first hill. She descended faster, but on the road section I hopped on somebody's wheel and rode away.
"I'm hoping to try more cyclo-cross races this year. I've only done five conventional cyclo-cross races in my life.
"I'm hoping to do more, but the fell running calendar also gets quite busy."
The gruelling 3 Peaks Cyclo-Cross once again attracted a bumper field for the 39th edition of the event branded as the 'toughest and biggest' 'cross race in the UK.
With a restricted field 313 riders completed the gruelling 61 kilometres which includes 5,000 feet of climbing and up to eight kilometres of unrideable terrain.
Thank you for reading 20 articles this month* Join now for unlimited access
Enjoy your first month for just £1 / $1 / €1
*Read 5 free articles per month without a subscription
Join now for unlimited access
Try first month for just £1 / $1 / €1