Garmin VIRB 360 lets you relive rides from every angle
New 360 degree camera from Garmin will shoot footage from every angle and captures sound from four microphones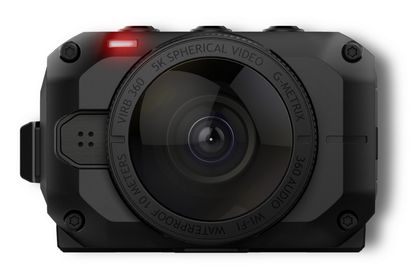 (Image credit: Picasa)
The new Garmin VIRB 360 was unveiled today as the latest high resolution player in the 360 action camera market. The unit combines the data overlay featured on previous models with waterproofing, built in GPS and 5.7k resolution.
The Garmin VIRB 360 shoots spherical video, up to 5.7k/30fps – and contains four built-in microphones to ensure that sound capture is just as comprehensive.
The unit is set to become available in June, beating the Go Pro Fusion 360 - which was announced last month for 'limited commercial release' by the end of 2017 - to the ultimate finish line.
The best helmet cameras: a buying guide
Footage from two lenses - front and rear – is cleverly welded together thanks to automatic in-camera stitching.
Images are kept stable - even on rough gravel and adventure road rides - thanks to '4k Spherical Stabalization2' - which is demonstrated in the video below.
https://www.youtube.com/watch?v=HW3fPEqtNWE
Battery life, whist recording, is just over an hour. It's also possible to take stitched-in-camera, 360 degree photos at 15 megapixels – and pictures can be single, burst shot, or taken in time lapse mode.
Commenting on the launch, Dan Bartel, Garmin vice president of global consumer sales said: "The VIRB 360 lets you relive personal experiences and share them with your friends – from a different point of view, every single time."
He added, reassuringly for some: "VIRB 360 owners will no longer need to worry about trying to capture the perfect angle or setting up the perfect shot. The camera's easy-to-use feature set will make even the most inexperienced users look like experts."
Videos can be uploaded for immediate sharing, or stored for later editing, all via an App which can be accessed via mobile or desktop. Live streaming on YouTube or Facebook Live is also possible, when paired with a compatible smartphone – Android and Apple phones are both supported.
GPS is in-built, so metrics such as speed and other rider metrics typically displayed by a cycling computer can be overlaid across the footage to bring the experience to life even more.
The Garmin Edge range explained
Under the expectation that the action camera will be used in a host of situations when users won't have time to fiddle, all controls are one-touch and there's the option to use voice control to stop, start, and snap photos.
The display has been designed to be readable in the sun, and the Garmin VIRB 360 uses Wi-Fi, Bluetooth, Ant+ and NFC connectivity – the latter being a one-tap connection with Android.
The camera does come with its own tripod, but most riders will probably be opting for helmet or handlebar mounting.
>> Just can't wait? Buy Garmin Virb Ultra 30 now for £3279.28 at Amazon
The suggested retail price sits at £649.99 and the unit is expected to be available in June. If you want to get an alert as soon as stock is available to order, you can ask Garmin to contact you on their website.
Thank you for reading 20 articles this month* Join now for unlimited access
Enjoy your first month for just £1 / $1 / €1
*Read 5 free articles per month without a subscription
Join now for unlimited access
Try first month for just £1 / $1 / €1