Gent-Wevelgem 2023: Key information on the route and startlist
Taking a closer look at the route for both the men's and women's editions of the race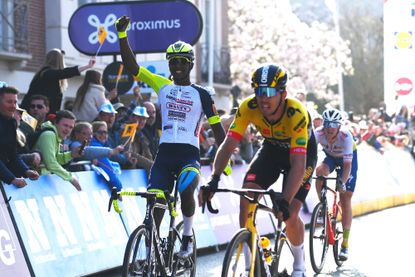 (Image credit: Getty Images)
The 2023 edition of the men's Gent-Wevelgem will keep to its usual format of starting in the town of Ypres, under the Menin Gate.

The Menin Gate is a huge stone memorial to the victims of the First World War, in particular those who lost their lives in the third battle of Ypres, otherwise known as Passchendaele. At 260.9 kilometres, the route is slightly shorter than last year's edition which was won by Biniam Girmay (Intermarche-Circus Wanty).

Once the race has got underway in Ypres, the riders will head out on the usual loop, passing various large First World War cemeteries as they travel out to West Flanders. As they circle back inland, the peloton will face a series of climbs around the area of Mesen before the final tough phase of racing.

The final 120 kilometres of the day feature a series of tough cobbled climbs including the infamous Kemmelberg.

Once the riders have crested the Kemmelberg, they face a relatively flat run in towards the town of Wevelgem. Typically, the race is decided on the Kemmelberg, with a select group of riders then emerging into town for a reduced sprint to the line.


The second phase of the action features nine tough climbs, including three ascents of the Kemmelberg.

Cobbled climbs are tough enough as it is, but when you factor in the wind and rain, it makes the climbing in Gent-Wevelgem an even tougher challenge. The peloton will climb the Kemmelberg twice from the Belvedere side, before the final ascent takes the riders up from Ossuaire. The final ascent is very much seen as being the toughest.

The full list of climbs is below:

- Scherpenberg
- Baneberg
- Monteberg
- Kemmelberg (Belvedere)
- Monteberg
- Kemmelberg (Belvedere)
- Scherpenberg
- Baneberg
- Kemmelberg (Ossuaire)
The women's race
Similarly to the men's race, the women's edition of Gent-Wevelgem provides some of the best sprinters in the women's WorldTour with the opportunity of getting a victory in a major Classic.

Echoing the men's edition, the women's race also typically begins in Ypres under the Menin Gate before heading out towards West Flanders and the Belgian coastline. The first phase of racing is almost completely flat, but the riders will need to be on their guard due to the high risks posed by potential crosswinds whipping in from the coastline.

The route is largely similar to last year, with the exception of a few more kilometres at the end of the lap around Wevelgem. Seven punchy ascents feature on the women's course, including two of the Scherpenberg climb as well as a double ascent of the Baneberg and Kemmelberg. Last year, the women's peloton faced the steeper and toughest side of the Kemmelberg, from Ossuaire, and that's incorporated into the race once more in 2023.

The Kemmelberg ascent from Ossuaire features pitches of nearly 20% on uneven cobbles, making for a nasty sting in the tail as the race nears its finale. From there, the final 20 kilometres of the day are relatively flat on wide, exposed roads.

Crosswinds could still play a major part as the peloton sails into Wevelgem.

The full list of climbs which will feature in the women's race is as follows:

- Scherpenberg
- Baneberg
- Monteberg
- Kemmelberg (Belvedere)
- Scherpenberg
- Baneberg
- Kemmelberg (Ossuaire)
GENT-WEVELGEM 2023: MEN'S STARTLIST
ALPECIN-DECEUNINCK

PHILIPSEN Jasper
DILLIER Silvan
GHYS Robbe
KRAGH ANDERSEN Soren
KRIEGER Alexander
BALLERSTEDT Maurice
VERMEERSCH Gianni

AG2R CITROEN

VAN AVERMAET Greg
GAUTHERAT Pierre
NAESEN Laurence
NAESEN Oliver
SCHAR Michael
TOUZE Damien
DE WULF Stan

ASTANA QAZAQSTAN

CAVENDISH Mark
BOL Cees
BASSO Leonardo
FEDOROV Yevgeniy
GRUZDEV Dmitry
LAAS Martin
SYRITA Gleb

BAHRAIN VICTORIOUS

MOHORIC Matej
GRADEK Kamil
MILAN Jonathan
ARNDT Nikias
PASQUALON Andrea
RAJOVIC Dusan
WRIGHT Fred

BORA-HANSGROHE

Bennett Sam
HALLER Marco
Jungels Bob
MEEUS Jordi
MULLEN Ryan
POLITT Nils
VAN POPPEL Danny

INTERMARCHE-CIRCUS-WANTY

GIRMAY Biniam
BYSTROM ERIK Sven
DE GENDT Aime
PAGE Hugo
PETIT Adrien
TEUNISSEN Mike
VAN DER HOORN Taco

SOUDAL QUICK-STEP

MERLIER Tim
LAMPAERT Yves
ASGREEN Kasper
BALLERINI Davide
PEDERSEN Casper
STEIMLE Jannik
VAN LERBEGHE Bert

JUMBO-VISMA

VAN AERT Wout
LAPORTE Christophe
KOOIJ Olav
ROOSEN Timo
VAN DIJKE Tim
VAN EMDEN Jos
VAN HOOYDONCK Nathan

TREK-SEGAFREDO

STUYVEN Jasper
HOELGAARD Markus
HOOLE Daan
KIRSCH Alex
PEDERSEN Mads
VERGAERDE Otto
THEUNS Edward

COFIDIS

ALLEGAERT Piet
CONSONNI Simone
KREDER Wesley
NOPPE Christophe
PERICHON Pierre-Luc
RENARD Alexis
WALLAYS Jelle

EF EDUCATION EASYPOST

BETTIOL ALberto
BISSEGER Stefan
DOULL Owain
VAN DEN BERG Marijn
RUSTCH Jonas
SCULLY Tom
WISNIOWSKI Lukasz

GROUPAMA-FDJ

DEMARE Arnaud
ASKEY Lewis
KUNG Stefan
LE GAC Stefan
LIENHARD Fabian
STEWART Jake
WATSON Samuel

INEOS GRENADIERS

GANNA Filippo
HEIDUK Kim
KWIATKOWSKI Michal
NARVAEZ Jhnothan
SHEFFIELD Magnus
SWIFT Ben

MOVISTAR

GAVIRIA Fernando
GARCIA CORTINA Ivan
ERVITI Imanol
JACOBS Johan
NROSGAARD Mathias
KANTER Max
LAZKANO Olier

ARKEA-SAMSIC

LEDANOIS Kevin
PONOMAR Andrii
DEKKER David
BIERMANS Jenthe
MCLAY Daniel
MOZZATO Luca
RUSSO Clement

DSM

DEGENKOLB John
BEVIN Patrick
BITTNER Pavel
ANDRESEN Tobias Lund
EEKHOFF Nils
MAYRHOFER Marius
VERMAEKE Kevin

JAYCO AIUla

GROENEWEGEN Dylan
MEZGEC Luka
QUICK Blake
REINDERS Elmar
STEWART Campbell
STYBAR Zdenek
O'BRIEN Kelland

UAE TEAM EMIRATES

OLIVERIA Rui
GROSSCHARTNER Felix
WELLENS Tim
ACKERMANN Pascal
TRENTIN Matteo
LAENGEN Vegard Stake
MOLANO Juan Sebastian

LOTTO DSTNY

EWAN Caleb
DE LIE Arnaud
BEULLENS Cedric
DE BUYST Jasper
FRISON Frederik
VAN MOER Brent
VERMEESCH Florian

FLANDERS-BALOISE

APERS Ruben
BRAET Vito
COLMAN Alex
DE PESTEL Sander
FRETIN Milan
HESTERS Jules
VAN POUCKE Aaron

BINGOAL WB

BLOUWE Louis
DE MAEGHT Dorian
ROBEET Ludovic
DESAL Ceriel
VAN BOVEN Luca
VAN KEIRSBULCK Guillame
MERTENS Julian

HUMAN POWERED HEALTH

BASSETT Stephen
DE VOS Adam
JOYCE Colin
LEMMEN Bart
PERRY Ben
SCHONBERGER Sebastian
VAN HOECKE Gijs

ISRAEL-PREMIER TECH

VANMARCKE Sep
HOULE Hugo
NIZZOLO Giacomo
REYNDERS Jens
VAN ASBROECK Tom
ZABEL Rick

UNO-X

KRISTOFF Alexander
HALVORSEN Kristoffer
URIANSTAD Martin
RESELL Erik Nordstaeter
WAERENSKJOLD Soren
SKAARSETH Anders
TILLER Rasmus

TOTAL ENERGIES

SAGAN Peter
BOASSON HAGEN Edvald
OSS Daniel
BODNAR Maciej
SOUPE Geoffrey
TURGIS Anthony
VAN GESTEL Dries

GENT-WEVELGEM 2023: WOMEN'S START LIST
TREK-SEGAFREDO

BALSAMO Elisa
BRAND Lucinda
LONGO BORGHINI Elisa
SANGUINETI Ilaria
VAN ANROOIJ Shirin

SD WORX

KOPECKY Lotte
WIEBES Lorena
REUSSER Marlen
CECCHINI Elena
MAJERUS Christine
UNEKEN Lonneke

UAE TEAM ADQ

BASTIANELLI Marta
GASPARRINI Eleonara Camilla
BUJAK Eugenia
CONSONNI Chiaria
AMIALIUSIK Alena
HOLDEN Elizabeth

EF EDUCATION-TIBCO-SVB

BÄCKSTEDT Zoe
BORGHESI Letizia
HONSINGER Clara
JACKSON Alison
SMITH Abi
STEPHENS Lauren

AG INSURANCE-SOUDAL QUICK-STEP

BOOGAARD Maaike
BORGSTRÖM Julia
HENTTALA Lotta
KASPER Romy
RIJNBEEK Maud
WOLLASTON Ally

MOVISTAR

BIANNIC Aude
GONZÁLEZ Alicia
NORSGAARD Emma
OYARBIDE Lourdes
GUTIÉRREZ Sheyla
RODRÍGUEZ Gloria

CERATIZIT-WNT

ARZUFFI Alice Maria
BRAUßE Franziska
DE ZOETE Mylène
FIDANZA Arianna
LACH Marta
TEUTENBERG Lea Lin

COFIDIS

ALZINI Martina
BERTEAU Victoire
CASTRIQUE Alana
FORTIN Valentine
PILOTE FORTIN Gabrielle
TALBOT Josie

LIFEPLUS WAHOO

VIGIE Margaux
HARRIS Ella
RICHARDSON Kate
RYSZ Kaja
WYLLIE Ella
LAURANCE Typhaine

JUMBO-VISMA

ACHTEREEKTE Carlijn
HENDERSON Anna
RIEDMANN Linda
LABECKI Coryn
RÜEGG Noemi
SWINKELS Karlijn

PROXIMUS-ALPHAMOTORHOM

GRIT Ilse
HOLMSGAARD Trine
KRAHL Judith
SCHOKKAERT Febe
WASMUS Nienke
VAN HOUTUM Céline

LOTTO DSTNY

AINTILA Wilma
DE CLERCQ Katrijn
DOCX Mieke
SIGMUND Marla
VAN DE GUCHTE Quinty
BURLOVÁ Kristýna

CANYON // SRAM

BOSSUYT Shari
CROMWELL Tiffany
CHABBEY Elise
NIEWIADOMA Katarzyna
SKALNIAK-SÓJKA Agnieszka
VAN DER DUIN Maike

FDJ-SUEZ

BORGLI Stine
BROWN Grace
CAVALLI Marta
COPPONI Clara
DUVAL Eugénie
FAHLIN Emilia

ZAAF CYCLING

COLES-LYSTER Maggie
CORDON-RAGOT Audrey
DE FRANCESCO Danielle
DRUMMOND Michaela
JOUNIER Lucie
MEIJERING Mareille

FENIX-DECEUNINCK

DE BAAT Kim
KASTELIJN Yara
DE WILDE Julie
KUIJPERS Evy
SCHWEINBERGER Christina
WRIGHT Sophie

HUMAN POWERED HEALTH

BARNES Alice
PIKULIK Daria
RAAIJMAKERS Marit
SCHMID Kaia
VANDENBULCKE Jesse
WILLIAMS Lily

ISRAEL PREMIER-TECH

BAUR Caroline
COLLINELLI Sofia
DELBAERE Fien
DRONOVA-BALABOLINA Tamara
PIRRONE Elena
NGUYỄN Thị Thật

LIV RACING

BARBIERI Rachele
BUURMAN Eva
DE JONG Thalita
DEMEY Valerie
SMULDERS Silke
TON Quinty

UNO-X

KOERNER Rebecca
BARKER Elinor
CONFALONIERI Maria Giulia
DIDERIKSEN Amalie
AHTOSALO Anniina
NORMAN LETH Julie

DSM

GEORGI Pfeiffer
HENGEVELD Daniek
JASTRAB Megan
KOCH Franziska
KOOL Charlotte
PLOUFFE Maeve

JAYCO AIUla

ALLEN Jessica
PATERNOSTER Letizia
HOWE Georgie
KESSLER Nina
MANLY Alexandra
ROSEMAN-GANNON Ruby

PARKHOTEL VALKENBURG

FRAIN Nicole
GERRITSE Femke
SCHOENS Quinty
VAN HAAFTEN Kirstie
VANHOVE Marith
VANPACHTENBEKE Margot

DUOLAR-CHEVALMEIRE

BEX Nathalie
ERIKSEN Malin
GINS Tara
GRÖNDAHL Antonia
MARTINEZ Andrea
VAN DEN STEEN Kelly



Thank you for reading 20 articles this month* Join now for unlimited access
Enjoy your first month for just £1 / $1 / €1
*Read 5 free articles per month without a subscription
Join now for unlimited access
Try first month for just £1 / $1 / €1