Katusha 'ready to fight' UCI over WorldTour exclusion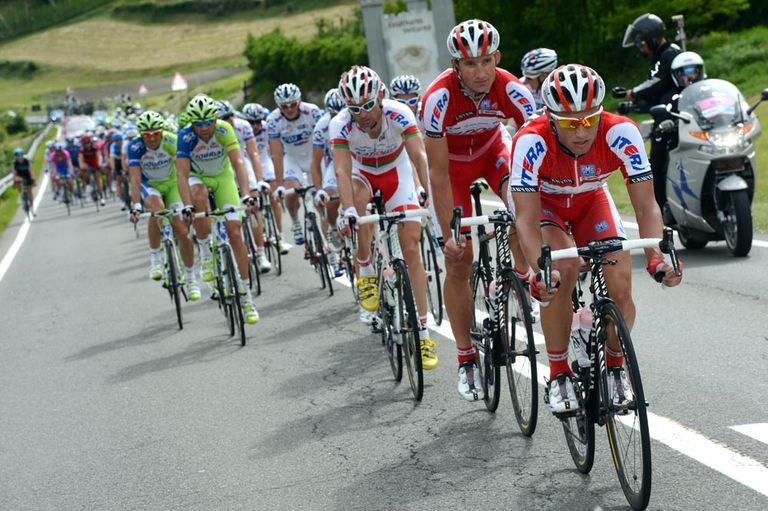 Russian team Katusha has said that it is 'ready to fight' the Union Cycliste Internationale over its surprise exclusion from the list of 2013 WorldTour squads.
The team were an unexpected omission from the list of ProTeams issued by the UCI on Monday. The reasons for their exclusion from the list was not stated by the UCI, leading to confusion and anger within the squad.
"At present moment Katusha Team has no information regarding the reasons for the decision of the UCI to reject the request from the team for registration in first division. Team management, riders and staff are extremely surprised by the lack of justification for such a decision made by the UCI," read a team statement.
The team then went on to say that its omission from the WorldTour appeared to be a direct decision against Russian riders. "... The only Russian team, where the majority of riders are Russian citizens, has been excluded from participation in races of the WorldTour. Thus, this decision of the UCI has suspended Russia as a country from participation in cycling competitions of the highest level."
The UCI awards ProTeam, WorldTour licences after considering four criteria: sporting, ethical, financial and administrative. The team's financial and sporting credentials are beyond doubt - the team includes Joaquim Rodriguez, the man who topped the 2012 WorldTour ranking. Katusha were also the second-highest ranked team behind Sky.
Therefore, it looks likely the decision was based on ethical or administrative criteria. In reponse, Katusha has criticised the UCI of being unethical in its decision: "The UCI which has been established in order to protect the interests of the riders worldwide, on the contrary by its actions completely violates the canons of sports ethics and causes irreparable moral and psychological harm to the athletes before the start of the new season, and the delay in explaining the reasons of the decisions only shows the lack of the significance of these reasons."
Yesterday, Katusha head sports director Valerio Piva told Cycling Weekly: "I'm trying to do my work, but it's hard to make plans when you don't have guarantees to race the WorldTour races and have to ask for wildcards."
Although Katusha can appeal against the UCI's decision at the Court of Arbitration for Sport, it looks likely that they will have to race as a Professional Continental squad in 2013 - the first WorldTour race of 2013, the Tour Down Under, is just weeks away.
Related links
Katusha: Why was the Russian team relegated
Saxo Tinkoff in, Katusha out of UCI WorldTour