13 of the strangest nicknames in cycling
Dr Teeth, The Squirrel of the Canals and The Butterfly of Maastricht are just three of the odd nicknames on the list, find out what the others are here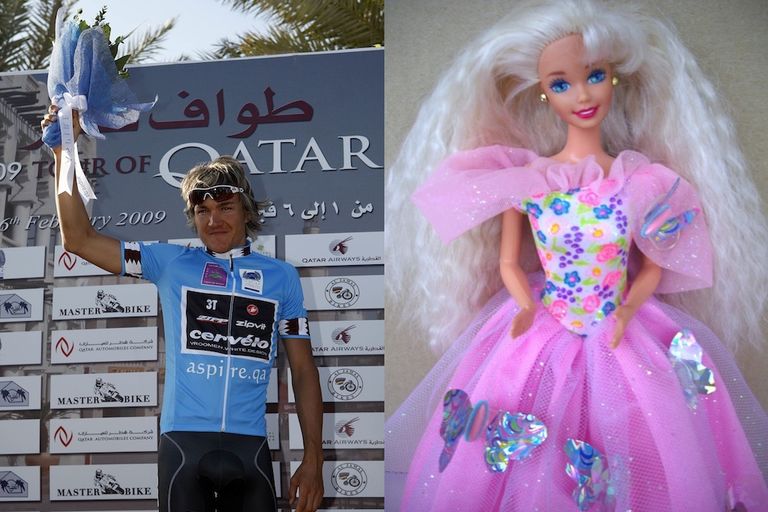 Tom Dumoulin - The Butterfly of Maastricht
Johan Museeuw - The Seagull
Phil Anderson - Dr Teeth
We've had to use some creative licence when guessing why some of the nicknames were bestowed upon some of the riders, but some of them are pretty obvious.
Not to be confused with Mr 1,000 Volts, which was the nickname of FDJ boss Marc Madiot. Up your game, Marc!
But Julio Jimenez, who won 10 Grand Tour stages between 1964 and 1968, was actually a watchmaker before turning to cycling.
According to Wikipedia, Condors can live upwards of 50 years and mate for life, so I guess that's a good sign for the Gesink family.
Winner of the 1910 Giro d'Italia, Carlo Galetti had two of the strangest nicknames in cycling. 'Il Scoiattolo dei Navigli' sounds delightful, but translated to The Squirrel of the Canals sounds a bit odd.
Such proficiency earned him the nickname Mr 100,000 Volts - presumably because of his electric nature on the bike - along with a host of other names.
He couldn't quite make up the time to win the 1967 Tour de France, though, where he finished 3-40 behind Roger Pingeon.
For cycling great Johan Museeuw, it was simply the case that his surname was, unfortunately, very similar in sound to that of a bird (seagull = de Zeemeeuw in Dutch).
It even sporned its own website - The Adventures of Barbie Barbie, where some rogues would dress Barbie up in a Cervelo kit. It's definitely worth a look.
When you think of Tom Dumoulin doing a time trial the image of a butterfly gracefully floating through the air may come to mind - that's how easy the Dutchman makes it.
Ferdinand Kubler, to give him his full name, won over 400 races in his career, including a Tour de France, a World Championship and four Ardennes Classics.
Julio Jimenez - The Watchmaker of Avila
The German's weight issues were clear for everyone to see, so as his mass went up and down throughout his career, the nickname Yoyo was coined.
Heinrich Haussler - Barbie
I don't really know why Australian sprinter Haussler is called Barbie, but it's probably down to the dyed blonde hair he sported while at Cervelo Test Team.
As for the Human Stopwatch, I guess that he was just really good at time trials...
You've got to be pretty decent in the mountains to win a Vuelta a España, but whether or not Horner has ever been the second best climber in the peloton is up for discussion.
The Condor is a pretty decent bird, but Robert Gesink hasn't really lived up to its fearsome reputation thus far in his career.
Australian great Phil Anderson reportedly had 'the biggest set of ivories to ever grace the peloton' and was thusly awarded the nickname Dr Teeth.
Chris Horner - The Second Best Climber in the World
Following his post-career doping confession, he's now a yoyo that's lost its bounce and refuses to ravel back up again.
Non-British riders throughout history, though, have been handed some slightly more adventurous names, many of which sound beautiful in their native tongues, but slightly ridiculous when translated into English.
Some of the worst nicknames are the ones that people make up for themselves, but when Chris Horner described himself as the second best climber behind Alberto Contador, the handle kind of stuck.
'The Cannibal', 'The Assassin', 'The Machine' - all nicknames that strike fear into the hearts of their rivals. The Watchmaker, not so much.
David Moncoutie - Moncoucou (My Cuckoo)
Carlo Galetti - The Squirrel of the Canals/The Human Stopwatch
Apparently it's the canals that criss-cross Milan that Galetti is named after, but the squirrel reference is still a bit baffling.
And he comes from Maastricht, so that bit makes sense. Given his brutal climbing in the Vuelta a España this nickname may have to be modified to something more terrifying, but for now Dumoulin will be fluttering into 2016 on a high.
Tony Martin - Der Panzerwagen
Ferdy Kubler - Mr 100,000 Volts
Some of them involve the name of the town where the rider is from, combining it with an impressive animal, some of them are a bit less inventive.
It sounds like his name, geddit?
Jan Ullrich - The Yoyo
Davis Phinney - Cash Register
Robert Gesink - The Condor of Varsseveld
Any weird ones we've missed? Let us know in the comments below!
This particular tank was used by the Germans in World War Two and was known for blowing things away - much like Martin in the time trials in recent years.
'The Tank' is the kind of nickname you'd expect of a 20-stone rugby player, not an 11-stone cyclist, but Tony Martin's Panzerwagen nickname is surprisingly apt.
Anyone who's spent any time at a British seaside resort will know how terrifying seagulls can be, but I don't remember Museeuw swooping on any unsuspecting rider and stealing his musette away from him or leaving a general mess on the road...
His son, Davis, has a catchy nickname of his own: Mini Phinney.
Modern day sportsmen have pretty rubbish nicknames, especially British ones. The formula seems to be to simply add the letter Y to the end of someone's name and be done with it: Froomey, Swifty, Kennaugh-y, just to name a few.
He also went by the name Skippy - a reference to the kangaroo in the iconic Australian television series of the same name.
Why is Davis Phinney called the Cash Register? Because he took everyone's money. Not literally though, I guess, but in terms of winning the prize money at races.