26 things to do on a bike before you die
Cycling Weekly counts down the 26 things that you must do on a bike before you pop your SPD clogs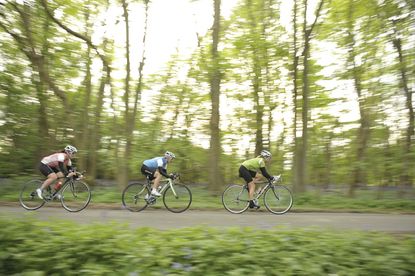 No matter how long you've been riding, there's always room to squeeze in a new experience on your bike.
Here we've listed the 26 things that we think every cyclist should at least try... even if you only do it once.
26 Learn to ride a unicycle
Doesn't everybody secretly want to? You can go forwards, you can go backwards, only another unicyclist can steal it, or you could get a job in a circus. There are tons of good things about unicycling. Oh alright, we put this in the bucket list because we want to do it.
How to do it
Get hold of a unicycle and visit www.unicycletoday.com. It has to be the right size unicycle and you need a special place to practise. It also takes patience, but that's all explained on the site. Good luck, and let us know how you get on.
25 Buy a piece of cycling memorabilia
This is becoming quite big business, and there are even some collectors among the pro peloton. Top stuff would be a genuine rainbow, yellow, green, polka-dot or pink jersey behind glass on the wall. Or what about a pro's bike? We know managing directors of big companies who have such things on display in their offices.
How to do it
Sites such as eBay are a great place to start looking - as long as you can check authenticity. So are classic bike forums. Cycle jumble sales are fun to rummage through, but some of the best stuff comes up at the big cycling dos like Braveheart and Dave Rayner. You can tick two off our bucket list off in one night.
24 Ride on tubs
Tubs, or tubulars, are a world away from tyres - at least the expensive ones are. If you race, particularly if you do time trials, you owe yourself some extra special wheels shod with the very best tubs, silk if possible, that you can buy.
Nothing sings along the road like a fully inflated silk tubular. They are faster: their construction, lightness and in the case of silk the extra fibres per centimetre of casing, mean they have less rolling resistance than tyres. But the big thing is you will believe you are faster, and that's what really makes a difference.
How to do it
Scour shops and mail order for the best from brands like Continental, Vittoria and Veloflex, and for true works of art look at the Dugast brand. Top tubs aren't cheap; the queen of all track tubs, the ones more world champions have used than any other, Continental Olympics, are getting up towards £200 a pop now. Bad choice of word, but you get the idea.
23 Ride with a pro
The best way to get to know any cyclist is to have a chat on a ride. Every pro racer, no matter how many Tours, Classics and world titles they have won, is a cyclist at heart.
They love cycling, bikes are their natural environment, where they feel relaxed and in control. Eddy Merckx says that when he raced he hated interviews and many social situations, but only felt he could be truly himself when he rode his bike.
Then there are the things you can learn. Pros are usually very good at sharing hard-won knowledge and can straighten out problems in one ride that years of coaching might not address.
Watch: How much speed can you buy?
How to do it
You can double this one up with going to a training camp (number 16). In January and February the roads of Majorca are littered with pros, and usually they don't mind if one or two people join their easy rides.
However, they won't like you trying to join their fast rides because that's when they are working. It's serious stuff, you won't learn anything and you'll just make yourself unpopular. Or worse, get laughed at.
Also, as cycling replaces golf, 'ride with a pro' is increasingly used by team-sponsoring companies as a jolly for clients. Some are selling pro ride days as well. It might sound like poseur's territory, but there's potential for a lot of good stuff to be learned.
22 Ride as many hills from the 100 Greatest Climbs book as you can
Hills are a true test of a cyclist's fitness and character, and the harder and steeper they are, the more intense your feeling of satisfaction at the top. Hills get you fit too.
Simon Warren travelled the length and breadth of Britain seeking out the best, biggest and steepest hills, and he wrote two books about them: 100 Greatest Cycling Climbs and Another 100 Greatest Cycling Climbs. Your mission, should you accept it, is to ride as many of the climbs in the two books as you can.
How to do it
Buy both books, tick off the ones in your area and keep working outwards to take in as many from the book as you can on each ride. Then it's down to using the book on business trips to see if there is a climb you can tick off nearby; the same for holidays. You'll soon be obsessed.
You can buy the two books on the Cycling Weekly shop.
21 Ride 100 miles in a day
Riding a 'century' - 100 miles - is a rite of passage for every cyclist, and some get hooked on it. We know guys who will ride around the block a couple of times if they get home and their bike computer says 99 miles.
>>> Five invaluable tips to help you step up from riding 60 to 100 miles
It's a long way, but 100 miles has a special significance because everybody holds in their minds the concept of how far 100 miles is. Tell your friends you have ridden 100 miles and they will be impressed, but 99 won't do it even if it's only three minutes or so less riding.
How to do it
We're probably going to get letters, but riding 100 miles is much easier than running a marathon. Get training, and add a little bit to your long rides each week. Core work helps reduce the pains in support muscles that can be more of a problem than tired legs. Get your bike position looked at by an expert. Good shorts are a must. But all in all, riding 100 miles in a day is beyond hardly anyone.
20 Race
Sportives are great, but they aren't races. They are a personal challenge; you against the terrain and your reward is completing the course, or maybe completing it in a faster time. Races are different. Races are you against the rest of the field.
Take part in a race and you become one of the brotherhood or sisterhood of bike racers. One of Garmin's team managers and a former pro Allan Peiper explained what that means when he said: "A race is a battle, and in normal life you don't get in a battle, not a pure physical one where you use your physical strength to win. Racing taps into something primitive in the fight to succeed."
So get in touch with your inner caveman or cavewoman, and race. Road, track, cyclo-cross, mountain bikes, it doesn't matter which. It's the shoulder-to-shoulder cut-and-thrust adrenaline rush you are after. Experience it once and you'll be hooked.
How to do it.
For a first road race try any Go Ride race in the events section of www.britishcycling.org.uk. You'll be able to buy a one-day race licence and the event will be on a closed road circuit. One word of warning though: your first race will be nothing like the races you see pros riding in Europe.
It will start fast. In fact, the first few laps will probably be the fastest of the whole thing. Prepare yourself. Get thoroughly warmed up and be ready in your head for all hell to break loose. Then get to the front and mix it. Cyclo-cross and mountain bike events are the same, only more so.
Races are listed on British Cycling's website, but there are other bodies that promote races. The TLI (www.tlicycling.org.uk) caters for all ages, often with handicap road races where you get allocated to a group according to your experience, and groups set off at intervals with the best riders in the last group.
The LVRC is for over-40 racers (www.lvrc.org). Newcomers get to choose what age group they race with, unless it's a title race.
19 Ride a long distance trail
We're a road mag but everybody has to try this. Anyway, thanks to bodies like Sustrans, some trails are like roads.
There's plenty of choice too. There are family-friendly routes like the Tarka Trail, which spans Devon from the south to north coast, and harder stuff like the Pennine Bridleway or the Mary Townley Loop. It's quite easy to string together your own routes too, just stick to the rights of way and remember it's illegal to ride bikes on trails designated as footpaths. Bridleways, green roads and unmetalled roads are what to look for.
And why stop in Britain? There are some amazing long-distance trails in Europe and even further afield, some of which have races on them, which aren't allowed on British bridleways by law. We're thinking the Transalp mountain bike race, or even the Leadville 100, which is 100 miles out and back in the Rocky Mountains and doesn't dip below 10,000 feet.
How to do it
Obviously race rules dictate what bike you must ride in a competition. And while we are talking racing and long distance trails, you have to try Britain's only long-distance trail race, the Three Peaks Cyclo-Cross at least once in your life.
Cyclo-cross bikes are a good option for trails. They can manage rough stuff but aren't as draggy as mountain bikes on the smooth sections. However, it's perfectly possible to ride some trails on touring bikes and on your winter bike. Extra thick tyres with puncture proofing are a must, though.
A good start place for information is on www.sustrans.org.uk.
18 Go cycle touring
Do you like maps? Do you look longingly out of train, bus and car windows and wonder where that road goes? If so, cycle touring is for you. It's the same adventure as walkers get, but you go further and see more.
Cycle touring is freedom on two wheels, and on an unsupported tour you go where you want to go, how far you want to go and you can you stop where and when you want to as well.
The world is literally your oyster. Supported tours are where a company moves your luggage between destinations. Credit card touring is where you carry your needs and stay in hotels or other accommodation. Or you can be totally self-supported; just you and your bike, a tent, sleeping and cooking kit, and off you go.
How to do it
Again, companies who offer supported Tours advertise in this and many other magazines and websites. Credit card touring is just a matter of planning your own stage race and booking accommodation in-between. Self-supported tours have whole books of dos and don'ts, and there are plenty of those to read: www.amazon.co.uk is a good place to start. The CTC is the ultimate resource for cycle tourists, though - www.ctc.org.uk.
You can do a supported tour on a race bike, and a winter training bike works for credit card touring, although you need some way of attaching a bag or bags. For self-supported touring you can either get a traditional touring bike or some production cyclo-cross bikes double up well in this role. If your mountain bike has pannier rack bosses it makes a good alternative, with the addition of slick tyres if you are road touring. MTB touring is fun too, though
17 Meet Eddy Merckx
Any way you look at it; and we're going to offend our lady readers, fans of the track, off-roaders and Americans, but Eddy Merckx (pictured above) is the greatest cyclist ever, and you've got to meet him.
It's worth it, because he's different. He's got an unnerving way of looking at you, and he genuinely likes meeting people to talk bikes and cycling today, but maybe not so much about the past.
How to do it
Watch for the cyclo-sportives that Eddy Merckx bikes sponsors. He's always at the big bike shows, and at a lot of bike races. Just go up and say hi. He's very approachable, but he says that nobody wants to talk to him about the man he is now, just about the young man he was back in the day. It can be quite lonely at the top.
16 Go on a training camp
Training camps are spa holidays for cyclists. You love cycling, so pamper yourself. Eat, ride, sleep, and repeat. A week of 'living the dream', living just like the pros do, is something you owe yourself for all those dark wet rides, and it's the only truly effective treatment for terminal turbo boredom.
It doesn't matter where you go as long as there's sun and quiet yet challenging roads. Majorca is the most popular destination, and the pedalling pound is important to the local economy so you'll be well looked after.
>>> How Do I… Do a training camp?
The Canaries are becoming popular, and we can see North Africa getting in on this act soon. Our fave destination is Tuscany, around Siena: sun, scenery and style.
How to do it
It really couldn't be easier. Go straight to the classifieds in this mag; there are loads of companies offering packages. DIY is good too, or book with some mates on a travel site like www.xpedia.co.uk.
15 Join a cycling club
They used to be scary, but they aren't now; well, most of them aren't. Cycling clubs are good. The best ones are like a 'how to do it' book on wheels. Cycling clubs are a forum, a support group and a band of brothers and sisters rolled into one. They make you feel part of something, and that's a basic human need.
>>> 10 types of rider you'll see on every club run
You have to give something up when you join a club, which is a consideration - they aren't for everyone. But if you do decide that you can afford some time to help with things like putting on races or taking a role in club functions, coaching even, you will get a lot more back in return.
How to do it
British clubs are listed on British Cycling's website, www.britishcycling.org.uk. Go Ride clubs are the best if you have kids who want to ride, and the Go Bike mark can indicate the club is progressive, inclusive and welcoming, but others are too. Ask around. Ask your local bike shop who they recommend. Ask cyclists you meet, or even at sports centres.
Or why not start your own club? There are hundreds of groups of cyclists who meet every week, share a common interest and get along who could form a good club and create a legacy where there wasn't one before. It's dead easy - British Cycling is your friend again. Designing your own kit is worth the effort alone.
14 Sprint down the Champs-Elysées
Every year the Tour de France finishes on the most famous street in Paris. And almost every year the final stage ends in a sprint.
The Champs-Elysées is the road sprinters' unofficial world title race. Mark Cavendish lives for winning this stage, so you owe it to yourself as a British bike fan to have a go.
How to do it
Unless you go in August, when Paris empties for the holidays, you'll have to do this in the evening; the later the better because Paris city centre is too busy during the day.
The Champs-Elysées stage finish is approximately one kilometre west of the Place de la Concorde on the right carriageway of the avenue.
For the best effect take a couple of friends to race. Start in the Place de la Concorde and pick up the pace once you are on the final straight, then the last man goes for it with 200 metres to go. Continue around the Tour de France circuit; which means going a bit further up the Champs-Elysées then back down the other carriageway.
Switch right to run alongside the river, then left around the back of the Louvre, left into the Rue de Rivoli and back to the Place de la Concorde. Then it's the next person's turn to be Cav. Oh, and don't forget your lights. And if it's wet, be extra careful.
13 Watch the Tour de France, French style
Every cyclist has to watch the Tour de France at least once, and we don't mean on TV. Yes that's the best way to see the Tour, to see the action. But to watch the show, to feel the Tour, to feel its breath and hear its heartbeat, you can only do that standing on the side of the road and watching the whole thing go by.
The Tour is special anywhere, but it's spectacular in the mountains. The thing is though, if you decide to do it, do it in style; do it like the French do it. That involves planning, and some key essentials.
>>> Tour de France 2016 route revealed
You need a collapsible picnic table, a gingham tablecloth, something nice to eat and drink, knives and forks, an umbrella for shelter and some way of following the stage like a radio or portable TV. In addition to these essentials we've seen armchairs, footstools, and even a pot plant. French families like to feel at home wherever they are.
How to do it
The Tour route is announced at the end of October for the following year. Decide where you want to see it and book accommodation in the area as soon as possible. Get there early on the day, very early, at least four hours before the race passes. And if you want to see it in the mountains, and do it French style, you need to be up there at least the day before to camp overnight.
12 Do a big cycling 'do'
Want to see the pros let their hair down? It can be quite funny. When he 'over-celebrated' at a Dave Rayner dinner a few years ago we convinced Bradley Wiggins, a much younger and far more innocent Bradley Wiggins, that he was being followed by MI5. OK, maybe you had to be there.
The dos are great occasions though. People see people they've not seen for years, friendships are cemented and there's often a guest worth seeing. We're talking about the likes of Eddy Merckx, Miguel Indurain and Sir Chris Hoy here.
There's also a serious side: raising money. It's always for a good cause, mostly done with an auction, and things get out of hand when people bid way out their comfort zones.
How to do it
Functions like Braveheart, the Dave Rayner Dinner and the Downings' Out of the Saddle evening are all well advertised. Tickets do sell out though. Get in quick - we'll see you there.
11 Ride a tandem
Don't just ride one - buy one with your significant other; it's marriage guidance on two wheels. Look back at the 1940s and 50s: the divorce rate was much lower than it is today because thousands of couples rode tandems at the weekend. OK, there might have been other factors too.
Seriously though, it's fun. Both riders get a workout. Four legs go further than two. A tandem is a great way for two people to share cycling. They are hard work on hills, and the rear seat requires a level of trust beyond the call of marriage, or whatever your personal arrangement is. Still, the positives outweigh the negatives.
How to do it
Try before you buy. Lots of trail centres and bike-hire places have tandems. There's a right way to ride one, but there's a great step-by-step guide produced by Tandem Cycle Works.
Rider one is called the pilot and rider two is the stoker. The pilot takes a bigger load on their arms and shoulders, and the stoker must never try to steer. Both need to lean into corners at the same time, and getting out of the saddle is best left till you get some miles in.
10 Watch a cobbled classic
The Tour of Flanders and Paris-Roubaix are the big cobbled Classics, but Het Nieuwsblad, GP Waregem, Kuurne-Brussels-Kuurne and others cover some of the same terrain.
The first thing that hits you when you see the cobbles is how anyone rides over them. Then when you see the pros do it, you'll wonder how they do it so fast.
When the pros hit the cobbles they hit them hard. It's the only way to ride them - tactical finesse happens way before they get there, and that's just to get a good place in the line. Watching pros race on the pavé is like watching a tsunami sweep up a rocky riverbed.
How to do it
Race dates are on www.uci.ch, and they are listed here on www.cyclingweekly.com. The big two races are best for your first cobblestone experience, but if you get a taste the others are worth watching too. Cobbled roads tend to be concentrated in particular areas, so the races are quite compact. With experience you can flit between viewing spots, but it's best to pick one place and stick with it for your first time.
>>> UCI WorldTour calendar 2016
The killer places in Paris-Roubaix are the Arenberg Forest, which is just off junction six of the A23 about five kilometres north-west of Valenciennes, and the Carrefour de l'Arbre between the villages of Gruson and Camphin en Pévèle, about four kilometres south-east of Lille.
The best cobbled bits of Flanders are two of its famous hills: the Koppenberg on the N8 five kilometres south-west of Oudenaarde, and the Kwaremont, a bit further south-east and next to the N36 between Berchem and Ronse. Pick a spot near a cafe for beer and eat frites and mayonnaise from a frituur.
9 Ride with your kids
Cycling is the best exercise for just about anyone, and it is especially good for kids. Riding a bike helps create a good cardiovascular system, and that's a gift that keeps on giving. Cycling doesn't overstress young bones either, so within reason they can be as enthusiastic as they like with little danger.
Cycling also gives kids a sense of place and an appreciation of where they live. They discover the back roads and trails, and potentially a love of the outdoors that lasts throughout their lives.
How to do it
Family rides are great, but one of the best ways to create real enthusiasm is with the thrill of racing. Kids love competing, and if they take to cycling as a sport all the other things will fall into place.
Most pro cyclists have a deep love of the countryside, but racing came first. If you race then you know how to get them started, if not then the Go Ride section of www.britishcycling.org.uk provides lots of information.
>>> Embarrassing cycling problems, and how to prevent them
8 Get 50 people into cycling
You do this anyway, probably subconsciously, but your enthusiasm will have got others out on their bikes. There are thousands of cyclists on our roads today, and while conditions are still far from ideal, they are getting better. At least cycling is part of the national debate now. It wasn't always like that.
But what would it be like if every one of us got 50 people out on two wheels, or three, and they made riding bikes part of their lives? What a huge lobby that would be, and the world would be a better place for it.
How to do it
Make it a mission. No need to go mad though, this is a life list. Encourage people to ride by taking the time to ride with them, maybe forming a work or school group. Get involved with a cycling club, or start your own.
It's very easy. British Cycling will help, and there's a body called the National Clarion www.clarion.org that help you start a club with just three members and a six-pound fee. The Clarion comes from way back when cycling started as a pastime, but their motto today is 'on-bike social networking.'
7 Grab a ride in a team car
For a fascinating crash course in road racing you've got to blag a seat in a team car. It can get a bit mad, with some hairy-looking driving, but don't worry - the drivers have all been racers, or if they haven't they are really switched on to what's happening around them.
Team cars aren't just support vehicles, they are mobile operation centres. Moves are planned, defences mounted, counter-attacks made and the troops resupplied. And all the time the team's strategy grows, shrinks and changes. You won't see much racing, nowhere near as much as watching the TV, but you'll gain an understanding of it that can't be gained elsewhere.
How to do it.
If you work for a company that sponsors a team you are halfway there. Teams like to entertain sponsors, so if it's not you who's on their invite list, make friends with whoever is. And if you run a small business, look into part-sponsoring a British team. You'll be surprised how little it takes to get your name on their jersey and your bum in the team car. It's tax-efficient too.
You don't have to be in the Tour de France to get a true feel for pro bike racing. The British Cycling Elite Road Series has reached a high level nowadays, with some excellent riders and managers. Three to four hours spent listening to and observing the likes of John Herety or Malcolm Elliott is like living inside Stephen Hawking's head for an hour. Everything you never understood suddenly becomes clear.
A WorldTour race is the ultimate though, and you see competitions offering up a team car place at some of these. Win beg, steal or borrow, just try to get there. Then just sit back, try to relax, although you won't, and watch some of the most dedicated people in the world make something very difficult look very easy.
> 10 things we're really looking forward to in 2016
6 Win a sprint
Whether it's a race or a gallop to the village sign, winning is a sprint is something you should try to do. The feeling as you come off a wheel at the right moment, the perfectly timed acceleration, the anticipation of the last few metres before the line. Then you cross it. Win one sprint and you'll know why Mark Cavendish is hooked, and why he gets upset when he gets beaten.
How to do it
You need a bit of sprint practice to hone your speed, but that's the easy bit. Just chuck in a few 10-15 second flat-out bursts of speed on your normal rides. A bigger part of sprinting is tactics and timing. Mark Cavendish says: "You have to take in a lot of variables, the wind direction, the gradient, the speed you're travelling at when the sprint starts, and how you're feeling."
Position yourself near to the front of your group as you approach the sprint. Wind direction is crucial; always make your move with a rider or riders between you and the wind. If it's a headwind leave your sprint late, if it's a tailwind go for a long one. It pays to go a bit earlier for uphill sprints too; everyone is going slower so it takes longer for you to pass them and for them to pass you.
5 Ride on a velodrome
The thrill of zooming around a track and swooping off the bankings is something no cyclist should miss. You won't be as fast as Sir Chris Hoy and Jason Kenny, but you will feel as fast. No matter how hard you ride, the road will never equal the G-force rush of track cycling.
How to do it
There are a number of tracks around the UK, and are listed on Wikipedia. Many run beginners' courses and track leagues that cater for different abilities, but most of the tracks are outdoors and quite big. They're fun to ride, but the real thrill is on indoor tracks of 250 metres or less.
>>> Plans to build Britain's seventh indoor velodrome in Inverness
There are six indoor tracks in the UK: at Calshot Activities Centre near Southampton, Newport in Wales, Lee Valley Velodrome in London, Sir Chris Hoy velodrome in Glasgow, Derby Arena and the world famous Manchester Velodrome, home of British Cycling. All of these tracks run taster sessions, so get in touch and try it.
4 Ride a big British sportive
We want to back the great British sportives. The Etape du Tour and Maratona dles Dolomites are both wonderful, but there are so many top-quality events right on our doorstep throughout the year. There are lots of well organised bike races too, but we'll get to them later.
Cyclo-sportives have brought thousands of committed cyclists into the sport, which not only means that there are more bike-friendly motorists out there, but there's a growing appreciative audience for British cycling success at world level. It all adds to the critical mass that is pushing cycling forward in this country. And that's good news for every British cyclist.
The cyclo-sportive market has helped push bike design, develop nutrition products and brought competition and quality into cycling clothing.
How to do it
Exactly which events are the classic sportives of Britain is a question for debate. Market forces can help you decide; as sportives become more abundant many have come and gone, so the ones with a long history can lay claim to being the best. Events like the Dragon Ride, Etape du Dales, Fred Whitton Challenge and the Dartmoor Classic are some great golden oldies, and there are many more.
Of course there are some great new events, such as those in the Wiggle Super Series and the Kilotogo events. Some, like the Cycletta and Etape Pennines even have closed roads, and that's a 'must do' experience in its own right.
3 Ride on another continent
Taking a bike to Europe is quite commonplace now, but riding on another continent is a true adventure. You'll be following in the wheeltracks of the hardcore bike explorers like Neville Chanin and his contemporaries, who opened up Europe to British cyclists, and who wrote about it for former generations in this magazine.
>>> 17 of the best international sportives to ride in 2016
Imagine riding in the Rockies, or alongside an Australian beach, or in some of the lonely but less wild parts of Africa. And what about Russia, or China? The list is endless. Riding on another part of the planet and seeing things through a cyclist's unique perspective is an unforgettable experience.
In our shrinking world the bike remains a vehicle for personal adventure. Bikes are freedom. Bikes take you away from the confines of package tourism, but they also take you further and let you see more than you ever could on foot.
How to do it
A self-supported cycle tour is the Bear Grylls on wheels way, and there are plenty of books on how to do it, as well as resources like www.ctc.org.uk. Another option is a supported tour with a reputable company. They advertise holidays all over the world in magazines like this and on cycling websites. Morocco would be a great option for starters. Try Moroccan cycling experts www.veloventures.co.uk.
There are a growing number of sportives around the world too, some of them classics like the Cape Argus Pick 'n' pay Cycle Tour in South Africa. They are a way of cycling on another continent and combining it with a family holiday.
2 Find, buy and restore the bike you wanted as a kid
Which bike was the object of your desire when you were young? Was there a particular racer you admired, and was his or her bike part of the package? Or maybe a friend had a better bike than you, the one you always wanted but could never afford.
>>> Sir Bradley Wiggins discusses his classic bike collection
Well covet no more - the internet has made these bikes available. eBay is a good place to start, or search for cycle jumble sales: www.campyoldy.co.uk maintains a good list. Anything from a Raleigh Chopper to an Italian steel race thoroughbred, the net shows you where to look.
How to do it
It depends on what condition the bike is in. It could be just a matter of taking it to pieces, applying a bit of love, attention and polish, then building the bike back up again. Components or even a dull paintjob can be brought back to glittering life with hard work, or in stubborn cases by industrial polishers. Lots of small fabricators will take on the work.
Or you might need a full restoration. Enthusiast sites like www.classicrendezvous.com and www.retrobike.co.uk are a great source of information for original colours and equipment, and they are full of tips and advice as well as bikes and bits for sale.
1 Ride up Alpe d'Huez and Mont Ventoux
There is nothing like riding a big race mountain. Nothing like the sense of anticipation at the bottom, nothing like the sense of achievement at the top, and nothing like the views and feel for cycling history as you ride up. And it's not enough to read or watch on TV, you must ride the mountains to appreciate why cycling's biggest and most heartbreaking moments occur on their slopes.
That's why riding up a mountain heads our bucket list, and why we have chosen these two mountains in particular. They are both special challenges, they are both very beautiful, and of all the mountains in cycling these are the ones with the history that fascinates.
>>> Alpe d'Huez: Classic cycling climbs
There are many other major climbs, but none have quite the drama and excitement packed into so little time and space. Alpe d'Huez and Mont Ventoux are the most important places in international road cycling, and they are the two key pilgrimages for the community that supports it.
How to do it
Alpe d'Huez is in the Central Alps, Ventoux is in Provence, but just a half day's drive to the south.
Alpe d'Huez starts in Bourg d'Oisans, about 40 kilometres east of Grenoble on the N91. It's 13.8km long, and the road to the 1,815m summit climbs at an average of 7.9 per cent, but there are extended sections of 10 per cent, plus two bits of 13 per cent at the 11th and 12th kilometre.
Watch: Four ways to nail any climb
You can take your time and enjoy the views, or race up the famous 21 hairpins. You can simply get a ticket from the slot machine at the bottom of the climb and have it stamped by a similar one at the top for an official time for the Alpe. Or there are all-comers' races every Thursday evening in July and August from Bourg d'Oisans to the top. And the toughest of all sportives, La Marmotte, finishes on top of the Alpe.
Mont Ventoux has three roads to the top, but the classic climb, the way the Tour de France goes, is from Bedoin, 30 kilometres north-west of Avignon on the D974. From there the Ventoux is 21.5 kilometres long and climbs at a fairly constant 7.45 per cent.
Two sportives climb it: Beaumes de Venise and Routes du Ventoux. There is also a group, www.clubcinglesventoux.org that gives awards for climbing all three possible routes in a day, as well as other forms of mountain madness.
Thank you for reading 10 articles this month* Join now for unlimited access
Enjoy your first month for just £1 / $1 / €1
*Read 5 free articles per month without a subscription
Join now for unlimited access
Try first month for just £1 / $1 / €1
Freelance Journalist & Author
Chris has written thousands of articles for magazines, newspapers and websites throughout the world. He's written 25 books about all aspects of cycling in multiple editions and translations into at least 25
different languages. He's currently building his own publishing business with Cycling Legends Books, Cycling Legends Events, cyclinglegends.co.uk, and the Cycling Legends Podcast