31 things you always wanted to know about cycling, but were afraid to ask
As a new or aspiring cyclist you're on a steep learning curve — let us answer your questions and allay your anxieties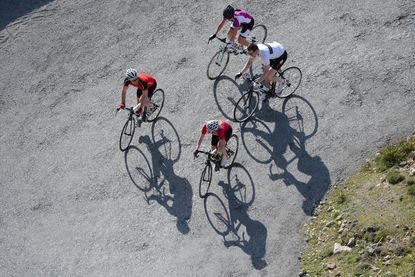 When you first begin cycling it's likely you'll have plenty of burning questions and, as you progress to well and truly catching the bike bug, it's normal to experience even more perplexing conundrums.
From wearing underpants with cycling shorts to wondering whether you really should start shaving your legs, there are no stupid questions and you can guarantee we've all made similar mistakes along the way.
Here are the answers to 31 questions that we've all asked at some point.
1. How much should I spend on my first bike?
A very good question, and one that only you can decide on depending on how much disposable income you have. However, in general, you do get what you pay for in the bike world — the engineering saying of "strong, light, cheap — pick two," was never more appropriate than when related to buying a bike.
You will probably need to recalibrate your idea of value for money, especially if the last time you bought a bike was for your kids or when you were a child yourself!
>>> The best cheap bikes: ridden and rated
Before you get a figure in your mind, write down how and when you want to use your bike. If you just want to be able to ride to and from the station, then wear and tear will be minimal, but if you want to get adventurous then something lightweight and durable will be worth investing in. Reading trusted reviews such as in our reviews section, will help you get a better idea as to what kind of bike could be right for you, and therefore how much money you need to spend on it.
>>> Buying a new bikes: 12-point plan
Next write down everything you want to get out of owning a bike, such as losing weight, getting fit, enjoying a new hobby or even aiming to use the car less. This will help you see the bigger value of owning a bike and help justify the expense of getting the bike you want.
2. Do I need a professional bike fit?
Yes! This will be by far one of the best things to invest in. Buying either the most expensive or cheapest bike on the market will be a waste of money if it doesn't fit you properly. Make sure the fitter is one you trust as you will be parting with your hard-earned money based on their recommendations.
Make sure you get a bike fit done every couple of years or be aware that you need to go for a check-up if something feels off, sore or your riding changes: ie, if you start putting in more miles on the bike.
3. Do I have to wear those padded shorts?
Riding your bike should always be fun and pleasurable, not uncomfortable and painful. So, yes, shorts with a chamois may feel like you're wearing a nappy for the first few rides, but they will be worth it.
>>> Cycling bib shorts: a buyer's guide
A pair of well-fitted padded shorts will be a godsend, taking the pressure off your sit bones and preventing any unwanted seams from rubbing or digging in, ultimately keeping you riding for longer.
4. Why can't I wear shorts all year round?
There is a simple answer to this — it gets cold! Your body will not perform at its best if you are feeling chilly. Blood will rush from your extremities to your core to keep your vital organs warm, leaving little oxygenated blood to power your leg muscles. If your legs are cold then your muscles will also feel stiff, making a smooth pedalling technique harder to maintain.
Your joints will be stiff and you are more likely to cause ligament or tendon damage. Even if you feel you overheat when cycling, it is really important to cover your knees and lower legs when the temperatures start to drop. We'd suggest that anything below 15°C calls for knee-warmers as a minimum. Wear layers on your top half that can be removed if you overheat or are ventilated by way of a zip.
5. When will I need more than one bottle cage?
When your ride is longer than 90 minutes, or if the weather is particularly hot. Hydration is very important and is often overlooked in the world of nutrition.
>>> Is milk a good rehydration option?
It can have some of the biggest impacts on your body and your cycling so always take a bottle with you, and if you're not sure how hard you are going to ride, how long you are going to ride, or how hot it will be, then get another cage and bottle. It will put your mind at ease and save the hassle of having to find somewhere to refill it.
6. What are sports drinks and do I need them?
There are two main types of sports drinks: hypotonic and isotonic. Hypotonic drinks are low carbohydrate drinks that contain electrolytes such as sodium, potassium and chloride which help the body absorb the fluid and replace salts lost in sweat. These are recommended when exercising for short periods in the heat (over 30°C).
>>> How to make your own recovery and energy drinks
Isotonic drinks are the same as hypotonic drinks but they contain an additional 25-30g of sugar in a 500ml serving. They should be used if you are exercising at a moderate to high intensity for longer than 90 minutes. For sessions under 90 minutes, isotonic sports drinks are not needed.
7. When's the best time to eat when I'm cycling?
It depends on the duration of the ride. If riding for 90 minutes or less, food is usually not needed. However, if riding for longer than 90 minutes you should start eating after the first hour of the ride and have a small snack every 40 minutes or so thereafter. Snacks such as bananas, flapjacks, malt loaf and dried fruit such as raisins and apricots are all good, natural, carbohydrate-rich foods to take.
If training at high intensities then supplements such as energy gels can be convenient. Don't forget that if your bottles contain an isotonic sports drink, that will contain around 25-30g of carbohydrate.
8. Will cycling improve my sex life?
Cycling will give you more energy as you become fitter and you'll definitely look more attractive with your newly toned physique so it may help you in the bedroom department! However, ensure you keep saddle sores at bay if you're looking for action as that's not known to be the biggest turn-on.
When it comes to more long-term sex life concerns, it's worth paying attention to how you feel on the bike. If you have a good bike fit and a saddle that is comfortable for you there should be no reason for you to suffer with cycling-related numbness, fertility problems or erectile dysfunction. It's normal to be a bit sore the first time you ride a bike for any significant distance but anything beyond that should be investigated.
Saddles are a really individual choice and shouldn't put too much pressure on your sensitive areas. If yours is, look into alternative options and check your position with an expert fitter.
And finally, careful you don't mix up chamois cream with leg warm-up rub; it could go horribly wrong!
9. How many times a week should I be riding?
It would be all too easy to answer this with 'as often as you can', as frequent short rides will do more to benefit your fitness than just one long ride at the weekend. Fitness is built on regular exercise.
>>> Detraining: The truth about losing fitness
It only takes three to four days without exercise to start gradually losing fitness, so ideally you would ride between three and five days a week. No one needs to ride seven days a week, even if you have the time available, as your body also needs rest and recovery away from your bike to get stronger.
10. Will I crash if I ride on clipless pedals?
Being attached to a bike may seem a daunting prospect, but it really needn't be. The pedal systems are designed to assist your pedalling action and unclipping is by a simple twist of the foot. It's always best to practise clipping and unclipping on a quieter road to get used to the feeling before heading straight out into traffic.
This will give you much more confidence by feeling in control. Most crashes that do occur due to clipless pedals are down to forgetting to unclip when coming to a stop. If this does happen to you, it is only likely to be your pride that will be damaged!
11. Will I lose weight?
There is no guarantee that taking up cycling alone will make you lose weight but if you are eating a healthy diet, not overcompensating for the miles ridden and riding regularly then the chances are you will lose a little bit of body fat.
>>> How does weight affect your climbing speed? (video)
If you actively want to lose weight then cycling will certainly help you do that, as part of a calorie controlled diet.
12. Should I do my rides in miles or hours?
Time is a much better measure of your riding than miles as speed may not reflect the actual energy expenditure of your ride. Headwinds, hills and challenging terrain may mean that a ride that is physically very hard may not be that fast or far.
13. Am I ready to do an event?
No one knows that answer except you. We're not going to tell you to do something if you know you're not ready. Only you know how much cycling you have done and how you have felt during and after.
>>> 12 of the best upcoming sportives to ride
What we will say is, go and try an event. They're great fun and make a change to just riding the lanes you are used to. Just don't choose a route or event that is double the distance you have ever ridden before.
14. How do I know I'm getting fit?
There are many ways to find out if you're getting fit. Time yourself to ride a route. A month later, if you're riding it quicker, then it's probably because you're getting fitter. The same can be applied to that hill that you always used to struggle up, but now find easier.
You should also be able to feel it as well. If, after your ride, your lethargy has been replaced with energy then this is a sign that you're getting fitter. What about when you're on the bike? Are you panting less? Do your legs burn less? It's easy to forget about those feelings when they're gone but it's because you're becoming a stronger cyclist, not because you're forgetful.
However, American Tour de France legend Greg LeMond summed it up perfectly when he said: "It never gets easier, you just go faster." If you are trying hard you will always get leg burn and breathe deeply but you'll be going that bit quicker than you were before.
15. How many miles should I do?
Again, when you're starting out it's good to focus on each hour on the bike rather than worrying about the distance.
That said, if you've been riding a while and you're targeting an event then it's important to check how many miles you'll be riding on the day and ensure you have done at least a couple of rides that come close to that distance. This will help your body prepare to take on the challenge and make sure you're not shell-shocked come the event.
16. Will I be able to keep up with my local club?
Lots of clubs split into different groups that ride at different speeds, so you should be able to find others wanting to go at your pace. Most clubs will stop and wait at certain points in the ride too, usually at the top of climbs, to make sure everyone is together.
17. How do I find a good club?
The club finder on the British Cycling website is a good place to start. Generally, clubs are happy for you to 'try before you buy' and join in with a club run before you actually become a member.
You want to make sure some of the people in the club have similar aims and ambitions to yours. If you plan on riding for leisure and doing the occasional sportive you don't necessarily want to be training with a load of elite racers.
18. Can I ride to work and still be presentable?
Yes you can! Hand driers can work wonders for drying hair and baby wipes can come in handy for a quick removal of facial mud if you're in a hurry. Leave a presentable change of clothes at your work place, along with toiletries and a few home comforts and there's no reason you can't smell as fresh as a daisy.
>>> 15 top tips for commuting to work by bike
If your company doesn't offer shower facilities and secure bike parking then you can always raise the question with your employer — chances are you're not the only one who would benefit.
19. What do I need to carry on the bike?
A drink, mini-pump or gas canisters, two inner tubes, tyre levers, compact multitool, gilet, emergency energy bar/sweets, money/credit card.
20. Will I need a bigger shed?
Where you keep your bike(s) may depend on how understanding your partner is of your cycling habit.
If you've invested in a pricy pride and joy you may want to look at securing it in the house. If you own a few bikes and have to move them to the shed, look at hefty lock options and a reinforced exterior. Sadly, bike theft is increasingly common.
21. Will I have to shave my legs now?
Here's one 'do' and several 'don'ts'. Do it for the right reasons. Don't go hairless because your colleagues needed a mid-shave pic for a photo shoot with defoliating cream and you thought it would be a laugh. Don't stand in the work shower with your fitness writer colleague afterwards rubbing your legs to see how much hair has come off. Don't use your partner's razor either. Don't leave an arrow, an elaborate pattern or a follicular smiley face behind.
>>> Shave off seconds with shaved legs?
It is one of cycling's steadfast, slightly kooky rituals (the leg shaving, not the standing-in-a-cubicle bit) among more hardened racers and club riders. If you have a heavy crash that requires plasters, you'll know all too wincingly well why people get rid of the frizz. It's better for massage, aerodynamic-seeming and, whisper it, feels rather nice too.
22. Am I too fat to wear Lycra?
No! It's all about being comfortable while you're cycling and if Lycra allows you to ride with ease then go for it, as that's what it's designed for after all.
There are a good range of shapes and sizes available these days, so it's a case of shopping around for a cut that works for you and doesn't make you feel self-conscious.
That said, if you'd rather go for baggier options Lycra isn't compulsory. You can find looser-fitting items which will still feature a cushioning chamois lining underneath.
23. Am I too old to start?
It's never too late to start cycling as proven by some inspirational older cyclists who put the young guns to shame. If you have any health concerns at any age, go for a check-up with your GP before taking on too much too soon, and listen to your body.
24. Should I wear a helmet?
The helmet debate is often raised and without helmets being mandatory in the UK it's down to personal choice.
>>> Can an aero road helmet make you faster?
We're divided in opinion among our team of experts and certainly don't force anyone to wear one.
However, having spoken to a number of cycling paramedics who swear by wearing one, allied to the fact that modern helmets look great, feel so light you barely know you're wearing one and are becoming more and more affordable, we don't personally see any reason not to.
25. Where can I go cycling that's safe?
It's well documented that cyclists can be at risk of serious injury on the roads but there are steps you can take to help you remain as safe as possible.
Plan your routes in advance so that you're not caught out on busier roads than you anticipate, or at risky junctions. Look for cycle networks that take you away from main routes used by motorists and if you must approach a major roundabout or junction, take care.
Ensure that you're wearing high-visibility clothing all year round and that you learn as much as you can about riding safely before riding into a situation beyond your comfort zone. If in doubt, get off the bike and use pedestrian crossings.
26. Do I need a coach?
Coaching isn't just for elite athletes; it's for anyone who wants to improve their technique or get the best possible outcome from the time they have available to put into their cycling.
A coach can help improve your technique and confidence and provide you with that extra incentive to get out and ride. They can also help you make the most of the limited time you have to ride your bike and help you to reach your cycling goals, which could be anything from weight loss to completing an event, right through to starting racing.
Coaching comes in many forms. A single day with a coach can help you make huge improvements to your technique; a weekly or monthly training plan will boost your fitness and increase your motivation; and a one-to-one personal coach will support you on an almost daily basis to reach your goals. You don't necessarily need a coach continuously but you might choose to work with a coach in the shorter term to overcome a specific problem or work towards a goal that is important to you.
27. How can I improve my average speed?
Getting the miles in often doesn't actually increase your average speed, as you are usually riding at a relatively low intensity. Those long, slow, winter miles riders get in are to build a solid base of fitness before they top up their speed and strength later on in the season, according to their goals.
So to build up speed, specific sessions need to be done, which can be done indoors, on turbo or rollers, or out on the road. These sessions are shorter but more intense, often including sprints or higher intensity prolonged efforts, that make your legs and lungs burn.
28. Will I get a big bum and thighs?
Cyclists are known for their powerful thighs and toned buttocks as these are the major muscle groups for generating pedalling force. If you ride a lot you will find that your calves and thighs will become more toned and your buttocks a little bit perkier.
This is no bad thing! As you cycle more you are likely to lose body fat so your physique will change. Let's face it, a toned, tight backside is always going to be preferable to one on the wobbly side, so embrace a more athletic physique.
29. Will I get addicted… or divorced?
There is a very good chance that once you get into cycling and start to see the benefits you will want to do more and more.
Cycling is fun and enjoyable — you already know that — and you will meet lots of other cyclists who will encourage you into taking on challenges and trying new things. Every magazine you pick up will inspire you with new places to ride. As you see your fitness develop, you will also want to continue to push yourself to see how much faster you can become.
Whether it is increasing how far you ride, conquering hills or taking part in events, there are lots of directions cycling can take you and the only limit is your dedication to making it happen. Whether or not you get divorced because of it is up to you!
30. Do I need to spend loads of cash on kit?
The sky is the limit when it comes to spending money on kit so it's easy to go mad. However, if money is an object then take the time to decide what you really need, rather than want. Investing in a few key items is worthwhile.
>>> The best cycling clothing deals: Great discounts on the best riding kit
If you have a good wicking base layer, a comfortable chamois, a decent rain shell and clothing to keep you warm or cool depending on the elements you will be well set up for the year. Keeping up with trends can be pricy, so it's a case of prioritising practicality if you're on a budget.
31. Do I wear pants with a chamois?
No! It may seem odd and a little like riding in just your undercrackers, but going commando under your padded shorts is without doubt the right thing to do.
The shorts have been designed to ensure that they offer support and are comfortable without the need for underwear. If the thought really is too much to bear, then there are some good padded pants on the market that can be worn underneath shorts, which should make you feel less self-conscious.
Our experts
Mayur Ranchordas: Performance nutritionist, senior lecturer, and researcher.
Hannah Bussey: Resident tech expert and international racing cyclist.
Robert Hicks: Fitness expert. Also loves… whisper it… golf.
Rebecca Charlton: Cycling Active's assistant editor and cycling addict.
Hannah Reynolds: Fitness editor and cycling guru.
Andy McGrath: Roving reporter and leg-shaving swot.
Louise Mahé: Former national junior road race champ, although she doesn't like to mention it (much).
Iain Cook: British Cycling coach, was once told he should audition for the role of the Milky Bar Kid.
Thank you for reading 20 articles this month* Join now for unlimited access
Enjoy your first month for just £1 / $1 / €1
*Read 5 free articles per month without a subscription
Join now for unlimited access
Try first month for just £1 / $1 / €1