Are longer cycling shorts more aero?
To some they're just another fashion trend, but longer shorts can also provide an aero advantage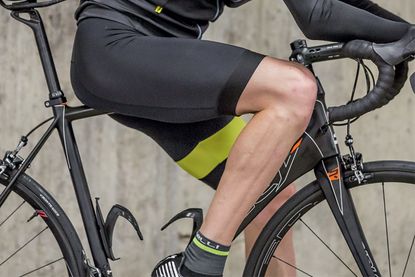 Long cycling shorts that end just above the knee are a fairly recent development within professional cycling and are in stark stylistic contrast to the shorts worn by the likes of Jacques Anquetil, Fausto Coppi and Eddy Merckx.
Look at photos from days gone by and you will see the likes of Merckx powering up climbs, his quad muscles rippling in shorts that we would now look upon as hot pants.
This, however, was a different time, a time when riders would churn up hors-catégorie climbs in the 42-23 gear. Shorts were always black, with a logo printed on them, and the chances are they came in just a few different sizes. Not that it mattered, back then riders would never have their clothing choice questioned.
Perhaps the most well known advocate of longer length is Sir Bradley Wiggins, a rider known for his appreciation of style and fashion. This prompts the question, are longer shorts really just a knee jerk fashion reaction to the tradition and conformity of regular length shorts? For Wiggins, perhaps some of the appeal does lie here, but aerodynamic experts would argue there is a benefit.
Aero benefit
This year Alex Dowsett broke the UCI Hour Record wearing a custom-made skinsuit with the leg material cut to stop just above the knee. The longer short (as part of a skinsuit) has also been keenly embraced by domestic time triallists such as Michael Hutchinson and Matt Bottrill.
As the current 50-mile national time trial champion, Bottrill wears skinsuits with longer shorts designed by Endura in collaboration with engineer Simon Smart. "I just prefer them longer,"
says Bottrill. "And it's been proven that the material of the skinsuits is faster [through the air] than skin. That's the reason I love working with Simon Smart and Endura, they look at trying to find every marginal gain possible."
>>> Endura and the man behind Movistar's clothing
But how much can be saved by wearing longer shorts? Smart explains: "It is hard to put a number on it as it varies for each person and there are lots of variables, but as a general rule of thumb we see a couple of watts saved."
How much faster is an aero road bike?
In a cycling world driven by marginal gains, a couple of watts saved in a time trial could be crucial. So are there any downsides to longer shorts?
"You have to be careful not to go too long," explains Smart. "If shorts are too long they can flap about and be detrimental in the pedal stroke. You don't want to go too far. There is a fine line and what works for one person may not work for another."
>>> Cycling bib shorts: a buyer's guide
Tan lines are another potential downside. While seen as a badge of honour among some cyclists, two-tone knees look a little strange, especially when wearing shorts off the bike.
So what do the next generation of professional cyclists think? Arguably, the continuation of the trend will depend on their take.
James Shaw, an up and coming star of the Lotto-Soudal U23 team says, "I think they are more suited to tall skinny riders such as Wiggins and to be honest he can do what he likes because he is Sir Bradley. I'm totally committed to the traditional cycling short length. You can't really go wrong with traditional, it's a bit like a Sunday roast: if you say you don't like it you're only kidding yourself."
Our take
Cycling trends come and go, whether it is black socks or oval chainrings. Some stick around and the longer length short may do just that. While its fashion appeal may wane, the aerodynamic benefit could mean we see continued use among time trial specialists for the foreseeable future.
What the experts say
Jim McFarlane, Endura managing director
"Skin is skin and beyond shaving it, or choosing not to, there is little you can do to make it more aero. Shorts allow for any number of surface textures and even transformations of surface texture from one area to another, allowing more scope to manage airflow and improve aerodynamics. It follows the longer the shorts, and the higher the overshoes, the greater the opportunity to exploit those options."
Jessie Walker, professional rider for the Servetto Footon Team
"I think there are different acceptable lengths for men and women. I think men should have longer shorts but not to the extreme of Wiggins, as I don't like shorts being too long. Why have muscly legs and not show them off? Plus, lower cycling tan lines look terrible, especially on girls wearing dresses."
Thank you for reading 10 articles this month* Join now for unlimited access
Enjoy your first month for just £1 / $1 / €1
*Read 5 free articles per month without a subscription
Join now for unlimited access
Try first month for just £1 / $1 / €1
Oliver Bridgewood - no, Doctor Oliver Bridgewood - is a PhD Chemist who discovered a love of cycling. He enjoys racing time trials, hill climbs, road races and criteriums. During his time at Cycling Weekly, he worked predominantly within the tech team, also utilising his science background to produce insightful fitness articles, before moving to an entirely video-focused role heading up the Cycling Weekly YouTube channel, where his feature-length documentary 'Project 49' was his crowning glory.