Bradley Wiggins: The transformation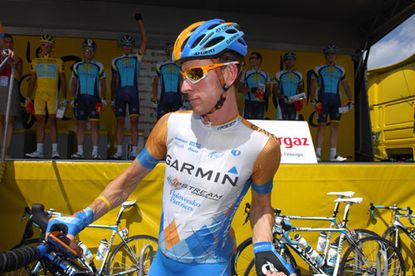 Saturday, August 16, 2008
Beijing, China
Olympic Games
Gold medal, 4,000m individual pursuit
Saturday, July 25, 2009
Mont Ventoux, Provence, France
Tour de France
Clinches fourth place overall in the Tour de France
When Bradley Wiggins was a boy he'd watch the Tour de France on television at his home in London, while riding his turbo trainer, pretending to race against the riders on the screen. He can vividly remember the 1993 Tour, when Robert Millar crossed the Col de Bonette-Restefond in the Alps, the highest pass in France, alone at the head of the field. Wiggins was 13, impressionable, easily inspired, and as he pedalled his static bike, building up a sweat, and annoying his mum, Linda, with the constant drone of the turbo's fly wheel, he knew what he wanted to do.
Millar finished fourth in the Tour de France in 1984, the best performance by a British rider in the world's greatest stage race. Wiggins has matched that, defending his position with a show of determination in the final three kilometres of Mont Ventoux that was the equal of any of his Olympic gold medal-winning rides. Twice he was dropped, twice he fought back. When finally he lost his grasp on the wheel in front, with just over a kilometre left, he fought the Mistral wind, the gradient and drew inspiration from the memory of Tom Simpson and from those summer days spent racing against his heroes on the television, to save fourth place by three seconds.
In the space of a year, Wiggins has transformed himself from the greatest pursuit rider in the world to a Tour de France contender.
Wiggins has long been respected as a world-class pursuit rider, perhaps the best of all time. At the Great Britain training camp before the Beijing Olympics, Wiggins was only just off the world record time of four minutes and 11 seconds set by Chris Boardman set, remember, with the benefit of the 'Superman' position, which has since been banned.
Few people saw such a rapid evolution for Wiggins. In fact, there's a sizeable number among the fandom who dismissed him as merely a 'trackie', who'd 'never amount to anything on the road'.
Road riding is hard work, you see. The wind and the rain, the mountains and the crashes, they provide the ultimate test, whereas racing round in circles for four minutes is easy. That's how the logic goes, anyway.
But as the saying goes, you can turn a miler into a marathon runner, but you can't do it the other way round. As a pursuit rider, Wiggins is cycling's equivalent to a middle distance runner. Could he tune his engine to cope with a three-week race?
Bradley Wiggins: Olympic champion
It's fair to say Wiggins' road career has always been a means to an end. With the Olympic Games coming every four years, there has never been time to concentrate on the road. Olympic year and the one preceding it are dominated by the track. The 18 months that follow have been something of wilderness for him, and before you know it, the Olympics are on the horizon again. Wiggins had drifted from one French team to another. They were pleased to have an Olympic champion on their books, accommodating enough to allow him to focus on the track, happy to accept the odd time trial result along the way, but ultimately expectations were low.
After the Athens Olympics in 2004, where he won a medal of each colour, Wiggins thought he was set for life, before it sunk in that it wasn't the case. "I thought I'd made it," he says. "It didn't really happen that easily and I got in a bit of a huff about it. That knocked on to the next year and I lost two years really."
As he said in his autobiography, published last year, he spent too much time drinking and was marking time until he had to begin his build-up for Beijing. In 2006, he rode the Tour de France for the first time, finishing 124th, three hours and 25 minutes behind the winner Floyd Landis. A couple of days later he was in the car, on his way to Chester zoo with his wife Cath and son Ben, when he heard the news on the radio that Floyd Landis had tested positive. It angered Wiggins, and he was out-spoken about it, something which later led to him being labelled as an anti-doping campaigner, even though he prefers to concentrate on his job without being seen as a crusader.
Towards the end of 2006, he rekindled his relationship with Shane Sutton, British Cycling's mercurial Aussie coach, a man whose enthusiasm for the bike is evident the moment you meet him, and one of the few who could point Wiggins in a straight line and get him to focus. "I came out of the Tour a bit of a wreck, and confidence was at a low. I'd not really done anything I could point to and say 'yeah, I'm happy with that', but Shane worked on me, started talking to me about what was coming up and gradually I started to feel better," he says.
The World Championships on the track at Palma in Majorca were a success, but his Tour de France came to an abrupt halt when his Cofidis team-mate Cristian Moreni tested positive for testosterone. It meant for a harrowing few hours for Wiggins. He crossed the line at the top of the Col d'Aubisque in the grupetto and was met by the police, who escorted all the Cofidis riders off the mountain and back to their hotel in Pau. Wiggins had his room searched and was interviewed by the police. Cofidis decided to withdraw from the race and Wiggins flew back to Manchester the next morning.
The previous summer, after Landis tested positive, Wiggins told Cycle Sport: "It's so difficult to know who's clean. I'd like to think that everyone in our team that rode the Tour was clean." Moreni had not been clean in 2007 and for Wiggins it was almost the last straw as far as the road was concerned. Fortunately, he could immerse himself in the build-up to Beijing in 2008.
Very few things in world-class sport can be treated as a formality, but a gold medal for Wiggins in the individual pursuit in Beijing was one of them. Before the Games, Great Britain's cycling team held a training camp in Newport before flying to Beijing. Wiggins would while away the afternoons watching the Tour on television, not missing it a bit. During one of the mountain stages, Sutton told him: "You know, with the power you produce and the cadence you do it at on the track, there's no reason why you can't be up there with them."
Wiggins was not convinced. He'd tried it before, but had always been dropped. "No, you've only half-heartedly tried it," Sutton said.
At Heathrow airport, Wiggins saw Jonathan Vaughters, who told him the line about turning a miler into a marathon runner.
"He said he'd seen what I'd done on the track and couldn't understand why I kept getting dropped on the road," says Wiggins.
Once the Olympics were over, Wiggins was determined not to lose another two years. "I was 29, a bit more mature, and I wanted to see what I had inside me, whether I could do something on the road."
He asked his Columbia team manager Brian Holm how he saw the 2009 season panning out. Holm told him there was a place in the Mark Cavendish lead-out train for him, but that he couldn't be guaranteed a place in the Tour.
"That made my mind up really. I enjoyed riding for Cav in the Giro, and I completely understand why they saw that as a good job for me, because Cav can win stages in every race he does, he could win the green jersey. You'd be stupid not to build a team around Cav, but part of me wanted more than that for myself. I wasn't an integral part of the lead-out train anyway. I'd just be filling a space."
Much has been made of the post-Beijing fall-out between Wiggins and Cavendish. They fell well short in the Madison, leaving Cavendish as the only member of the British track team without a medal. The pair didn't speak for several weeks, but anyone who believes there is real enmity between them is mistaken. Sure, they wind each other up, but Wiggins sees Cavendish as a sparky younger brother figure, and will roll his eyes in mock despair when recounting the last drama to embroil Cavendish.
Garmin offered Wiggins a two-year contract, and a handsome one at that. Wiggins outlined his goals, but it was Sutton who urged him to see how well he could do at the Tour. To make the top 20 overall, he'd need to climb better, and to do that, he'd need to lose weight.
British Cycling's Matt Parker has coached Wiggins for several years, and it was him who did the calculations. "We've always known there's a road rider in there," he says. "Brad is a supreme athlete. He's an Olympic champion and world record holder, the power he produces, we knew he could climb well, maybe not in the first group every day, but definitely in the second, and that would give him a chance of being in the top 10 of the Tour."
Wiggins rode the Olympic Games last summer weighing 82kg. In the past he has ridden the Tour and Giro d'Italia at about 77kg or 78kg. The aim was to start the Tour this year at 72kg. It stands to reason that if you can produce 450 watts for 10 minutes weighing 72kg instead of 78, the gain in performance is going to be considerable. Enough, Parker says, to put him in the front group on the climbs.
"You develop a lot of muscle mass, particularly on the upper body, while training for the track over the winter," says Parker. "We wanted him to lose that, but to do it slowly, so that it didn't affect his power.
"Everyone has focused on the weight loss, but it's not been radical. It's been managed very sensibly and safely. If you lose weight too quickly you don't maintain the power and you can affect the immune system. Radical weight loss in sport is never good."
Working with the nutritionist, Nigel Mitchell, Wiggins began to lose weight at the start of the year. He went gluten free in January and February, stopped having sugar in his coffee, would do training rides without having breakfast to get his metabolism to work differently, and he'd do longer training rides.
And the beer? "I haven't had a beer since January," he says, rather longingly. "I've had a little bit of wine, but the carbs in beer are not what you want, so I've cut it out."
Wiggins started the Giro d'Italia under 75kg, then the three-week stage race did the rest. And his climbing improved too. In the first ten days he was regularly with the front group on the climbs, although his team-mate Christian Vande Velde told him he was doing it the hard way.
"On Alpe di Siusi, I was sitting on the back of the group and Christian was watching and he said 'the amount of work you did that day was worthy of a top five finish'. Being at the back meant that every time someone got dropped, I had to ride round them and close the gap."
Riding at the front makes life so much easier, but you have to earn your place there. "They [the other contenders] don't want you there if they think you're going to go pop any moment. They want you out of the way, because they last thing they need is you sitting up so they have to ride round you."
The Giro, though, swelled Wiggins' confidence. "After that I thought 'maybe I can
do something at the Tour'."
The tests he'd done suggested he could. "In a ten-mile time trial I averaged 482 watts for 18 minutes, and if I did a 30-minute test on a climb I'd be averaging 475 watts. At 71, 72kg that gives me a chance. It's a level playing field now, or so they keep telling us, and I believe that, so why not? I'm in the bike race, we've all got two arms and two legs, so why not? If I blow up one day and lose 20 minutes, so what?"
"When I came into this race I said I was in the form of my life and that I could finish in the top 15, maybe top 10 if eveything was perfect," he says.
"And people laughed at me. There was all sorts on the internet, but I really felt if I could take it day by day, I could do something."
Wiggins was third in the opening time trial in Monaco. Only Fabian Cancellara, virtually unmatched at going downhill, and Alberto Contador, almost unbeatable going up, went faster. Wiggins had a chance to take the yellow jersey in the team time trial at Montpellier until the Columbia-inspired split towards the end of the third stage to La Grande Motte.
With 31 kilometres to go, the pace at the front increased, the road changed direction, and with it the wind hit the peloton from a different angle. "I was right at the back when it happened. Worst place to be. I was pretty annoyed with myself that night, but it just made me more determined not to be caught out of position again."
Garmin's team time trial ride was one of the most noteworthy of the entire race. On the difficult course in Montpellier, they shed riders early, and had to ride the second half of the course with just five men but they managed to finish second to Astana.
The first big test came at Arcalis. Wiggins rode towards the front the whole way up the climb. He wasn't immediately accepted, but the Giro d'Italia had given him the confidence to fight for his place. "I just got stuck in, rode at the front and stayed there. It was brilliant, absolutely brilliant, to be up there.
"The Olympics is fantastic for the two weeks it's on every four years but the Tour de France is where it's at."
As he crossed the top of one of the summits in the Pyrenees, he shouted out "That's what I'm talking about", which pretty startled Armstrong and the others but demonstrated how firmly in his element he felt.
And yet this is cycling, so everything good is questioned, sometimes with good reason. As Wiggins rode near the front throughout the Pyrenees, the whispers started. How could this pursuiter, this trackie, suddenly be climbing like a mountain goat with Contador and the Schlecks?
When Cycle Sport sends him a text to arrange an interview he writes back: "Of course, people will think I'm on drugs."
Who?
"The guys I rode with on the French teams. My mates I've spent many hours with in the grupetto."
Well, if you're not on drugs, just ignore it. Don't ease up just because you fear a whispering campaign.
"I won't. VDV [Christian Vande Velde] said he got the same thing last year."
Then another text: "I'm not on drugs."
"A couple of years ago, I'd have thought the same thing," he says a couple of days later when we meet. "You see a guy come from nowhere. It's easier to think he's on something than think 'well, that guy may have worked bloody hard'."
After the Tour, Wiggins and his Garmin team planned to release his blood test results for the world to see, as Vande Velde did in 2008, in the hope that they would persuade any doubters that he was riding it clean.
During the Tour, he fell foul of a French radio station, RTL, which, he says, abused his good will. As a result he refused to give any more interviews in French. "I tried to do the right thing and speak French to them," he says. "But I'm not articulate enough in French to give a rational argument. I'm not like Dave [Millar], I speak the dialect of French kids on the street, sort of Cockney French. They [the French radio station] started asking questions about doping and they stitched me up a bit. I don't want to be misinterpreted or mis-quoted, so I'm sticking to English now."
Wiggins can be spikey with the media, blowing hot one day, cold the next. Sometimes he gives the impression he'd rather be off to the dentist for root canal work than answer any more questions. Sometimes it seems he's playing games, having his own private little joke for his own amusement.
In Limoges, on the morning of the ill-fated radio ban, he came out of the Garmin bus and declared to the assembled reporters. "I'm not answering any questions about the radio bans." Then, looking straight down the lens of a Dutch TV crew's camera he said: "I don't give a toss. I'll tell you what I'm going to do. I'm going to get on my bike, ride it and see what happens."
He seemed to be coping with the increased media attention, but only just. "It gets a bit much some days, you know," he says. "They want to know your opinions on everything. The radios, Lance, Contador, doping. Sometimes I haven't really got anything to say about it."
If Wiggins could have designed a route to give him the best possible chance of a high finish, this was it. The Pyrenees were not as hard as they could be, and the middle week saw the race almost slip into a coma. It was very different on the inside, though. The assumption that it was an easy Tour just because it was not super aggressive is a dangerous one to make.
Concentration levels had to be high, especially for Wiggins, a rider unused to riding at the front, guarding against losing time. If the split on stage three had been irritating, the jury's verdict that the bunch had split on the run-in to Issoudun was infuriating. Wiggins and Levi Leipheimer lost 15 seconds, although the decision was reversed the following day and he moved back up to fifth from seventh.
Verbier was his finest moment. Wiggins looked comfortable all the way up the climb. He lightweight frame, now weighing between 71.5kg and 72.5kg, allied to his new-found confidence, saw him riding hard at the front all the way up the Swiss mountain. He even attacked, hard. "It was a spur of the moment thing, but Matt [White] said the others were on the ropes," he said afterwards.
The only time he was in difficulty in the Alps were towards the top of the Col de la Colombière when Frank Schleck attacked to join his brother Andy and Alberto Contador up the road. Wiggins was on the left-hand side of the road, with his front wheel the wrong side of Armstrong's rear wheel when Schleck jumped. The moment of hesitation cost him. Then he rode on the front, allowing Armstrong to rest before launching his move. He recovered a couple of places in the Annecy time trial, and looked set to run Cancellara close for the stage until he cramped up as the headwind in the closing five kilometres took its toll.
And so to Ventoux, the mountain that claimed the life of Britain's Tom Simpson in 1967. Wiggins had been looking ahead to the stage throughout the Tour. "I'm going to give it everything I've got. Tom'll be looking out for me."
Wiggins rode with a picture of Simpson stuck to his top tube for inspiration, odd, perhaps, for an anti-doping advocate to seek inspiration from a man who used amphetamines. "When you read about Simpson it says he died on Ventoux on drugs, but they don't mention what he achieved, or that he wasn't the only rider doing that. It wasn't like these days, sophisticated doping with blood transfusions and EPO."
Now Wiggins has risen higher in the general classification than Simpson, and just as high as Millar. Can he go further? Can he become the first British rider to win a Grand Tour?
"I'm not going to stay I can win the Tour de France in the next four years, but can I win the Vuelta? Why not?"
People laughed when he said he could finish in the top 15 of the Tour. Who's laughing now?
This article originally appeared in the September 2009 issue of Cycle Sport magazine
Thank you for reading 20 articles this month* Join now for unlimited access
Enjoy your first month for just £1 / $1 / €1
*Read 5 free articles per month without a subscription
Join now for unlimited access
Try first month for just £1 / $1 / €1