The British mainland's most northerly cycling club: Caithness CC
We visit Caithness CC in Scotland, the mainland's northernmost cycling club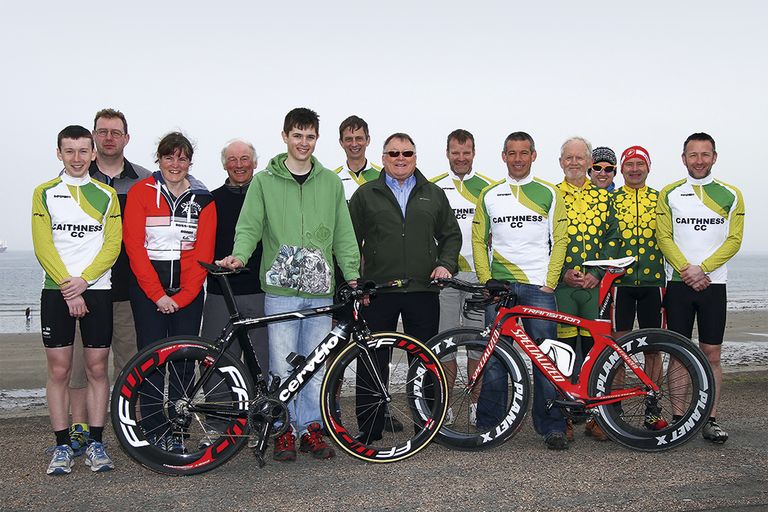 It might be one of the remotest areas of the UK, but the far north-east of Scotland has a thriving club cycling scene. With 40 members, regular club runs and a weekly time trial series during the summer, Caithness CC are defying the challenges of being the northernmost club in mainland Britain.
"I thought it was the end of my cycling career when I came up here," said Alasdair Washington, founder and lifetime president of the club. "In the north, road cycling is enjoying a big upsurge."
The club is based in Thurso, a bustling small town overlooking the Orkney Islands on the north coast of Scotland, quite literally the end of the line — it's as far north as you can reach in the UK by rail.
The club now host two open time trial weekends on top of their weekly summer evening club 10. Despite being closer to Bergen, Norway, than Bradford, here one finds all the ingredients for a traditional British cycling club, including tea and biscuits in the clubhouse after each ride. The highlight of the year is an inter-club time trial between Caithness CC and nearby rival Wick Wheelers, on the 21-mile stretch between the two towns.
"Sometimes you can do it in just over 40 minutes and other years it takes over an hour," explained the club's chairman Malcolm Gray. "It all depends on the wind."
Washington, now 77 yet still racing regularly, was part of a mass movement of young people to Thurso in the early 1960s to work at the nearby Dounreay nuclear facility — giving the club its first members and a working-class jump-start. Now, with Dounreay slowly being decommissioned, many Caithness CC members work off-shore on oil and gas platforms, giving them two to four-week stints at home: plenty of time to get out and ride.
Besides the short daylight hours in winter (less than seven hours in December), the only other problem is the scarcity of nearby cafes. The run over to the Cocoa Mountain chocolate factory in Durness, a tiny village in the far north-west, is a 140-mile round trip.
We ride Britain's northernmost time trial
Every Tuesday between April and September, members of the Caithness CC turn out to ride their weekly club '10'. Starting on the edge of Thurso and running out and back down the A9, it is the northernmost time trial on the British mainland.
HQ is the cemetery car park — the ideal location for making cracks about how you buried yourself on the homeward leg. The weather when we turn up is even worse than such jokes. We're soaked through and ever so slightly knackered after a faster-than-expected 30-mile round ride to Dunnet Head with club rider Andrew Macleod.
"At least it's calm tonight," he tells us. "Usually its windy here too." Someone else points out that the rain is "warm rain". They're a hardy bunch up here.
Despite the deluge, 15 riders turn out on the evening of CW's visit. A start area is neatly marked out with cones, and the outward leg gradually gains height in instalments.
The straights are long and the landscape — littered with turbines — is exposed enough to keep easy tabs on your minute-man. I thus spend much of the outward leg grossly miscounting time gaps.
Roundabouts are few and far between in the sparsely populated Highlands. Instead, a dead turn is employed. Back in the day, turns in the road like this used to be common in time trials, but this is the first time I've ever had to tackle one.
Standing on a narrow strand of chevrons in the middle of the road, a marshal plays the role of both a human bollard and the Tour de France gendarme who would stand in front of such road furniture issuing caution. Ceding to his hand signals, I brake hard, check over my shoulder and swing the bike around him.
The return leg is much easier. "The course is fastest when you have north-westerly blowing across your back on the way out," notes clubman John Falcon as we discuss the nature of the course after the finish.
Never mind it's been whipped in straight from the North Atlantic, "it gives you a little shove up the rises. Coming back, the hedgerows on that side of the road give you a little bit of shelter from the wind."
The course record was probably set in such conditions: a 21, I'm told. Tonight, Macleod is fastest, with 23-41. Me? That ride to Dunnet Head is my excuse. I'm sticking to it.
Evan Oliphant: 'It's harder up there'
Evan Oliphant, Team Raleigh's 2013 Premier Calendar winner, part of Team Scotland at the Commonwealth Games, is Wick born and bred. Now living in Edinburgh, he told CW about cycling in the far north-east of the UK.
"I got into cycling in the summers — my dad used to do the caber toss and shot put at the Highland Games and so I used to go along from when I was a baby. When I was 13, I started doing some of the grass-track racing there.
"I was in the Wick Wheelers. The club rides mainly went out between Wick and Thurso and back, or Wick and John o' Groats and back. There aren't many roads up there! You'd do two hours one direction and about 40 minutes the other direction; that's one thing I remember from up there, there were always really strong winds. No-one was using disc wheels. I remember times when just trying to stay on the road was a job, let alone doing it with a disc wheel.
"When I was there, we used to always win the inter-club TT against Caithness CC, but I don't think Wick have won it for a few years now. They've always been trying to get me to come back; I'm an honorary member of the Wick Wheelers, so I could still go and ride.
"[Track sprinter] John Paul is from about 15 miles south of Wick. I bought one of my very first track bikes off his dad. I remember John as a kid; he used to do the sack race at the Highland Games! We were talking about that at the Commonwealth Games; we would never have expected two of us from up there to be part of Team Scotland at the Commonwealth Games.
"It's definitely harder up there than in the south of Scotland. I'd say to guys in Edinburgh: 'Ah you think this weather's bad? This is nothing compared to what it was like where I used to live!'
"I remember in one of my first races, it was snowing and sleeting but I did it in my skinsuit, because I didn't really know any different. You just get used to it up there; it's just normal weather!"
The original version of this article was published in the August 28 2014 issue of Cycling Weekly magazine.
Thank you for reading 5 articles this month* Join now for unlimited access
Enjoy your first month for just £1 / $1 / €1
*Read 5 free articles per month without a subscription
Join now for unlimited access
Try first month for just £1 / $1 / €1
Richard Abraham is an award-winning writer, based in New Zealand. He has reported from major sporting events including the Tour de France and Olympic Games, and is also a part-time travel guide who has delivered luxury cycle tours and events across Europe. In 2019 he was awarded Writer of the Year at the PPA Awards.