British Cycling appoints Frank Slevin as its independent chairman
The House of Fraser executive chairman will head up the BC board, replacing Jonathan Browning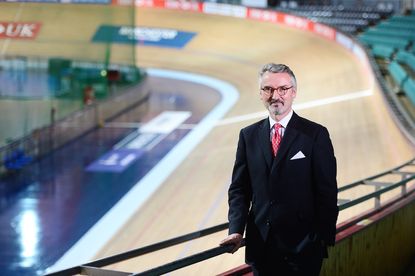 (Image credit: Simon Wilkinson/SWpix.com)
British Cycling has appointed House of Fraser executive chairman Frank Slevin to head its board as its independent chairman.
Slevin replaces outgoing chairman Jonathan Browning who stepped into the role in early 2017.
>>> British Cycling confirms departure of endurance coach Heiko Salzwedel
Slevin has spent most of his career in global finance having held senior positions at Citi, BNP Parabas and HSBC.
He is a keen cyclist himself and rides around 50-100km a week.
Slevin said he wanted to "draw a line" between the controversies at British Cycling over the past two years and the "unprecedented" level of change in that time and the future.
"We're at a very interesting crossroads in terms of leaving the past behind and going forward with our future," he said.
He added: "The team here has found it [the last two years] highly educational a lot of takeaways and those are now being turned into actions I want to think about this as a new start. You want to learn from the past but you need to think about the future that's what I want to focus on how do we deliver that new future."
The Belfast-born Slevin said that his knowledge of HSBC, British Cycling's major backer, where he spent four years as a regional head in the global banking business, would be an advantage.
He added that in his career he had dealt with major public controversies "almost every day" and that he was "pretty thick skinned" when it came to public criticism.
He added: "You don't' go through a career in finance without having issues." He pointed to his central role in the salvage of Hong Kong investment firm Peregrine following its collapse in 1998, as proof of his pedigree in crisis management.
He said there was still work to do to restore the credibility of British Cycling.
"Credibility of the organization is through action and the results and plans that we deliver, it's not from any one individual. We need to rebuild trust at the grass routes and with our sponsors and backers," he said.
When asked about the presidency of former chair Bob Howden, who was among those criticised by the independent review into the culture of the organisation following Jess Varnish's allegations of sexism and bullying, Slevin said: "I'm keen we draw a line between the past and future I think now is a good time to do that.
"So having someone who was previously chairman when the conduct of the board was judged to be inexcusable and inept presents some challenges."
Before pointing out that Howden had been fairly elected to his three-year term and that he wanted to focus on the future.
Froome still up for selection
Meanwhile, British Cycling chief executive Julie Harrington said that despite the question marks hanging over Chris Froome after his adverse drugs test result, that he would still be considered for national duties.
"He's not banned he's available for selection. There is the option for an athlete to rule himself out of selection under the rules of racing he is available and innocent until proven guilty," she said.
Harrington added that usually such cases were resolved behind closed doors and therefore there was no question over selection decisions.
"While someone is trying to prove either way [like Froome is] it's being debated in the court of public opinion and of course that's a blow to cycling's reputation, the athletes reputation and it's not a nice situation to deal with.
"You only need to read down at the comments below articles to see people will make up their mind without the full evidence, which is a shame.
"I would rather that info hadn't been leaked so we could deal with a situation where the athlete is banned or a situation where the athlete is able to prove a finding and they can carry on with their career as normal."
It is quite possible that Froome's case will be resolved before the Team GB selectors have to consider him as there are no races where he appears a likely choice until the mountainous World Championships in Innsbruck in September.
Thank you for reading 20 articles this month* Join now for unlimited access
Enjoy your first month for just £1 / $1 / €1
*Read 5 free articles per month without a subscription
Join now for unlimited access
Try first month for just £1 / $1 / €1