CTC chief executive to become director of Eden Project
Gordon Seabright will leave post as CTC's chief executive in May to take up role at the Eden Project in Cornwall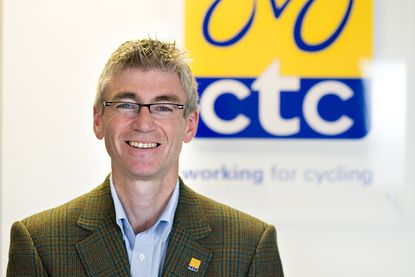 (Image credit: CTC)
CTC chief executive Gordon Seabright, who will leave CTC in May, says it has been a 'huge privilege' working for the national cycling charity and it is with regret that he leaves.
Seabright, who took the CTC helm in March 2012 when the organisation achieved charitable status, told Cycling Weekly today he was approached by his dream job as director of the Eden Project, which he couldn't turn down.
He said: "I wasn't expecting to be moving on and I wasn't looking to go. CTC is a wonderful organisation, and there is lots more to do. I was approached by my dream job [at the Eden Project]."
"It is the first time in 13 years this job has come up, it is with huge regret I have had to leave CTC way earlier than I expected, but if I didn't take it now I will never get the chance."
Seabright said one of his key achievements, and something he aimed for when he joined CTC, was to help unite the different cycling organisations, something he hopes will continue. He added: "We and our friends at Sustrans and British Cycling have been able to speak with one voice to government.
"I know my partners at other organisations realise this is an unusually exciting time for cycling, we need to work really closely in order to bring maximum pressure to bear on all the governments of the UK to make it possible for there to be more and safer cycling."
He also said: "One thing I noted when I came into the sector is that cycling can carry an angry tone and one thing I tried to do is to have a smile on our faces: cycling is not only the most environmentally friendly and healthy way to get around town, it is the nicest way to get around town, that should not be lost in all the worthy stuff."
He said the Road Justice campaign will remain an important campaign for CTC as well as ensuring the recommendations from last year's Get Britain Cycling are included in all parties' manifestoes to get more people on bikes.
"[Road Justice] wasn't a short term campaign for us, it is a part of what we do protecting cyclists and increasing road safety. By addressing these issues of criminal law we have energised cyclists; we have huge numbers of cyclists signing up, putting pressure on their local police forces and police commissioners in order that this issue gets taken seriously," he said.
"There are big challenges: we have an election coming which means we have a huge amount of influencing to be done to make sure things like the Get Britain Cycling report don't go in the pile of inspiring documents that end up in the bin."
"We lost a really good minister in Norman Baker, and it is challenging now working with the Westminster government where there is not the same interest in cycling that we would see before, but there is the promise that the Prime Minister made of his ambition for cycling. We need to keep on to the Westminster government to make sure it is more than words, and comes as a delivery programme with pound signs attached to it."
He said though there has been progress in the last two years we still have an 'absurdly low proportion' of cycling in the UK.
"Although there is some progress on junctions and some commitment in funding, especially in London, there is a long way to go in terms of making the cycling environment in the UK what it could be. When you look at the countryside we have got we should be one of the world's top cycling countries. I guess we are achieving that in sporting but we need an awful lot more from parliament."
The CTC's website says its council will start recruiting soon, while Operations Director Carol McKinley will act as interim Chief Executive. It says 'despite the change, council is keen to emphasise its commitment to our strategy, our values and to our excellent leadership team.'
Though Seabright wouldn't speculate on likely candidates, he said: "I just hope that the trustees at CTC are presented with a really wide range of strong candidates from whom to choose and I'm sure that will be the case. These jobs don't come up very often and it is a belter of a job, it has been a huge privilege for me."
Matt Lamy speaks to Gordon Seabright, the new chief executive of CTC, about his first six months in the job
Thank you for reading 5 articles this month* Join now for unlimited access
Enjoy your first month for just £1 / $1 / €1
*Read 5 free articles per month without a subscription
Join now for unlimited access
Try first month for just £1 / $1 / €1