Nine bits of cycling kit that just don't work in the rain
Some kit isn't cut out for summer showers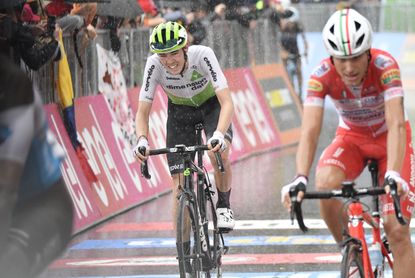 (Image credit: Yuzuru SUNADA)
There comes a time in every British summer when days of uninterrupted, wall-to-wall sunshine suddenly give way to falling rivers and puddles that could rival the water volume in your local lido.
Summer rain, at least, is warm rain - but it's just as wet and thus in most respects has exactly the same impact on your kit as downpour does in the winter months, just without the additional risk of hypothermia.
The difference is that in winter, cyclists tend to prepare with the expectation of rain: waterproof shoe covers, caps and mudguards.
Summer rain, comparatively, tends to highlight the failures of certain kit inventions...
Helmet vents
Aerodynamics and breathability are two important sides of the venting discussion that we look at in helmet reviews.
More vents usually means less aerodynamics, and more movement of air, whilst less vents make for greater speed weaponry and less breathability.
Of course, if cool air can't get in, neither can water - so actually aero lids can be handy in the wet, too. If you've got an airy, well ventilated lid - prepare to feel the pitter patter.
Carbon rims
As a rule, carbon rims are lighter, stiffer and more compliant than aluminium, so some of the best bike wheels use the wonder material. The one thing that can let the material down (though there are exceptions) is its ability to be snagged by the brake pad when wet.
That's one of the beauties of disc brakes - they allow for carbon rims without a care in the world.
Cut outs
Not everyone likes a saddle with a cut out, though the vast majority of women's bike saddles use them as do many men's versions, the idea being that the groove provides pressure relief and allows for normal blood flow to some of those delicate areas.
If you're riding without mudguards, then the cut out is also going to do an excellent job of providing a window for all the grit and spray to cover your shorts.
Wrap around lenses (and visors)
Wrap around lenses provide distraction free vision, giving a rider a crystal clear view of the road ahead. Unless they steam up.
Glasses' fog is something brands are working exceptionally hard to fix - but in heavy rain, it's neigh on impossible to prevent - and sometimes even the best of the best have to accept that they just can't see anymore with the specs on.
Your best race tyres
Most race tyres favour a supple, grippy compound over puncture protection.
This does mean that when paired with sensible pressure (eg 10-2opsi less in the rain), race tyres do hold traction well on wet corners. But they don't put up much of a fight against the bits of grit and flint that get washed up from the side of the road.
Squishy bar tape
There are certain bar tape options that work excellently in the wet - anything grippy like the stuff from Lizard Skins should serve you well.
Anything with a gel like squish can start to feel a bit like a mushy bog on your handlebars.
White shoes
Oh, we do love white cycling shoes. So clean and crisp and pristine.
Until they get wet - after which they'll never be the same again.
Extra marks for inconvenience if you pair your white shoes with white socks - because there's a certain degree of grit and grime that will just never wash off.
... or anything else white...
Enough said.
Touch screens
Dedicated cycling computers usually work well (with a few exceptions) - and you can get some great phone cases.
But if you're using a device that hasn't quite nailed touch screen capability, and doesn't know the difference between rain drops and finger tips, be prepared for oncoming frustration.
Thank you for reading 10 articles this month* Join now for unlimited access
Enjoy your first month for just £1 / $1 / €1
*Read 5 free articles per month without a subscription
Join now for unlimited access
Try first month for just £1 / $1 / €1
Michelle Arthurs-Brennan is a traditional journalist by trade, having begun her career working for a local newspaper, where highlights included interviewing a very irate Freddie Star (and an even more irate theatre owner), as well as 'the one about the stolen chickens'.
Previous to joining the Cycling Weekly team, Michelle was Editor at Total Women's Cycling. She joined CW as an 'SEO Analyst', but couldn't keep her nose out of journalism and in the spreadsheets, eventually taking on the role of Tech Editor before her latest appointment as Digital Editor.
Michelle is a road racer who also enjoys track riding and the occasional time trial, though dabbles in off-road riding too (either on a mountain bike, or a 'gravel bike'). She is passionate about supporting grassroots women's racing and founded the women's road race team 1904rt.
Michelle is on maternity leave from July 8 2022, until April 2023.