David Millar: 'I realised I preferred being a dad to being a pro cyclist'
David Millar talks to Cycling Weekly about his decision to retire, and his final season and a professional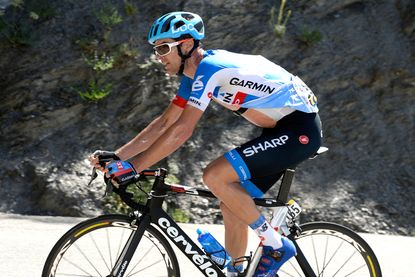 (Image credit: Graham Watson)
Days before he learned he would not ride the Tour de France, Garmin-Sharp rider David Millar was as relaxed and philosophical as he reflected on his decision to retire at the end of this season.
The 37-year old Scot looked lean and fit, although the cough which forced him to retire from both the national time trial and road races was evident. But despite the former, he insisted that there would be no Frank Sinatra-style comeback Tours after 2014.
"Initially I thought I'd be able to go on for another three years, but fatherhood put an end to that," explained Millar, "I realised I preferred being a dad to being a pro cyclist. To be a good pro cyclist you need to be so selfish to everyone around you, to the children and to your wife as well.
"I know some riders actually sleep in different rooms and put ear plugs in when they have young kids, that's the real hardcore attitude. I can't do that."
In the end then, Millar chose a different life, one that will enable him to spend more time with his two boys and wife Nicole.
"It's obviously a bit of a transitional year," continued Millar, "but it's not like I've stopped, I'm still working, still training hard.
"The problem is that you can't really be semi-retired as a pro, you can't park your body on a Friday night and party, you can't turn off your body for a few days, because being a pro is a full-time lifestyle."
Like every other pro before him, Millar was simply finding it harder and harder to train.
"Actually it's not so much the training, but I was finding it harder to make myself hurt when I was training. I could still do it in arace, but training, not so much. I think I've used up all my 'suffer credits,'" laughed Millar.
Nevertheless, Millar found the reserves to prepare for his final Tour, "I turned into that super-focused rider again, I maybe went too deep actually and overdid it because I was a bit ill in the Dauphine, but the underlying form is good and we've got a good line-up for the Tour.
"After that there's the Commie Games that I'm really looking forward to, I don't get many chances to ride in a Scotland jersey and the fact it's in Glasgow makes it even better. The time trial might be a bit too soon after the end of the Tour interms of recovery, but I should be good in the road race."
Has he a final race in mind? "The Vuelta I think. It's my favourite Grand Tour and, if I was going to finish my pro career, I thought it would be nice to finish at a race I really liked, so that's my plan. First though, there's the Tour...".
Thieves steal race memorabilia, watches and electrical goods from David Millar's home in Girona while he was riding in the
Thank you for reading 5 articles this month* Join now for unlimited access
Enjoy your first month for just £1 / $1 / €1
*Read 5 free articles per month without a subscription
Join now for unlimited access
Try first month for just £1 / $1 / €1