Dr Michele Ferrari denies claims he helped Astana team
Banned doping doctor Michele Ferrari issues statement on his website dismissing allegations he met with Astana team as 'media bullshit'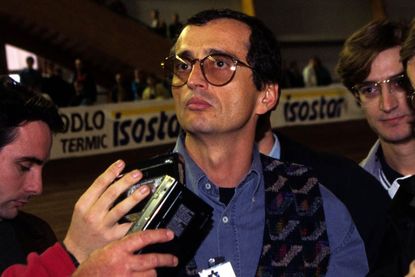 (Image credit: Graham Watson)
'Media bullshit' is how banned medic Dr Michele Ferrari has reacted to reports that he met up with members of the Astana team at a training camp in November 2013.
Italian paper La Gazzetta dello Sport reported on Monday that it had obtained photos of Ferrari purportedly at an Astana training camp at Montecatini Terme ahead of the 2014 season. Ferrari is serving a lifetime ban from dealing with professional cycling for his role in organised doping within the sport.
Ferrari responded to the allegation on his personal website, saying: "I feel obliged, albeit very reluctantly, to once again deny the latest MEDIA BULLSHIT with regards to my presence... at the Astana team training camp in Montecatini".
Ferrari says the only time he has ever visited Montecatini is to "taste the famous waffles".
"The bombshell of 'the dark shadow of Ferrari' is absolutely FALSE and whoever has published it will respond about it in the appropriate courts. I hope that the Kazakh team will ask adequate compensation for the damages," wrote Ferrari.
The alleged photos of Ferrari have surfaced as part of the Padua anti-doping investigation carried out by Italian authorities. The Italian Olympic Committee (CONI) received files from the investigation last week.
Ferrari has had dealing with Astana in the past, notably helping rider-turned-general-manager Alexandre Vinokourov. Vinokourov failed a test during the 2007 Tour de France for homologous blood transfusions and served a suspension from the sport.
Astana is due to learn on Wednesday (December 10) whether it has been awarded a licence to continue racing in the Union Cycliste Internationale's top-tier WorldTour events after two of its riders failed tests for EPO during 2014.
Thank you for reading 20 articles this month* Join now for unlimited access
Enjoy your first month for just £1 / $1 / €1
*Read 5 free articles per month without a subscription
Join now for unlimited access
Try first month for just £1 / $1 / €1