Dunwich Dynamo: what is it and how do I take part?
The annual night ride from London to Dunwich is back again on the Saturday 8 July 2017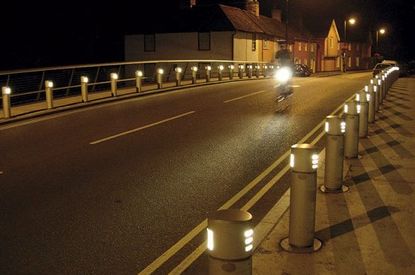 There are many celebrations of cycling throughout the year, with everything from the Tour de France to the RideLondon-Surrey 100 sportive for us to enjoy. However, a true bastion of grass roots cycling is the Dunwich Dynamo, celebrating its 25th birthday on July 8-9 2017.
Not a race or an officiated sportive, the Dunwich Dynamo is more of a traditional group ride but with hundreds of cyclists taking part. And it's held overnight.
The night ride starts in the Pub in the Park in London Fields on Saturday night, with participants departing East London after 8pm to head to the coast. The ride takes place on the Saturday night nearest to the full moon each July.
Traversing around 200km, riders take to the country lanes of Essex and Suffolk as they aim for Dunwich beach a little after sunlight come Sunday morning.
The ride grows every year - in 2003 it was estimated that 230 riders took part, and in 2016 that figure was closer to 2000.
Dunwich Dynamo Route
Not being a corporate event, there is no official GPS route for the Dunwich Dynamo previous to the roll out. However, you can support the torch bearers of the event, Southwark Cyclists, who sell a route maps for a £1 donation right before departure.
Alternatively, you can check Strava for previous rides, or join the 2017 group, to get an understanding of the ride and even cheekily save it to your own routes.
The route is entirely tarmac, on mostly unlit country lanes through villages and a few small touwns - namely: Moreton, Leaden Roding, Great Dunmow, Great Bardfield, Finchingfield, Castle Headingham, Sudbury, Great Waldingfield, Needham Market, Framlingham, Darsham, Westleton. There are a few short sharp hills, but "nothing very serious".
Southwark Cyclists top tip if all else fails? "Follow the flashing red-lights ahead. That memory will linger."
What to bring to the Dunwich Dynamo?
Being a night ride the first piece of kit needed is a pair of solid bike lights. You'll need a proper beam that allows you to see the road ahead: think in the region of 700 lumens on the front. Night riding is no fun if you can't see. You'll need a red rear light to ensure you can be seen - by drivers and indeed other cyclists on the route.
Lights, like humans, sometimes give up so be sure to test any lights you plan to bring and be sure to bring a few spares with you. That could be spare lights, batteries or charging kit.
Despite it being summer, the night time can be quite cool so don't be afraid to pack a few arm and leg warmers and rain jacket to keep the wind and rain out. It is Britain after all so always expect some rain.
The ride has become quite a tradition for households and shops along the way, with many popping up stalls to sell food and other treats so be sure to bring cold hard cash as well as your bank card.
>>> Best saddlebags for cyclists
The ride is just like another other long day out on the bike - except it's night time - so you will want to bring some snacks for yourself should the worse happen and you miss out on any pit stops.
Other ride essentials:
Phone
Pump
Spare inner tubes
Tyre levers
Two filled bidons
Pair of speedos (if you fancy an early morning dip in the sea)
The ride is covered under the London Cycling Campaign's public liability, third party, insurance cover - so if you're going to take part it's considered a good idea to consider becoming a member, which means you'll get personal insurance as well as third party cover. However, if you're a British Cycling member you're probably covered there, too.
How to get back after the Dunwich Dynamo?
Firstly - don't forget about the big swim at the finish - this is a tradition well worth partaking in.
Southwark Cyclists also assure us that 'The Flora Tea Rooms' will open for riders at 6am, and 'The Ship' at Dunwich will be open from 4am serving breakfast and beer. Everyone is welcome!
If you're made of sterner stuff the obvious answer is ride back. However, many of us may want to get home before dawn.
The best bet is to sign up to sign up Southwark Cyclist's return coach service than can be found on their site (check availability) or ride 50km to Ipswich (if you can manage it) and jump on the train home.
Don't try and jump on the train at Lowestoft or any other station before Ipswich - veterans of the ride often report being asked to get off services from these smaller regional stations. Check with any train service you intend to use on the way back prior to departure for their bike policy as some may require you pre-book a slot. Be sure to sort your return before taking part.
Things to remember for the Dunwich Dynamo
In true group ride fashion, this isn't officiated and there are no predestined feed stops, support vehicles or on site mechanics - so for your own enjoyment be sure to prepare for the worst.
Whether that's bringing an extra layer or enough food to go around. Cycling camaraderie shines through in the Dunwich Dynamo with everyone giving a helping hand if needed so don't be too worried. However, no one wants to babysit a rider who isn't prepared.
Be polite and don't drop litter or talk too loudly when riding through small villages. Both go some way to helping the Dynamo carry on for years to come.
Thank you for reading 10 articles this month* Join now for unlimited access
Enjoy your first month for just £1 / $1 / €1
*Read 5 free articles per month without a subscription
Join now for unlimited access
Try first month for just £1 / $1 / €1