Elite men's World Championship road race start list
Full list of starters, with race numbers, for the 2015 UCI World Championships men's road race in Richmond on Sunday, September 27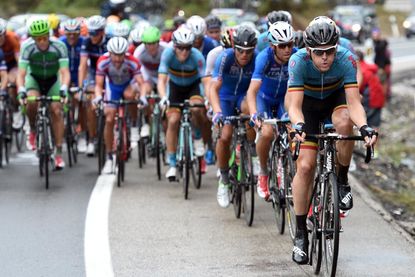 (Image credit: Watson)
The official list of riders taking part in the 2015 UCI World Championships men's road race has been released.
A total of 191 riders from around the globe are scheduled to start the race on Sunday, September 27, in Richmond, Virginia, USA.
The number of riders in each nation's team is dependent on qualification criteria, with the maximum number being nine. Although Great Britain qualified nine places, they only field eight riders due to the late withdrawal of Mark Cavendish with injury.
Defending world champion Michal Kwiatkowski (Poland) has been designated the number one plate.
For our pick of the leading contenders, see our World Championships 2015 road races preview.
Swipe to scroll horizontally
| | | |
| --- | --- | --- |
| Number | Name | Nationality |
| 1 | KWIATKOWSKI Michal | Poland |
| 2 | BODNAR Maciej | Poland |
| 3 | GOLAS Michal | Poland |
| 4 | MAJKA Rafal | Poland |
| 5 | MARCZYNSKI Tomasz | Poland |
| 6 | PATERSKI Maciej | Poland |
| 7 | ERVITI OLLO Imanol | Spain |
| 8 | IZAGUIRRE INSAUSTI Jon | Spain |
| 9 | LOBATO DEL VALLE Juan Jose | Spain |
| 10 | MAS BONET Luis | Spain |
| 11 | MORENO FERNANDEZ Daniel | Spain |
| 12 | PLAZA MOLINA Ruben | Spain |
| 13 | RODRIGUEZ OLIVER Joaquin | Spain |
| 14 | SANCHEZ GIL Luis Leon | Spain |
| 15 | VALVERDE BELMONTE Alejandro | Spain |
| 16 | ALZATE ESCOBAR Carlos Eduardo | Colombia |
| 17 | ANACONA GOMEZ Winner | Colombia |
| 18 | AVILA VANEGAS Edwin Alcibiades | Colombia |
| 19 | CANO ARDILA Alex | Colombia |
| 20 | JARAMILLO DIEZ Daniel Alexander | Colombia |
| 21 | LOPEZ MORENO Miguel Angel | Colombia |
| 22 | PANTANO Jarlinson | Colombia |
| 23 | QUINTERO Carlos Julian | Colombia |
| 24 | URAN URAN Rigoberto | Colombia |
| 25 | CUMMINGS Stephen | Great Britain |
| 26 | DOWSETT Alex | Great Britain |
| 27 | FENN Andrew | Great Britain |
| 28 | ROWE Luke | Great Britain |
| 29 | STANNARD Ian | Great Britain |
| 30 | SWIFT Ben | Great Britain |
| 31 | THWAITES Scott | Great Britain |
| 32 | YATES Adam | Great Britain |
| 33 | BENNATI Daniele | Italy |
| 34 | FELLINE Fabio | Italy |
| 35 | NIBALI Vincenzo | Italy |
| 36 | NIZZOLO Giacomo | Italy |
| 37 | OSS Daniel | Italy |
| 38 | QUINZIATO Manuel | Italy |
| 39 | TRENTIN Matteo | Italy |
| 40 | ULISSI Diego | Italy |
| 41 | VIVIANI Elia | Italy |
| 42 | BENOOT Tiesj | Belgium |
| 43 | BOONEN Tom | Belgium |
| 44 | GILBERT Philippe | Belgium |
| 45 | KEISSE Iljo | Belgium |
| 46 | KEUKELEIRE Jens | Belgium |
| 47 | MAES Nikolas | Belgium |
| 48 | VAN AVERMAET Greg | Belgium |
| 49 | VANDENBERGH Stijn | Belgium |
| 50 | VANMARCKE Sep | Belgium |
| 51 | BOOM Lars | Netherlands |
| 52 | DUMOULIN Tom | Netherlands |
| 53 | GESINK Robert | Netherlands |
| 54 | LANGEVELD Sebastian | Netherlands |
| 55 | LIGTHART Pim | Netherlands |
| 56 | MOLLEMA Bauke | Netherlands |
| 57 | TERPSTRA Niki | Netherlands |
| 58 | VAN BAARLE Dylan | Netherlands |
| 59 | VAN EMDEN Jos | Netherlands |
| 60 | ALAPHILIPPE Julian | France |
| 61 | BOUHANNI Nacer | France |
| 62 | DELAGE Mickael | France |
| 63 | DEMARE Arnaud | France |
| 64 | GALLOPIN Tony | France |
| 65 | LEMOINE Cyril | France |
| 66 | MINARD Sebastien | France |
| 67 | SIMON Julien | France |
| 68 | VACHON Florian | France |
| 69 | CLARKE Simon | Australia |
| 70 | DOCKER Mitche | Australia |
| 71 | DURBRIDGE Luke | Australia |
| 72 | GERRANS Simon | Australia |
| 73 | HANSEN Adam | Australia |
| 74 | HAUSSLER Heinrich | Australia |
| 75 | HAYMAN Mathew | Australia |
| 76 | MATTHEWS Michael | Australia |
| 77 | MCCARTHY Jay | Australia |
| 78 | DEGENKOLB John | Germany |
| 79 | FROHLINGER Johannes | Germany |
| 80 | GESCHKE Simon | Germany |
| 81 | GREIPEL Andre | Germany |
| 82 | KNEES Christian | Germany |
| 83 | MARTENS Paul | Germany |
| 84 | MARTIN Tony | Germany |
| 85 | SIEBERG Marcel | Germany |
| 86 | VOSS Paul | Germany |
| 87 | BOASSON HAGEN Edvald | Norway |
| 88 | BREEN Vegard | Norway |
| 89 | BYSTROM Sven Erik | Norway |
| 90 | KRISTOFF Alexander | Norway |
| 91 | LAENGEN Vegard Stake | Norway |
| 92 | NORDHAUG Lars Petter | Norway |
| 93 | COSTA Rui | Portugal |
| 94 | GONCALVES Jose | Portugal |
| 95 | OLIVEIRA Nelson | Portugal |
| 96 | BARTA Jan | Czech Republic |
| 97 | BUCHACEK Tomas | Czech Republic |
| 98 | HNIK Karel | Czech Republic |
| 99 | KREUZIGER Roman | Czech Republic |
| 100 | POLNICKY Jiri | Czech Republic |
| 101 | STYBAR Zdenek | Czech Republic |
| 102 | VAKOC Petr | Czech Republic |
| 103 | BOLE Grega | Slovenia |
| 104 | BOZIC Borut | Slovenia |
| 105 | KOREN Kristijan | Slovenia |
| 106 | KUMP Marko | Slovenia |
| 107 | MEZGEC Luka | Slovenia |
| 108 | PIBERNIK Luka | Slovenia |
| 109 | ALBASINI Michael | Switzerland |
| 110 | DILLIER Silvan | Switzerland |
| 111 | RAST Gregory | Switzerland |
| 112 | BUTS Vitaliy | Ukraine |
| 113 | GRIVKO Andriy | Ukraine |
| 114 | KHRIPTA Andriy | Ukraine |
| 115 | KONONENKO Mykhaylo | Ukraine |
| 116 | KOSTYUK Denys | Ukraine |
| 117 | POLIVODA Oleksandr | Ukraine |
| 118 | BRUTT Pavel | Russian Federation |
| 119 | CHERNETSKI Sergei | Russian Federation |
| 120 | KUZNETSOV Viacheslav | Russian Federation |
| 121 | LAGUTIN Sergey | Russian Federation |
| 122 | TCATEVICH Aleksei | Russian Federation |
| 123 | ZAKARIN Ilnur | Russian Federation |
| 124 | BAK Lars Ytting | Denmark |
| 125 | BRESCHEL Matti | Denmark |
| 126 | GULDHAMMER Rasmus | Denmark |
| 127 | JUUL JENSEN Christopher | Denmark |
| 128 | MORKOV Michael | Denmark |
| 129 | VALGREN Michael | Denmark |
| 130 | BEWLEY Sam | New Zealand |
| 131 | HENDERSON Greg | New Zealand |
| 132 | SERGENT Jesse | New Zealand |
| 133 | HALLER Marco | Austria |
| 134 | POSTLBERGER Lukas | Austria |
| 135 | PREIDLER Georg | Austria |
| 136 | IMPEY Daryl | South Africa |
| 137 | JANSE VAN RENSBURG Reinardt | South Africa |
| 138 | VENTER Jaco | South Africa |
| 139 | ANDERSON Ryan | Canada |
| 140 | BOIVIN Guillaume | Canada |
| 141 | DUCHESNE Antoine | Canada |
| 142 | HOULE Hugo | Canada |
| 143 | ROTH Ryan | Canada |
| 144 | WOODS Michael | Canada |
| 145 | HUTAROVICH Yauheni | Belarus |
| 146 | KIRYIENKA Vasil | Belarus |
| 147 | SIUTSOU Kanstantsin | Belarus |
| 148 | DEBESAY Mekseb | Eritrea |
| 149 | DIAZ Daniel | Argentina |
| 150 | RICHEZE Maximiliano Ariel | Argentina |
| 151 | BOOKWALTER Brent | United States of America |
| 152 | CRADDOCK Lawson | United States of America |
| 153 | FARRAR Tyler | United States of America |
| 154 | HOWES Alex | United States of America |
| 155 | KING Benjamin | United States of America |
| 156 | PHINNEY Taylor | United States of America |
| 157 | BAGDONAS Gediminas | Lithuania |
| 158 | NAVARDAUSKAS Ramunas | Lithuania |
| 159 | SISKEVICIUS Evaldas | Lithuania |
| 160 | GARNERO Antonio | Brazil |
| 161 | RAMOS Kleber | Brazil |
| 162 | KAMYSHEV Arman | Kazakhstan |
| 163 | LUTSENKO Alexey | Kazakhstan |
| 164 | TLEUBAYEV Ruslan | Kazakhstan |
| 165 | KANGERT Tanel | Estonia |
| 166 | TAARAMAE Rein | Estonia |
| 167 | ARASHIRO Yukiya | Japan |
| 168 | BEPPU Fumiyuki | Japan |
| 169 | UCHIMA Kohei | Japan |
| 170 | DURASEK Kristijan | Croatia |
| 171 | ROGINA Radoslav | Croatia |
| 172 | BENNETT Sam | Ireland |
| 173 | DUNNE Conor | Ireland |
| 174 | GUAMA DE LA CRUZ Bayron | Ecuador |
| 175 | SMUKULIS Gatis | Latvia |
| 176 | TZORTZAKIS Polychronis | Greece |
| 177 | KOLAR Michal | Slovakia |
| 178 | SAGAN Juraj | Slovakia |
| 179 | SAGAN Peter | Slovakia |
| 180 | GARRIDO Gonzalo | Chile |
| 181 | AMADOR BKKAZAKOVA Andrey | Costa Rica |
| 182 | ROJAS Juan Carlos | Costa Rica |
| 183 | ROJAS VILLEGAS Cesar | Costa Rica |
| 184 | STEVIC Ivan | Serbia |
| 185 | PARK Sung Baek | Korea |
| 186 | SEO Joon Yong | Korea |
| 187 | TVETCOV Serghei | Romania |
| 188 | RODAS OCHOA Manuel | Guatemala |
| 189 | DIDIER Laurent | Luxembourg |
| 190 | DRUCKER Jean-Pierre | Luxembourg |
| 191 | KIRSCH Alex | Luxembourg |
Thank you for reading 5 articles this month* Join now for unlimited access
Enjoy your first month for just £1 / $1 / €1
*Read 5 free articles per month without a subscription
Join now for unlimited access
Try first month for just £1 / $1 / €1