Fisher-Price has created a turbo trainer for your three-year-old
Toy giant Fisher–Price unveils its latest bike toy the Think and Learn Smart Cycle and it comes with an educational twist.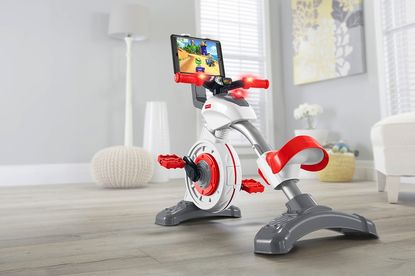 Fisher-Price has revealed a smart-bike, designed to both tire out your three-year-old and help with their spelling. Plus, it looks like a turbo trainer.
The Think and Learn Smart Cycle is a toy bike that lets kids play educational games while pedalling. It comes with a tablet holder, or alternatively can be paired via Bluetooth a TV.
https://www.youtube.com/watch?v=mE98L0pBxT8
>>> Eight bike trends to look out for in 2017
The educational games are stored on a companion app, downloadable from the App Store or Google Play.
The first game, Mission to Tech City, involves kids picking up the Alphabet in the correct order.
Supposedly, the idea behind it is that each new letter teaches the child a new word. At the end of each game, the children can review their collection.
It's not just spelling either. There are additional games, which teach different subjects. Thanks to a partnership between Fisher-Price and the children's TV channel Nickelodeon, kids can learn anything from maths, science or even social studies. And people said learning wasn't fun!
Watch: Cycling Weekly's Tech of the Month
Suitable for three to six-year-olds, the toy is designed to grow with the child. Supposedly, the necessary parts can be expanded and fitted together to keep pace as your child grows.
According to Fisher-Price, the toy was inspired by the realisation that children learn better and retain more information when they're having fun and being active.
Of course, the bike has a secondary purpose that we're sure parents will grateful for. Namely, tiring children out.
The stationary bike was announced by the Fisher-Price at CES 2017 which is currently taking place in Las Vegas.
According to toy company, the app will be compatible with both Android and iOS devices and will launch in the Autumn of 2017.
It might not be every parent's cup of tea, sure. But if it turns the time a child spends on a smart device into pedalling time, it can't be too awful, right?
Thank you for reading 10 articles this month* Join now for unlimited access
Enjoy your first month for just £1 / $1 / €1
*Read 5 free articles per month without a subscription
Join now for unlimited access
Try first month for just £1 / $1 / €1