Five bike trends to look out for in 2018
We gaze into the crystal ball to look at the next 12 months in bikes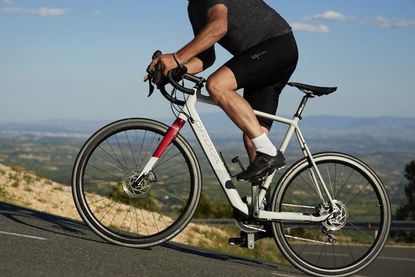 (Image credit: Antton)
In the ever shifting world of cycling there has been some pretty exciting changes. There's always some new invention and innovation just round the corner, no matter how controversial.
So, what will 2018 hold for the cyclists of the world? We've got some ideas, some you might love, some you might hate.
Either way, let us know what you think the next year has in store for us all.
Professional use of disc brakes
Yes, disc brakes have been around for ages and yes, they're really popular at the consumer level, but there's still one place with plenty of scope for disc brake expansion and that's the pro peloton.
2017 was once again a turbulent year for the more powerful stoppers, with the UCI trialling the brakes before Owain Doull's foot supposedly was sliced open at the Tour of Dubai.
But, there is light at the end of the tunnel for discs, with the disc brakes being welcomed back for 2018, even on the domestic scene.
Pair the new lightweight nature of Shimano's Dura-Ace and Ultegra systems (something we predicted this time last year) with the fact that many pro riders like to use them in training and it seems 2018 could be a good year for the brakes.
Greater sophistication of e-bikes
In 2017, we saw the release of the seriously hot Focus Project Y e-bike as well as the Orbea Gain – two e-bikes that just didn't look like e-bikes at all.
The better looks are the result of battery and motor innovation. The Focus Project Y's Fazua all-in-one battery and motor sits neatly inside the down tube. Meanwhile, on the Orbea, the battery sits in the downtube but the motor is on the rear hub, removing the bulky bottom bracket unit.
Both bikes looks great and are certainly paving the way for how e-bikes should look, especially if they want to gain broader appeal. Here's hoping to more of the same in 2018.
Smarter turbos
Smart turbos have really taken off this year and we've been seriously impressed by those that we've ridden.
However, at the end of the year Wahoo demonstrated with the Wahoo Kickr Climb the true meaning of smarts, and what could be possible in the future.
One bike to rule them all
Having been on major launches this year where brands kept alluding to the fact they needed products that could cover all bases, we've been thinking about the growing need for products that can do it all.
For example, Shimano Ultegra R8000 now accommodates 28mm tyres and an 34t cassette because, by Shimano's own admission, people need a groupset to do everything.
It's similar to the Trek Émonda launched this year which Trek said was capable of running 28mm tyres, disc brakes and could be used for riding on gravel.
The great tubeless take off
Much like disc brakes, 2017 has been a great year for tubeless tyres and rims. We've seen the launch of Mavic's UST – a huge update of its line to make it tubeless ready – as well as loads of tubeless ready rims from other brands.
But, up to this point most people – both amateurs and pros – have been averse to losing their tubes.
However, with the ever growing chances that your next rim or tyres purchase is going to be tubeless ready we're going to put it out there and say that 2018 will see tubeless become a much bigger thing, both at home and in the pro peloton.
Thank you for reading 20 articles this month* Join now for unlimited access
Enjoy your first month for just £1 / $1 / €1
*Read 5 free articles per month without a subscription
Join now for unlimited access
Try first month for just £1 / $1 / €1