Former pro and Le Col owner Yanto Barker offers reward for stolen Colnago bikes
Le Col are offering £1,000 worth of kit for anyone who helps recover the bikes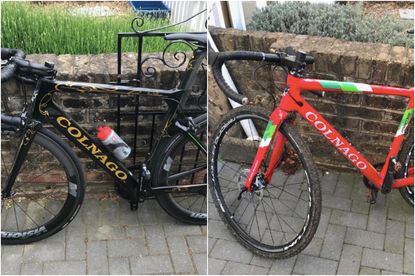 Former pro Yanto Barker is offering a hefty reward after two of his Colnago bikes were stolen.
Barker, the founder of Le Col clothing brand, is offering £1,000 worth of kit for anyone who provides info that helps him recover the bikes.
The bikes, a Colnago Concept and a Prestige cyclocross bike, were stolen from the Richmond/Twickenham area of south-west London.
Barker shared pictures of the two stolen machines on Twitter on Thursday afternoon.
>>> Arnold Schwarzenegger wants to 'cycle all over the world'
The Colnago Concept 52s is black and gold with a Shimano Dura-Ace groupset, while the Prestige is red, green and white with Sram components.
Barker, who rode for One Pro Cycling before his retirement in 2016, said on Twitter: "Please share and keep a look out."
Le Col's Twitter account also shared the images, with the brand offering a reward of kit worth £1,000 for anyone who comes forward with information that leads to the bikes' recovery.
The brand said: "Stolen: Le Col founder Yanto Barker has had two Colnagos stolen in south-west London."
"Reward: £1,000 worth of Le Col kit for info info leading to recovery of the bikes."
Earlier this week, masked thieves broken into the newly opened 3T factory in Italy and stole 20 bikes.
>>> Dutch cyclist comes within inches of being hit by train at level crossing
A group of six to eight people gained entry to the warehouse by drilling a hole through a one-meter thick wall.
Thieves stole 20 bikes including a custom painted Exploro, done by Italian frame builder Dario Pegoretti who died in recent months.
Both Strada and Exploro model bikes were stolen in the raid, and 3T are asking anyone with information to help identify the thieves or find the bikes.
Thank you for reading 5 articles this month* Join now for unlimited access
Enjoy your first month for just £1 / $1 / €1
*Read 5 free articles per month without a subscription
Join now for unlimited access
Try first month for just £1 / $1 / €1