Herald Sun Tour 2018: Everything you need to know
Stage details, start list and more for the 2018 Jayco Herald Sun Tour in Australia (January 30-February 4)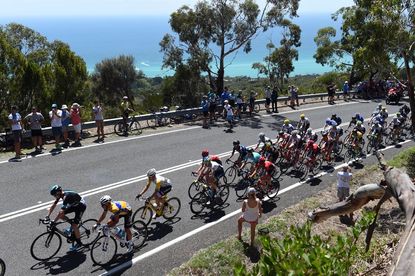 (Image credit: Graham Watson)
A mixture of WorldTour, Professional Continental and Continental teams will descend on Victoria, Australia, for the 2018 edition of the Jayco Herald Sun Tour over January 30-February 4.
The UCI 2.1-ranked men's race has attracted an interesting mixture of teams, with WorldTour squads Mitchelton-Scott and Trek-Segafredo coming up against Australian, Japanese, Irish, British, Israeli and Dutch teams.
Team Sky will be absent this year, having provided the 2016 winner of the race in the shape of Chris Froome.
The start list boasts the presence of Colombian Grand Tour contender Esteban Chaves (Mitchelton-Scott), making his 2018 stage racing debut. Last year's winner, Damien Howson, returns to accompany Chaves in Mitchelton-Scott's line-up.
British team JLT-Condor are present, as are Irish outfit Aqua Blue Sport.
The two-day women's Herald Sun Tour starts on Tuesday, January 30, and comprises two stages, a road stage and a finish with the same short individual time trial as used for the men's prologue.
The men's Jayco Herald Sun Tour starts on Wednesday, January 31, with a very short 1.6-kilometre individual time trial prologue in central Melbourne. Four road stages then follow, with the race ending on Sunday, February 4.
Stage three to Lake Mountain is likely to be the most decisive of the race, a long 218-kilometre trip with a summit finish.
Previous winners of the men's race include Chris Froome (2016), Bradley Wiggins (2009), Simon Gerrans (2005/2006) and Malcolm Elliott (1985).
http://www.youtube.com/watch?v=1KRFsDEtl_s
Jayco Herald Sun Tour 2018: Stages
Women's race
Swipe to scroll horizontally
| | | | |
| --- | --- | --- | --- |
| Stage | Date | Start/finish | Distance |
| Stage 1 | Tuesday Jan 30 | Healesville to Healesville | 123.5km |
| Stage 2 | Wednesday Jan 31 | Alexandra Gardens to Southbank | 1.6km ITT |
Men's race
Swipe to scroll horizontally
| | | | |
| --- | --- | --- | --- |
| Stage | Date | Start/finish | Distance |
| Prologue | Wednesday Jan 31 | Alexandra Gardens to Southbank | 1.6km ITT |
| Stage 1 | Thursday Feb 1 | Colac to Warrnambool | 161.6km |
| Stage 2 | Friday Feb 2 | Warrnambool to Ballarat | 198.6km |
| Stage 3 | Saturday Feb 3 | Mitchelton Winery to Lake Mountain | 218km |
| Stage 4 | Sunday Feb 4 | Kinglake to Kinglake | 152.1km |
Jayco Herald Sun Tour 2018: Recent winners
2017 Damien Howson
2016 Chris Froome
2015 Cameron Meyer
2014 Simon Clarke
2013 Calvin Watson
2012 No race
2011 Nathan Haas
2010 No race
2009 Bradley Wiggins
2008 Stuart O'Grady
Jayco Herald Sun Tour: Last year's top 10 (2017)
1. Damien Howson (Aus) Orica-Scott, in 15-25-13
2. Jai Hindley (Aus) Korda Menthe Real Estate-Australia, at 38 secs
3. Kenny Elissonde (Fra) Team Sky, at 53 secs
4. Cameron Meyer (Aus) Korda Menthe Real Estate-Australia, at 1-08
5. Michael Storer (Aus) Korda Menthe Real Estate-Australia, at 1-10
6. Chris Froome (GBr) Team Sky, at 1-12
7. Lucas Hamilton (Aus) Korda Menthe Real Estate-Australia, at 1-13
8. Nathan Earle (Aus) Korda Menthe Real Estate-Australia, at 1-15
9. Esteban Chaves (Col) Orica-Scott, at 1-15
10. Timothy Roe (Aus) IsoWhey Sports-Swiss Wellness, at 1-17
Jayco Herald Sun Tour men's start list (men)
Mitchelton-Scott
1. Damien HOWSON (AUS)
2. Alexander EDMONDSON (AUS)
3. Michael HEPBURN (AUS)
4. Esteban CHAVES (COL)
5. Robert POWER (AUS)
6. Lucas HAMILTON (AUS)
7. Cameron MEYER (AUS)
Trek-Segafredo
11. Koen DE KORT (NED)
12. Laurent DIDIER (LUX)
13. Niklas EG (DEN)
14. Alex FRAME (NZL)
15. Ruben GUERREIRO (POR)
16. Mads PEDERSEN (DEN)
Israel Cycling Academy
21. Zakkari DEMPSTER (AUS)
22. Nathan EARLE (AUS)
23. Roy GOLDSTEIN (ISR)
24. August JENSEN (NOR)
25. Krists NEILANDS (LAT)
26. Hamish SCHREURS (NZL)
27. Tyler WILLIAMS (USA)
Roompot-Nederlandse Loterij
31. Tim ARIESEN (NED)
32. Martijn BUDDING (NED)
33. Robbert DE GREEF (NED)
34. Etienne VAN EMPEL (NED)
35. Jeroen MEIJERS (NED)
36. Sjoerd VAN GINNEKEN (NED)
Aqua Blue Sport
41. Lawrence WARBASSE (USA)
42. Calvin WATSON (USA)
43. Shane ARCHBOLD (NZL)
45. Lasse NORMAN HANSEN (DEN)
46. Casper PEDERSEN (DEN)
47. Peter KONING (NED)
JLT Condor
51. Edmund BRADBURY (GBR)
52. Matthew GIBSON (GBR)
53. Ian BIBBY (GBR)
54. Thomas STEWART (GBR)
55. Alistair SLATER (GBR)
56. Edward CLANCY (GBR)
57. Graham BRIGGS (GBR)
Interpro Stradalli Cycling
61. Daniel WHITEHOUSE (GBR)
62. Jokin ETXABE-LETURIA (ESP)
63. Jayson ROUSSEAU (FRA)
64. Ken-Levi EIKELAND (NOR)
65. Jonas HJORTH (NOR)
66. Yukinori HISHINUMA (JPN)
67. Kyohei MIZUNO (JPN)
Bennelong SwissWellness
71. Chris HARPER (AUS)
72. Sam CROME (AUS)
73. Dylan SUNDERLAND (AUS)
74. Anthony GIACOPPO (AUS)
75. Joseph COOPER (AUS)
76. Cameron BAYLY (AUS)
77. Steele VON HOFF (AUS)
Mobius BridgeLane
81. Jesse COYLE (AUS)
82. Alistair DONOHOE (AUS)
83. Alexander EVANS (AUS)
84. Brad EVANS (NZL)
85. Peter LIVINGSTONE (AUS)
86. Angus LYONS (AUS)
87. Ethan BERENDS (AUS)
Olivers Real Food Racing
91. Sean WHITFIELD (AUS)
92. Jack SUTTON (AUS)
93. Nicholas REDDISH (NZL)
94. Ryan CHRISTENSEN (NZL)
95. Benjamin ANDREWS (AUS)
96. Rien SCHUURHUIS (NED)
97. Nicholas WHITE (AUS)
Drapac EF Cycling
101. Jesse FEATONBY (AUS)
102. Thomas KAESLER (AUS)
103. Liam MAGENNIS (AUS)
104. Cyrus MONK (AUS)
105. Oliver KENT-SPARK (AUS)
106. Liam WHITE (AUS)
107. Theodore YATES (AUS)
Brisbane Continental Cycling Team
111. Michael VINK (NZL)
112. Calan WHITE (NZL)
113. Mitchell NEUMANN (AUS)
114. Ryan THOMAS (AUS)
115. Jonathon NOBLE (AUS)
116. Oliver MARTIN (AUS)
117. Thomas ROBINSON (AUS)
ACA - Ride Sunshine Coast
121. Stuart SHAW (AUS)
122. Toby ORCHARD (AUS)
123. Aidan KAMPERS (AUS)
124. Michael POTTER (AUS)
125. Ashley MACKAY (AUS)
126. Amarni DRAKE (AUS)
127. Freddy OVETT (AUS)
Team McDonalds Downunder
131. Joel STRACHAN (AUS)
132. Alexander RAY (NZL)
133. Yuan Tang PENG (TPE)
134. Kane RICHARDS (AUS)
135. Nick MILLER (AUS)
136. Cameron LAYTON (AUS)
137. Matthew BICKNEL (AUS)
KordaMentha Real Estate - Australia
141. Callum SCOTSON (AUS)
142. Michael RICE (AUS)
143. James WHELAN (AUS)
144. Patrick LANE (AUS)
145. Mathew ROSS (AUS)
146. Lionel MAWDITT (AUS)
147. Reece TUCKNOTT (AUS)
Jayco Herald Sun Tour team list (women)
Waowdeals Pro Cycling Team
Wiggle High5
Mitchelton-Scott
Ale Cipollini
Cylance Pro Cycling
Team Tibco - Silicon Valley Bank
Trek-Drops
BePink
Team Virtu Cycling
Twenty20 p/b Sho - Air
Specialized Women's Racing
Rush Women's Team
Sydney Uni - Staminade
Mike Greer Homes Womens Cycling Team
KordaMentha Real Estate - Australia
New Zealand National Team
Thank you for reading 20 articles this month* Join now for unlimited access
Enjoy your first month for just £1 / $1 / €1
*Read 5 free articles per month without a subscription
Join now for unlimited access
Try first month for just £1 / $1 / €1