Bike theft statistics and how to lock your bike up safely
Love your bike? Keep it secure with two D-locks, says a reformed thief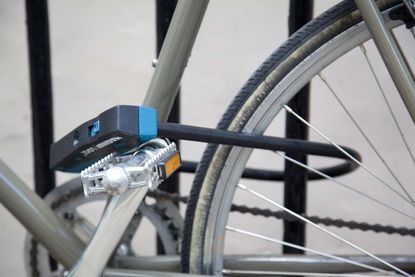 Bike theft is a really sad fact of cycling life. Figures are reportedly dropping - but that doesn't mean to say the theft of a bicycle is a rare incident.
The Office for National Statistics quotes 290,000 recorded bike thefts in England and Wales over the course of 2017, but Stolen-Bikes.co.uk suggests that as many as 71 per cent of people don't report the theft of a bike to the police - so the numbers may actually be a lot higher.
The most risky place to lock your bike in the UK, it seems, is Cambridgeshire where thefts sit at 4.34 per 1000 residents a year.
In an interview with a former bike thief, Cycling Weekly was told that targets were usually more expensive machines - anything that would sell for less than £200 was generally left alone.
Bike locks are graded by independent body Sold Secure - based upon tools needed and time taken to break them. Gold rated locks are the hardest to get through - but no lock is completely indestructible.
Our former bike thief told us: "[We used] 42-inch high toughened, foldable bolt cutters, which would fit into a rucksack and would cut through any D-bar, or any chain."
He did however add: "There is a thing what we would call London rings or hotspots, where bike security seemed to be less of a problem. The more central you got the worse the locks, where people let their guard down more.
"Going out of London, locks would get better and locations fewer, so the time and effort put in would not be worth it. Borough of Islington, Hackney, West End and the central mile were our hunting grounds. The more CCTV and people the better. People are like sheep, they feel safe and pay less attention when they're together."
>>> Bike insurance: everything you need to know
>>> Do cyclists need to have insurance?
In short - though any lock can be cut through, stronger locks were a deterrent, more so than CCTV. There are GPS bike trackers, too, which can be fitted to the bike giving a warning if it's moved and co-ordinates for the police.
How should you lock your bike?
It's not just the lock you choose, it's how you use it.
Common advice is to lock the frame and rear wheel to an immovable object (make sure it's sturdy, this author lost a bike and an entire railing when living in Brighton), then loop a cable through the front wheel and frame to avoid losing just the one wheel.
Our ex-thief advised against the use of the cable - suggesting instead the use of a double D-lock approach, and highlighting the need to go for a tight fit to make the job harder.
"Never use a chain, they're too easy to snip. Use a small D-lock on front and back wheels [looping through the frame as well]. If your lock can be moved about that means the thief's bolt cutters can get around them, at the right angle they won't. Stiff D-locks are hard to snip because you need the right angle on the cutters to get the force to close them."
A second D-lock will be more hefty than the cable option - so it's understandable that if your commute is fairly long or hilly you may want to take that advice with a pinch of salt. It's just a case of weighing up probability of theft vs the inconvenience of carrying the extra load.
In terms of other deterrents, there aren't many. It's a smart idea to register your bike with an organisation like BikeRegister.com - but be warned that we've been told frame markings can be "shaved off, filed or painted over".
Our ex-thief did have one alternative: "get your bike sprayed with a special smart water device which is invisible and is basically like a DNA code on your bike and can only be seen under UV lights."
Smart Water (smartwater.com) DNA is available for personal use and involves placing an invisible code on your property so it can be traced back to you.
Thank you for reading 20 articles this month* Join now for unlimited access
Enjoy your first month for just £1 / $1 / €1
*Read 5 free articles per month without a subscription
Join now for unlimited access
Try first month for just £1 / $1 / €1