Icons of cycling: Cinelli Laser
This radical design classic paired razor-sharp aerodynamics with beautifully flowing tubing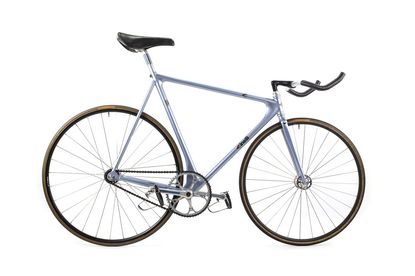 The Cinelli Laser was the perfect blend of form and function. Not only did it win 28 gold medals in World Championships and Olympics but it also was awarded the Compasso d'Oro design award in 1991.
New bosses are fond of making changes, but when Antonio Colombo took charge of Cinelli he went much further: after he launched the radical-looking Laser, bicycle design would never be the same again.
>>> The top 10 game-changing road bikes
He created a 21st century bicycle in 1981. Colombo, the youngest son of Angelo Luigi Colombo, who founded the Columbus tubing company in 1919, famously paid attention to the art of the bicycle as well as the science of it.
With Paulo Erzegovesi, who is now CEO of the company, he designed the Laser, arguably the world's first and certainly the most innovative aerodynamic bike to date.
Watch now: How much faster is an aero bike?
Made from Columbus multi-shape tubing it had beautiful and invisible joints that flowed into one another via painstakingly filed gussets and fins that were all made of steel.
Andrea Pesenti, who now has 'Laserman' tattooed on his arm, built each Laser by hand, and each one was custom made for its rider and optimised for the discipline in which it would be used.
>>> Icons of cycling: Litespeed Vortex
In a masterstroke, all were painted in the same distinctive baby-blue sparkle, a colour now forever associated with the Laser.
The pista version of the Laser was the most dramatic, a model built for East German powerhouse Lothar Thoms, who won the gold medal in the kilo in Moscow in 1980, a particular favourite with bike fans.
Thoms wasn't able to ride it at the Los Angeles Olympics in 1984 since 14 Eastern Bloc countries boycotted the Games in response to the USA boycott of the Moscow Games in 1980.
However, Hans Henrik Oersted won the professional individual pursuit at the World Championships of that year on his Laser, repeated the feat a year later, and broke the sea-level Hour Record at Bassano del Grappa.
Oersted became Cinelli's poster boy, featuring in the brand's publicity crouched theatrically over his blue Laser in his scarlet Denmark skinsuit.
>>> Do you need carbon wheels?
When Cycling Weekly visited the factory a few years ago, Antonio Colombo showed us the most famous Laser of all — not one ridden by a world or Olympic champion, but one that has its double disc wheels painted by artist Keith Haring — an image of which was aptly the icon to click to enter Cinelli's website at one time.
Cinelli recently relaunched the Laser — this time in carbon-fibre, calling it the Laser Mia.
It looks sublime and has a sub-kilo frame but most strikingly of all looks almost exactly the same as the original steel Laser of 35 years ago.
Thank you for reading 20 articles this month* Join now for unlimited access
Enjoy your first month for just £1 / $1 / €1
*Read 5 free articles per month without a subscription
Join now for unlimited access
Try first month for just £1 / $1 / €1