Is a waxed chain really worth it?
Special coatings and treatments can save you watts and win you races, say manufacturers. We investigate the truth behind shaving seconds off your PB with a waxed chain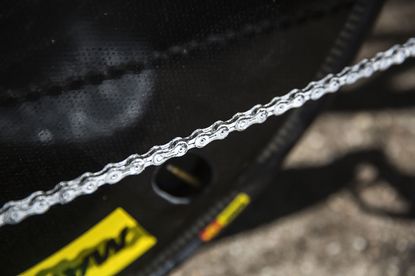 Get The Leadout Newsletter
The latest race content, interviews, features, reviews and expert buying guides, direct to your inbox!
Thank you for signing up to The Pick. You will receive a verification email shortly.
There was a problem. Please refresh the page and try again.
At the moment it's not always easy to tell the difference between a marginal gain and a murky practice but here's one thing that doesn't need a TUE, is available to everyone and is guaranteed to enhance your performance by a small but measurable amount: an optimised or 'waxed' chain.
Optimised chains hit the headlines when Bradley Wiggins used one for his 2015 Hour Record that was treated by British brand Muc-Off with a specially formulated lubricant that contained military-grade high-pressure additives and was estimated to have cost £6,000.
Muc-Off now sells its Nano Chain to the consumer, which it claims can save up to six watts in drivetrain efficiency over a standard chain, for upwards of £122.
Meanwhile Danish company CeramicSpeed's data says 2-5 watts — around 15 seconds over 40km — for its UFO chain, which costs £113.
It's a lot of money for a chain, but if you need proof that it's genuine, last year the Cannondale-Drapac team paid for CeramicSpeed chains for Rigoberto Uran to use in the Giro d'Italia and Pierre Rolland to use in the Tour de France before approaching CeramicSpeed directly. This year CeramicSpeed is one of the team's official sponsors.
Linked up
"We found it a really neat option to work with them [CeramicSpeed] for the full team so that all the riders on a key stage and all the riders on a time trial can get the benefit of the system versus one or two riders selected throughout the course of a race," says Cannondale's global sports marketing director Jonathan Geran.
To produce a waxed chain a standard chain is firstly precision cleaned using an ultrasonic bath.
Watch now: Pro Bike: Rigoberto Uran's Cannondale time trial bike
The high-frequency pressure created ensures that all the factory lubricant and associated contaminants are forced out, crucially from inside the rollers.
Once clean, the chain takes another ultrasonic bath at a carefully controlled temperature, this time to drive the new wax compound deep into each link.
Finally, in the case of the UFO chain, white Teflon powder is added, giving the UFO chain its distinctive otherworldly look.
Before a chain reaches its watt-saving 'sweet spot' it must be run in to allow the wax layers to settle. CeramicSpeed recommends 15 or 20 minutes of riding before racing; Wiggins's Hour record chains were pre-run in on a jig.
>>> Wet or dry: which chain lube should you use?
Is there a downside? Yes, a significant one: the sweet spot only lasts 370 miles for the UFO chain or '400+' miles for the Nano Chain
After that, chains can be retreated with the special lube provided but will not be as fast as with the original treatment. And in rainy conditions the sweet spot will be considerably shorter than that.
"We would look at any time trial, any key stages, but we would not use them in predictably wet conditions because that would quickly degrade the UFO application," says Geran.
"But obviously if Liège-Bastogne-Liège kicks off and it's rainy at the start and sunny in the afternoon we would still use it."
Our take
Fifteen seconds over 40km can easily make the difference between winning and losing a domestic time trial — and certainly would be a sizeable chunk off a PB.
If you're satisfied you've done everything in your power to get as close to your potential as possible and the rest of your equipment is the best it can be then the expense of a waxed chain can be justified.
Should amateur riders buy waxed chains?
Jonathan Geran, Cannondale global sports marketing director says:
"I think it's absolutely something that a consumer who's dedicated to the sport and to improving their performance and does all the other things along the way — diet, training — can benefit from.
"The Cannondale-Drapac riders believe in waxed chains 100 per cent. There's the physical benefit of technology and progress and then there's the mental benefit.
"It's certainly measurable physically at five watts and that's something you want to work towards. Two watts is slightly more questionable but that mental ease, the quiet in your mind when you know that you're on absolutely the most finely tuned precision equipment allows you to focus differently on your breathing and your legs and on the course.
>>> Why does Chris Froome use Osymetric chainrings and do they work? (video)
"Whereas the mental component drags you down if you're feeling like, OK, something isn't right with my equipment.
"Amateurs have a couple of challenges with the system: the ease in which to change the chains. Amateurs don't have pro mechanics cleaning and prepping their bikes for the next day.
"We replace the chains around every 200 miles, under the maximum. But we don't just toss those chains aside — we do use them with the lubricant application that CeramicSpeed has developed to extend the life.
"It's not as fast as the original treatment but it certainly has more of a benefit than what is traditionally put on as a lubricant. I think that's directly applicable to a consumer looking to get 1,000 miles out of the life of a chain."
Thank you for reading 20 articles this month* Join now for unlimited access
Enjoy your first month for just £1 / $1 / €1
*Read 5 free articles per month without a subscription
Join now for unlimited access
Try first month for just £1 / $1 / €1
Get The Leadout Newsletter
The latest race content, interviews, features, reviews and expert buying guides, direct to your inbox!
Simon Smythe is a hugely experienced cycling tech writer, who has been writing for Cycling Weekly since 2003. Until recently he was our senior tech writer. In his cycling career Simon has mostly focused on time trialling with a national medal, a few open wins and his club's 30-mile record in his palmares. These days he spends most of his time testing road bikes, or on a tandem doing the school run with his younger son.