Johan Bruyneel: I won't be going to any more cycling events
Former manager of Lance Armstrong says he won't be attending any further cycling events after a backlash ensued when he was spotted at Bradley Wiggins's Hour Record attempt in June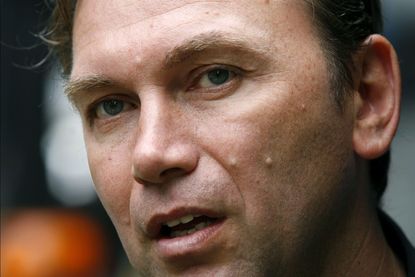 (Image credit: Graham Watson)
Lance Armstrong's former team manager Johan Bruyneel does not plan on attending the Tour de France or any other cycling events in the wake of his controversial presence at Bradley Wiggins's UCI Hour Record attempt.
The banned manager sparked a media storm on June 7 when he was photographed laughing and drinking with former UCI president Pat McQuaid in a VIP in-field space during the attempt at London's Lee Valley Velopark.
Retired pro and reformed anti-doping advocate David Millar was pictured in the background of the tongue-in-cheek shot, which was published on Twitter with the caption "#photobomb".
The public disagreement follows similar backlash from Armstrong's move to participate in a charity ride at the Tour de France next month, which critics have argued would be a regressive step for the sport trying desperately to improve its tainted image.
Bruyneel declined an interview request made via email on Tuesday but made several points in which he defended his image that has been damaged since his dismissal from the sport and reiterated his right to attend the Hour Record in the capital he resides.
"I'm not planning on attending the Tour de France. I'm not planning on attending other cycling events either," he said.
"The Wiggins event was the first and only event I've been at in almost three years. Everyone I saw at the event, who I knew, [were] very friendly and welcoming, including Miguel Indurain and some other ex-colleagues.
"The ones who needed to avoid me have made sure to do so, like David Millar, who was silly enough to go pose in a staged picture of Pat McQuaid and myself, taken and posted by his sister [Fran].
"In general, away from cycling events, people have been very kind and friendly on a personal level. I haven't met one single person with a negative attitude towards me."
Former footballer Geoff Thomas invited Armstrong to join him for a couple of days at the ride in France that will see riders tackle each stage one day before the pro peloton does in an effort to raise money for Cure Leukaemia. Incumbent UCI president Brian Cookson in March branded the proposition of Armstrong being effectively at the Tour as "disrespectful".
"I'm sure Geoff Thomas means well but frankly I think that's completely inappropriate. I think it's very disrespectful to the Tour de France," Cookson said.
Bruyneel guided Armstrong to seven consecutive Tour titles, which the American was stripped of in 2012 when a US inquiry concluded he and his teams "ran the most sophisticated, professionalised and successful doping programme that sport has ever seen".
The Belgian is serving a 10-year ban from any sport for his involvement that the American Arbitration Association (AAA) last year issued on the back of evidence it said proved that the 50-year-old was "at the apex of a conspiracy to commit widespread doping on the USPS and Discovery Channel teams spanning many years and many riders".
The ban will end on June 11, 2022.
"I will not do an interview since each time I do so quotes are taken out of context and go lead a life of their own," Bruyneel concluded. "... I'm working on a book in which I will explain my whole side of the story.
"I hope that people, especially journalists, will want to read it with an open mind."
Thank you for reading 10 articles this month* Join now for unlimited access
Enjoy your first month for just £1 / $1 / €1
*Read 5 free articles per month without a subscription
Join now for unlimited access
Try first month for just £1 / $1 / €1
Sophie Smith is an Australian journalist, broadcaster and author of Pain & Privilege: Inside Le Tour. She follows the WorldTour circuit, working for British, Australian and US press, and has covered 10 Tours de France.