Johan Bruyneel at the top of 'one of the largest doping programs which ever existed in any sport'
Lance Armstrong's former manager has been banned from the sport for life for his involvement in doping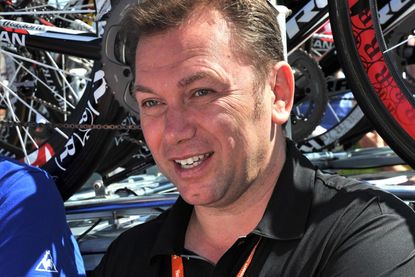 (Image credit: Watson)
Lance Armstrong's former manager Johan Bruyneel was at the top of "one of the largest doping programmes which ever existed in any sport", according to authorities.
Bruyneel, a former pro turned manager, was banned from the sport for life earlier this week after the Court of Arbitration for Sport increased his punishment for his involvement in doping at Lance Armstrong's US Postal team.
The lifetime ban for the Belgian has been welcomed by the US Anti-Doping Agency (USADA), which said Bruyneel and colleagues "pulled out every trick to avoid the truth."
Chief executive of USADA, Travis T. Tygart said: "While it's been an arduous effort to fully expose the truth, our job is to pursue justice even when the road is long and winding, because that's exactly what clean athletes expect and deserve."
Bruyneel had been banned from sport for 10 years after a ruling by the American Arbitration Association in 2012, but the 54-year-old had appealed the punishment.
While considering the appeal, the CAS ruled that Bruyneel should be banned for the rest of his life.
The court also considered appeals by US Postal team physician Pedro Celaya Lezama and trainer Jose Marti Marti.
Lezama has also been banned for life, while Marti's ban was increased to 15 years.
USADA executive Tygart added: "Bruyneel, Celaya and Marti pulled out every trick to avoid the truth and continued, even at the hearing and even in the face of overwhelming evidence to the contrary, to present a false narrative.
"This is another example that playing by the rules matters and doping is never justified and always inexcusable."
During the week-long appeal hearing, Bruyneel, Celaya, seven former riders, Bruyneel's team director and former team doctor Luis Garcia del Moral all testified.
USADA said testimonies corroborated evidence of doping at the US Postal Service team, proving that Bruyneel oversaw all aspects of the team's doping activities between 1999 and 2006.
The CAS panel found Bruyneel was "at the top of the pyramid of one of the largest doping programmes which ever existed in any sport on the planet."
USADA said Bruyneel had refused to testify at a previous hearing in 2013, and at the CAS hearing had denied responsibility for doping in the team.
He had claimed that he was aware of the doping but not involved in it, despite testimony from team doctor Del Moral and email evidence to the contrary.
The panel found that Bruyneel provided team funds for the purchase of banned substances by team staff.
USADA said: "The overwhelming evidence and credible testimonies produced throughout the case demonstrated that Bruyneel, Celaya, and Marti encouraged U.S. Postal Service Pro Cycling Team riders to engage in a coordinated, well-funded, and sophisticated doping regime over many years."
Bruyneel refers to himself on Twitter as the "proud ex-manager of my dear friend Lance Armstrong, winner of seven Tours de France. No hypocrite."
In its case against Armstrong in 2012, the US Anti-Doping Agency (USADA) showed that the Belgian helped and encouraged his riders at teams US Postal Service and Discovery Channel to dope.
Doctor Pedro Celaya and trainer, Jose 'Pepe' Martí were banned for eight years each at the time.
Armstrong was banned from cycling for life and stripped of his seven Tour titles.
Bruyneel's ban was due to end on June 11, 2022.
Bruyneel was informed of his lifetime ban in an email from the CAS on Wednesday afternoon.
The 54-year-old raised issue with the process in his statement, claiming he was a "child of his era" and that USADA had no jurisdiction over him as a Belgian citizen living in Spain.
Bruyneel said it is his goal to "contribute, to help and grow the sport," despite being banned for life.
Thank you for reading 20 articles this month* Join now for unlimited access
Enjoy your first month for just £1 / $1 / €1
*Read 5 free articles per month without a subscription
Join now for unlimited access
Try first month for just £1 / $1 / €1