Lance Armstrong 'would have continued lying', had he not been caught
"My therapy is riding my bike, playing golf and having a beer" says a still largely unrepentant Lance Armstrong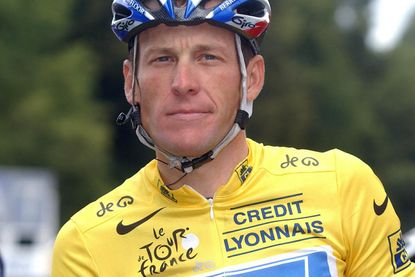 (Image credit: Graham Watson)
Lance Armstrong would have continued his lies had US investigators not caught him. The Texan, who said he is still brazen, spoke to CNN yesterday about the doping that led to him losing his seven Tour de France titles and a planned book.
"I was good at playing the part," Armstrong said of the lies. "Once you say 'no' you have to keep saying 'no.' If this stuff hadn't taken place with the federal investigation, I'd probably still be saying 'no' with the same conviction and tone as before. But that gig is up."
The US Anti-Doping Agency (USADA) ended its case against Armstrong in October 2012 and found that he doped since 1998. The investigation led to the Union Cycliste Internationale (UCI) stripping Armstrong's seven Tour titles, 1999 through 2005.
Armstrong, 42, admitted to doping for the first time in an interview with Oprah Winfrey in January 2013. On May 22, he met with investigators from the Cycling Independent Reform Commission (CIRC) for several hours to explain how he and his US Postal Service/Discovery Channel teams flew under the radar for so long.
However, he still faces lawsuits. He testified over the summer in the SCA Promotions, which is suing to receive back the Tour bonuses it paid, estimated at £8.5m ($12m). The US government also named him and the US Postal Service team's former owners in a $95m (£59m) whistleblower lawsuit, which Armstrong said that he will win.
"I'm very confident that that's a winner for us," explained Armstrong. "I don't think anyone can truly argue the US Postal Service was damaged. They made a lot of money in the deal and got what they bargained for."
Armstrong is considering a book to right all the lies that he told, many of which were in his 2000 book It's Not About the Bike. He explained that it would have to be "pretty raw" and "pretty intense and transparent" with "totally no bullshit." He added, however, that he has not seen a therapist for his behaviour.
"My therapy is riding my bike, playing golf and having a beer," he said. "A little bit of reflection helps to learn and grow, but I'm not going to dwell."
Opinion is split between the 25 surviving Tour de France champions on whether Lance Armstrong was winner of the Tour
Lance Armstrong's lawyers fail to get Floyd Landis's $100million whistleblower lawsuit dismissed
Three-time Tour de France champion Greg LeMond releases 'answer' video to Lance Armstrong's 'how to fix a flat'
Thank you for reading 5 articles this month* Join now for unlimited access
Enjoy your first month for just £1 / $1 / €1
*Read 5 free articles per month without a subscription
Join now for unlimited access
Try first month for just £1 / $1 / €1