Lee Valley VeloPark confirms commercial partnership with Cycle Surgery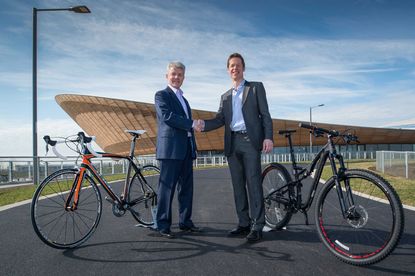 Cycle Surgery has announced that it will become Lee Valley VeloPark's official cycle sports retailer when the Queen Elizabeth Olympic Park officially opens its doors later this month.
The new agreement will mean that Cycle Surgery opens its 30th store in the UK and will look to provide over 250 road, track, urban and mountain bikes along with servicing and bike fitting. Customers will also be able to use the closed-to-traffic road and mountain bike circuits to test the bikes before they buy.
Shuan Dawson, Chief Executive of Lee Valley Regional Park Authority welcomes VeloPark's first commercial deal. "Today's announcement of the first commercial deal for a 2012 venue is a defining moment not just for Lee Valley VeloPark but also for the legacy of the Games. It will make a significant contribution to the venue's running costs helping ensure its long term sustainable future."
www.cyclesurgery.com - visitleevalley.org.uk/velopark
London's Olympic cycling legacy venue nearing completion ahead of March opening date
Taster sessions on the London 2012 Velodrome and new closed-road circuit are now available for purchase online
Thank you for reading 20 articles this month* Join now for unlimited access
Enjoy your first month for just £1 / $1 / €1
*Read 5 free articles per month without a subscription
Join now for unlimited access
Try first month for just £1 / $1 / €1