Mark Cavendish's boss not in favour of Ghent Six participation
Omega Pharma-QuickStep manager Patrick Lefevere resents having to pay for Mark Cavendish's participation in the Ghent Six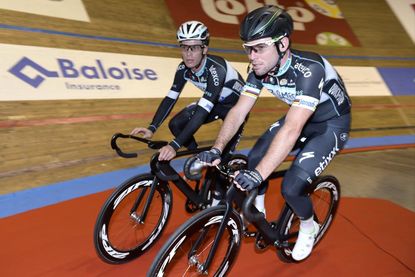 (Image credit: Graham Watson)
Team Omega Pharma-QuickStep manager, Patrick Lefevere explained that he is "not in favour" of Mark Cavendish's participation in the Ghent Six-Day starting tonight and the accompanying €15,000 cost.
"It's not about the risk of a crash or about the event itself," Lefevere told Belgium's Het Nieuwsblad newspaper. "We just faced the question: How do we keep him fit? Because Mark also likes doing it, we allowed it. But I'm still not in favour of it."
The Brit will race with Omega Pharma team-mate and five-time Ghent winner, Belgium Iljo Keisse. Cavendish last raced in 2007, when he partnered with Bradley Wiggins and placed 10th.
Cavendish will also race the Zurich Six-Day, over November 26 to 29, this winter. The track events could be ideal as the 29-year-old gets back up to speed. After a crash in the Tour de France's first stage to Harrogate on July 5, where he separated his right shoulder, he was unable to race much afterwards.
His Belgian boss, however, expressed concern with the six-day races last winter.
"We pay him to perform on the road, and he must fully concentrate on that," Lefevere told Belgium's Sporza TV one year ago. "On the first day of the [2013] Ghent Six-Day, two riders crashed. What if one of them had been Mark?"
Lefevere explained that his thinking has not changed over the last year. He is also upset about the €15,000 (£11,900) price tag that he must pay the organiser. Six Day organisers collect money to have sponsors' names on the couples' jerseys and pay riders' starting fees - 26 at this year's Ghent Six-Day.
"For my own cyclists, which I already pay a monthly wage, I have to give a ridiculous €15,000 so that they can race in the Omega Pharma-Quick Step jersey," Lefevere added. "Cavendish offered to pay me back, but I refused. He has the right, just like the others to keep his starting money.
"Organiser Rob Discart may say that the Ghent Six-Day would go on without Cavendish and Keisse, but I'd say that we've give him a beautiful gift."
Omega Pharma's Niki Terpstra, winner of 2014 Paris-Roubaix, also races six days. He won the Amsterdam Six-Day in October with Yoeri Havik.
Our quick guide to the Ghent Six Day track event, which takes place in Belgium every November, including start list,
Thank you for reading 5 articles this month* Join now for unlimited access
Enjoy your first month for just £1 / $1 / €1
*Read 5 free articles per month without a subscription
Join now for unlimited access
Try first month for just £1 / $1 / €1