MAYO SIGNS FOR SAUNIER DUVAL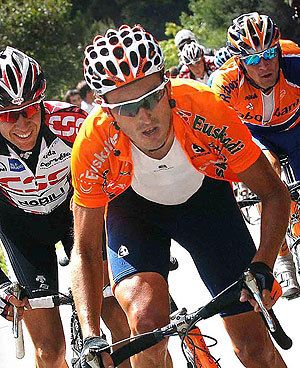 Iban Mayo has announced he will ride for Saunier Duval for the next two years after falling out with the Euskaltel team. Mayo and Saunier Duval announced the deal on Monday in a press conference after he refused to stay with Euskaltel because of new internal ethics code in the Basque team.
?I?m changing team with the intention of improving as a rider and my 2003 season is my reference point,? Mayo said, remembering when he won the Tour of the Basque Country, two stages in the Dauphine Libere and the L?Alpe d?Huez stage of the Tour de France.
Mayo said his decision to leave Euskaltel after seven years had been tough but decided to join Saunier Duval despite having to take a pay cut.
?It was a very complicated but very well thought out decision,? he said.
?Saunier Duval is a team that races aggressively and has a winning mentality, is well run, has a strong character and a lot of motivation to win. A key factor was the presence of coach Sabino Angoitia in the team. He was my mentor when I was young and is important to me both professionally and personally. He?s the person that knows me the best.?
29 year-old Mayo will be the Saunier Duval team leader for the Tour de France and Vuelta. He will join David Millar and Gilberto Simoni in the bright yellow team jerseys.
Thank you for reading 20 articles this month* Join now for unlimited access
Enjoy your first month for just £1 / $1 / €1
*Read 5 free articles per month without a subscription
Join now for unlimited access
Try first month for just £1 / $1 / €1