Michal Kwiatkowski: my year as world champion
The 24-year-old's all-round ability helped him slip the pack to take an epic solo World Championship win in Ponferrada last year. He spoke to CW about life with the rainbow bands and his imminent title defence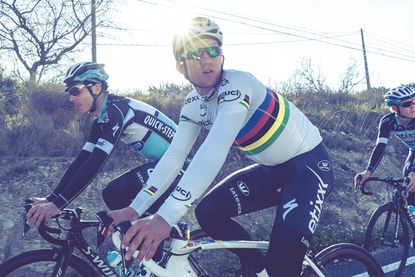 When Michal Kwiatkowski slipped away for a solo victory at last year's World Championship road race in Ponferrada, Spain, he was widely regarded as a rider worthy of the stripes.
Although just 24 years of age at the time, the Pole had already shown himself as a talented all-rounder who can do everything from win in the hills, power through time trials and be an essential component at the sharp end of Mark Cavendish's lead-out train.
Although he's collected a total of 20 individual top 10 places this year, his win at the Amstel Gold Race was as good as it got. As he now heads into Sunday's World Championship road race in Richmond, USA, with a raft of rivals lining up to take the jersey off him, we sat down with Kwiatkowski to look back over his year in rainbow stripes and see how he fancies his chances of keeping them.
CW So Michal, you've been racing in the world champion's jersey for a year. Has
it been a good one?
MK Yeah… it wasn't as good as last year but it was an amazing feeling racing in the rainbow jersey. It got a bit difficult later in the season though.
CW Did riders treat you differently this year because you had the world champion's jersey on?
MK Of course my team-mates made some jokes, saying that I thought I was at another level. But it's nice riding in the rainbow jersey with guys who've also been world champions: people love Cav, Tony [Martin] and [Tom] Boonen. I got a lot of support from them. From other riders in the bunch, wearing the jersey made things a bit more difficult.
>>> Sandpaper saddle injury adds to pain of Tony Martin's World Championships defeat
CW How so? Because everybody's looking out for you? You're more visible when you attack?
MK Yeah — but that's not the biggest problem.
CW What is the biggest problem?
MK The form was not so good after some of the early season races. I was in pretty good shape at the start of the year but I made a mistake. I did a lot in the first part of the season and I thought a break in May would do me good. But it's probably not the best idea. You go down a level and you don't really find the freshness. I've learned a lesson there.
CW Right, OK. But you've had some highlights too. What really stands out for you?
MK Winning Amstel Gold. The first part of the season was just amazing. It felt great. I was able to compete. I was riding like a world champion should — showing off the stripes. Then I went to the Tour looking for stage wins and doing my bit for the team. I wasn't at the level to get any wins but it was good with Cav, [Zdenek] Stybar and Tony taking stages.
The full version of this interview can be seen in the September 24 edition of Cycling Weekly, which is in shops now, or you can download the digital edition here
Thank you for reading 20 articles this month* Join now for unlimited access
Enjoy your first month for just £1 / $1 / €1
*Read 5 free articles per month without a subscription
Join now for unlimited access
Try first month for just £1 / $1 / €1