Murilo Fischer pays tribute to Ayrton Senna at the Giro d'Italia
Brazilian cyclist pays tribute to his compatriot, three-time Formula One world champion Aryton Senna, with a special custom helmet design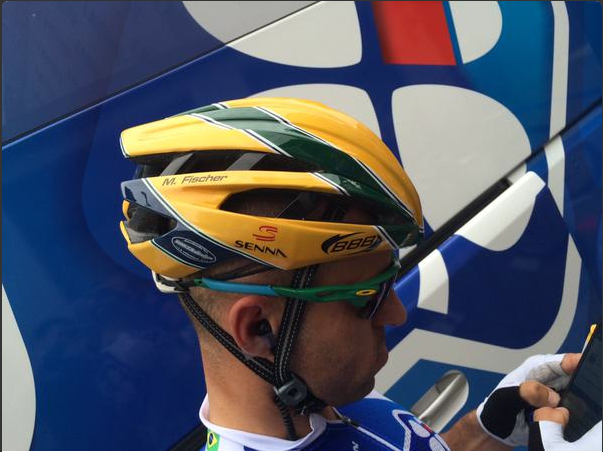 FDJ professional cyclist Murilo Fischer has paid tribute to his fellow Brazilian, Aryton Senna at Stage 11 of the Giro d'Italia. The stage finished at the Imola racing circuit, where the three times Formula One world champion was fatally injured in a crash during the 1994 San Marino Grand Prix.
>>> Buyers guide to helmets
The tribute was in form of Fischer's custom BBB Icarus helmet, which was modelled on the same colour scheme as made famous by Senna, with yellow, green and blue. The helmet also featured the name 'Senna' and the famous 'S' logo.
>>> Can an aero helmet make you faster?
On the 1st of May 1994, Senna hit a wall at the Imola circuit, whilst travelling at 145mph in his Williams Renault. Senna was sadly pronounced dead on the evening of the accident. Senna was immensely popular and his tragic death had a huge impact back home in Brazil, with an estimated three million taking to the streets for his funeral in San Paolo.
Images of Fischer wearing the special helmet at the start of stage 11, were posted on Twitter by FDJ trainer David Han. Belgian TV channel Sporza also posted a picture of the helmet. For comparison here is a photo of one of Senna's helmets from the Bell Helmets website.
Stage 11 was won by Ilnur Zakarin of Katusha, with Fischer finishing 98th, 19 mins 5 secs down on the winner.